Feature: Gaudet Luce - Coming of Age
By: Golf Shake | Mon 27 May 2013 |
Comments
---
This Worcestershire venue is 18 years old this summer, it's been a dedicated and hard working 18 years in order to produce the tremendous transformation achieved on its full length Phoenix Course. Golfers who visited back in the mid 90's wouldn't recognise the place if they re-visit this summer. This is a modern golf and leisure complex that doesn't like to sit still.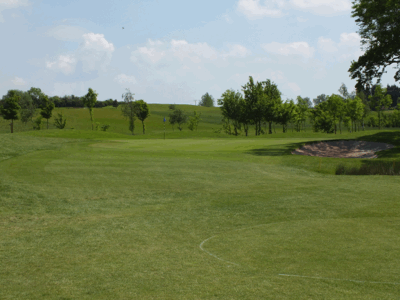 The Phoenix course was opened in 1995 and extended to a full 18 two years later. Set out in two contrasting halves, the opening nine presents a gently undulating parkland challenge with mature and newly planted trees making it a little tight in places. The opening quartet of holes all offer up decent birdie opportunities as Gaudet welcomes you generously although you need to find the correct level on a well tiered putting surface at the short second. The fifth is where the main issue at Gaudet greets you for the very first time, they don't tend to test your accuracy too sternly from the tee here, but they sure like to examine your nerves! A wooded fate awaits a mishit drive on this hole, you need a good solid strike to fire over and around the trouble. There is always the option to lay up, take the hazard out of play and take on a longer approach, get used to making those sort of decisions. The par five eighth is a true highlight, Gaudet at its attractive peak, a stunning sight in full summer bloom from its raised tee all the way to a distant narrow green. It also proves to be another teaser whether to reach for the driver, it's a good hit to fire it past the ditch but looking down on the challenge as you do usually takes all thought away of taking the safer option.
The inward stretch is set on more wide-open ground and naturally more susceptible to the elements. It's a fine looking panoramic sight from the highest points as each challenge more or less presents itself in its full glory, there's no great subtlety about, it's lengthy and can play pretty tough. The water hazards are very much in play, once again from the tee where the winding streams present themselves right in driver landing zones; two new back tees at 13 and 14 which open for play this summer are designed to further increase this particular issue and will sternly test your nerves. Add to that the likelihood of some peer pressure and banter flying around amongst a group of guys during a competitive society encounter especially as you reach the climax to a round with all the pressure that entails. Some crucial course management decisions to make during a demanding closing stretch, save some energy too for a gruelling uphill 17th, generous in width but a rare blind approach shot requires pinpoint accuracy to a table top green.
Consistently impressive is the superb conditioning of the Phoenix Course, beautifully manicured fairways leading to putting surfaces which are some of the very best around, quick and evenly paced and full of subtle borrows; real tests for all abilities, even the low handicappers may come to grief if they don't putt well.
Gaudet Gem
12th hole, 209 yards par three - This is a truly gorgeous looking treat and although some of the other altered and maturing challenges are hot on its heels now, this hole has always been Gaudet's pride and joy. Long, with potential tree trouble and with a significant water hazard to avoid, the picture book 12th is also one of its tougher tests. Many may aim left to take the pond out of the equation but will leave themselves with a tricky up and down across a typically slippery green.
An Extra Nine
The Par 3, Hadzor Course was designed in 2004 especially with junior and family friendly starter golf in mind, set around three small ponds and built to USPGA specifications, The Hadzor has proved invaluable in the steady progress and reputation of Gaudet Luce and its young players who all benefit from their time at the 'Russell Adams Golf Academy', based at the club.
19th hole
Modern clubhouse on two floors, function room, new changing facilities, short game area, buggy hire, gym, therapy salon and nursery, 'New2Golf Beginner Programme'. Gaudet Luce also shares reciprocal member arrangements with five local clubs. The club's 12 bay floodlit range was the first in The Midlands to adopt 60-60 golf in March, another innovation which is proving to be a big hit.
---

Review by Phil Nicholas from Midlands Golfer.
Midlands Golfer is a bi-monthly publication and delivered free to all clubs, ranges and golfing retailers across the region. Very much written and produced with the average player and society golfer in mind with news,reviews and features from both our editorial team and golfing contributors from all over The Midlands.
---
Related Content:
What do you think? leave your comments below (Comments)
---
Leave your comments below
comments powered by

Disqus
Plan Your Next Round
Dudley Golf Club
Worcestershire
from £9.00
Save 24%
Bromsgrove Golf Centre
Worcestershire
from £7.00
Save 25%
Cleobury Mortimer Golf Club
Shropshire
from £15.00
Save 23%
More Golf Course & Travel Features
Plan your next golf break with Golfbreaks.com