Emerging Golf Destinations of Asia - India, Thailand & Vietnam
By: Liam Moore | Tue 23 May 2023 |
Comments
---
The game of golf has successfully spread its wings across all four corners of the planet and has done so for quite some time. However, in contemporary times, there are emerging destinations that are looking to compete with traditional golfing culture.
The continent of Asia is growing in popularity. Locations such as India, Vietnam and Thailand are emerging as hotspots for travelling golfers, with each one offering something different to increase their appeal. Below, we take a look at those three destinations and find out why they will appeal to golfers looking for a long haul golf trip.
Vietnam
With over 2,000 miles of beautiful coastline, Vietnam is a wonderful destination that offers nature, scrumptious cuisine and some of the friendliest locals you could possibly find on a golfing trip.
Throughout Vietnam, there is a wide range of accommodation options that will appeal to all golfers, ensuring a high budget isn't necessary when golfing in the country. Vietnam includes popular destinations such as Halong Bay, Nah Trang, Da Nang and Hoi An; through these areas, you will uncover some great golf clubs whilst experiencing the amazing culture of the land.
With such a diverse culture, there is plenty on offer in Vietnam. Fabulous natural landscapes, bustling cities and the calming nature of the water results in paradise. Of course, the appeal of Vietnam goes far past the golf; boat trips, cooking sessions, history and culture awaits any lucky passenger.
There is a selection of airports that offer flights to Vietnam, although you will need to stop at least once as you journey to Asia. An English flight time can range from 13 to 17 hours, with London offering the quickest route to Vietnam.
Due to Vietnam's extreme climate, it is advised that you visit the country between February and April or August to October. These periods will provide a temperature that is more bearable and there is also little rainfall between those two times. If you're looking to visit during the driest times of the year, then you should aim to book your trip between February and April.
Golfing Destinations in Vietnam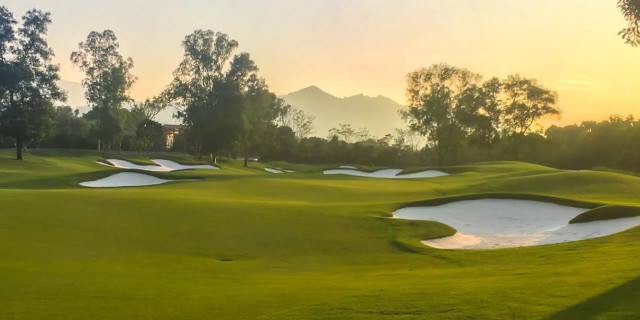 BRG Kings Island Golf Resort
BRG Kings Island Golf Resort is a phenomenal 54-hole resort that is situated on Don Mo Lake. All three golf courses are of exceptional quality, with each one seamlessly blending into the natural landscape. The experience consists of beautiful mountain views, lots of water and a Jack Nicklaus designed offering at this iconic golf resort.
Golfshake Review:
"This is a great venue and I would put it in my top 5 of best courses to play and visit. From the boat crossing, everything was great about this venue; the course is excellent with great views. Even a downpour mid-way through the back 9 could not spoil my affection for this resort."
Visit Golfbreaks for more information
Montgomerie Links Vietnam
Unsurprisingly, European Tour legend Colin Montgomerie was the mastermind behind the glittering design found at Montgomerie Links Vietnam. Montgomerie took inspiration from his native Scotland and utilised the natural landscape to create a unique course that blends links, heathland and parkland into one. With a measurement of slightly under 7,100 from the tips, this is one challenging golf course as you navigate dunes and water features.
Golfshake Review:
"A pretty course with tight fairways and excellent caddies."
Visit Golfbreaks for more information
Ba Na Hills Golf Club
Ba Na Hills is the work of Luke Donald, with the official unveiling taking place in 2016. There are plenty of elevation changes throughout the round, which slightly eases its 7,858-yard marking from the tips! If golfers are looking for a cooler experience, then there are 118 floodlights situated around the golf course to enable golf beyond twilight timings.
Visit Golfbreaks for more information
Vietnam Golf & Country Club
Vietnam Golf & Country Club is the closest golf facility to be located from Ho Chi Minh City and it is considered as Vietnam's premium offering. There are 36 holes of golfing magic located on site with both courses – East and West – featuring exceptional designs. Many visitors spend their entire day at the club as there are facilities such as swimming pools, tennis courts, a gym and a squash court – Vietnam Golf & Country Club is a sporting hub.
Golfshake Review:
"I had the pleasure to play this course when I was on holiday. It is everything you would expect from a proper country club; the course was SUPERB and more if that's possible!!!!!!"
Visit Golfbreaks for more information
India
Golfing in India is becoming more popular with golfers from around the globe. Its beautiful landscape coupled with fantastic courses allows this country to truly stand out. Designers such as Gary Player and Jack Nicklaus have left their mark on India with lots of golf courses developed over the last few decades. India's uniqueness makes it one of the most captivating golfing destinations in the world.
Travelling to India has become effortlessly easy as air travel progresses. You can fly directly to the country from London or Birmingham, with an approximate flight time of anywhere between 8 – 10 hours. Conversely, you can fly indirectly from the majority of UK airports, but you must be prepared for a longer travel period.
Considering the size of India, the climate can vary dependent on your current location. However, as a rule of thumb, it is advised you travel to India between the months of October and April if you wish to take advantage of the golfing facilities on offer.
Golf Clubs in India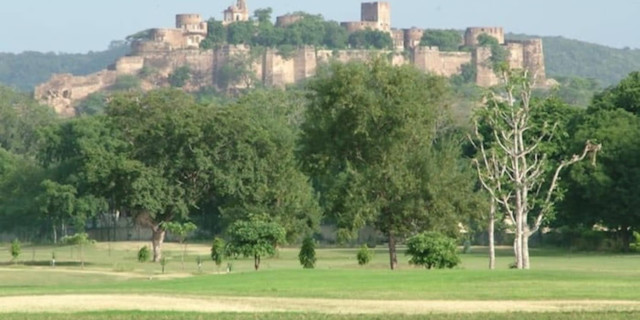 Rambagh Golf Club
Rambagh Golf Club is one of the oldest and most respected golf clubs throughout the entirety of India, having initially opened for business in 1944. Located in Jaipur, this was the location where many local residents fell in love with the sport of golf. The club's 18 holes is a traditional Indian parkland layout, featuring small greens and narrow fairways; precision will be the order of the day around this historical venue.
Visit Golfbreaks for more information
Delhi Golf Club
Delhi Golf Club is known locally as Lodhi to natives and there are two golf courses located on site. The primary layout – Lodhi – is an 18-hole offering, with a 9-hole loop supplementing the main event. In 2008, Delhi Golf Club became the first club to host a European Tour event in the country of India, and it featured again as the host venue for the Indian Open in 2015.
Visit Golfbreaks for more information
DLF Golf & Country Club
DLF Golf & Country Club is a highly esteemed golf club in India and often regarded as the best that the country has to offer. There are 27 holes of golf located on the premises and it first opened its doors in 1999 to showcase the very first Arnold Palmer Signature layout in India. The parkland-style course has hosted notable competition in Asia – including The Indian Open.
Golfshake Review:
"Challenging greens and course with nice club facilities."
Visit Golfbreaks for more information
ITC Classic Golf Resort
The ITC Classic Golf Resort is the only complex throughout the whole of south Asia to offer 27 holes of signature golf. The course was designed by the iconic Jack Nicklaus, and it also features a Golf Academy for aspiring golfers. The Signature Championship Course is often regarded as one of the top 5 golf courses in India and the practice facilities are some of the best in India, with a huge putting, chipping and bunker practice area that includes a 70-bay driving range.
Visit Golfbreaks for more information
Thailand
Golfers can expect an environment unlike any other; tropical trees, crystal-clear water and lush greenery awaits every traveller. Of course, the country also has a rich history and culture that is just awaiting to be explored, meaning there's plenty of activities to partake in when away from the golf course.
Golfers travelling to Thailand can fly directly to Bangkok from London, with an approximate 11-hour flight time expected. For anyone who wants to fly straight to Phuket, it will involve a stop-over in Dubai. Thailand experiences a tropical climate with high levels of humidity, so the best time to travel is between November and March to help avoid the hot rain seasons from March to October.
Golf Clubs in Thailand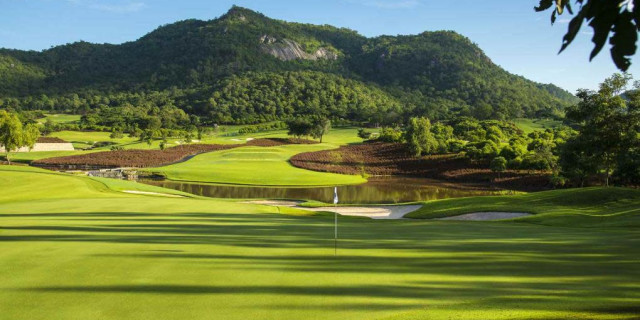 Black Mountain Golf Club
Black Mountain Golf Club is a visual masterpiece, with the landscape seemingly created exclusively for golf! The course lies within a mountain valley and any errant shots will be severely punished, so make sure you prepare efficiently for the challenging round. Despite its infancy, Black Mountain has already played host to both European and Asian Tour events. With wildlife freely roaming the layout, this is truly an experience like no other.
Golfshake Review:
"Manicured fairways and picturesque surroundings; all facilities available and food and drink after the round was excellent and inexpensive."
Visit Golfbreaks for more information
Red Mountain Golf Club
Red Mountain Golf Club is another visually striking venue, which is a theme for golf courses on this sacred land. This particular routing will captivate the golfer from the very start and refuses to ease as its difficulty is cranked the deeper you delve. The unbelievable terrain offers plenty of vistas as you progress through the course. Don't be too subdued however, as there are various lakes and canyons patiently awaiting any errant balls!
Golfshake Review:
"I think this is the best course in Phuket at the moment. The course is in immaculate condition, the caddies know the course well and are very helpful – you really don't need GPS."
Visit Golfbreaks for more information
Banyan Golf Club
Banyan Golf Club will be a venue that suits a large majority of golfers, as it isn't overly punishing yet still offers a test that seasoned golfers will be seeking. A memorable moment of playing at Banyan is the Signtoh Island that rests in the distance from the par-3 15th, which is one of the greatest vistas on the entire island.
Golfshake Review:
"First time playing this beautiful course and thoroughly enjoyed it. Great facilities, staff and caddies. WOW! What a course and will definitely be back."
Visit Golfbreaks for more information
St Andrews 2000 Golf Club
St Andrews 2000 Golf Club is an incredibly daunting challenge, measuring an intimidating 7,700 yards from the tips but it does feature a par of 74. Again, spectacular vistas are available from all corners of the course, which is a theme for golfing in this part of Asia. The signature hole is the par-6 16th, which extends across 910 yards! Are you brave enough to face this outrageously long hole?
Golfshake Review:
"What a golf course. 14 signature holes and 2 par-6 holes, without an easy hole on the entire course – this is a sensational golf course."
Visit Golfbreaks for more information
---
Related Articles
---
Related Content: golf asia
What do you think? leave your comments below (Comments)
---
Leave your comments below
comments powered by

Disqus
Plan Your Next Round
Ardglass Golf Club
County Down
from £22.00
Save 50%
Castlerock Golf Club
County Londonderry
Galgorm Castle Golf Club
County Antrim
from £13.00
Save 23%
More Golf Course & Travel Features
Plan your next golf break with Golfbreaks.com