The Manor House Golf Experience
By: Andrew Picken | Fri 27 May 2022 |
Comments
---
Article by Golfshake Ambassador Andy Picken
---
Golfshake representatives have been regular visitors to The Manor House Golf Club & Hotel since our first visit in 2014.
I visited in October 2020 and provided these thoughts about the experience of the Stay & Play Package. It was exceptional. When we were invited to visit again in May 2022 for a short golf break, I couldn't wait to experience their hospitality again.
What's not to like about a Michelin starred restaurant and hotel attached to a fantastic golf course?
I love the history, the design and layout of this creation by the late and much-loved Peter Alliss.
Add in the exquisite location of Castle Combe, Wiltshire, a village of outstanding natural beauty, and throw in connections to famous films, there is not much else that I would want from a golfing destination.
Perhaps the only other requirement is a consistently superb standard of customer service.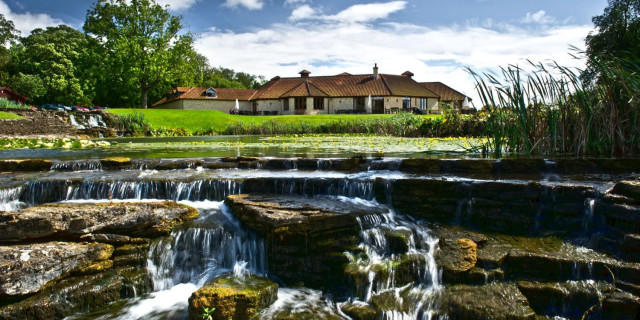 Accredited by The Golfshake Community
Our review system is provided by golfers, for golfers, so we don't use a panel of experts. We adopt a different style of measuring as our reviews are mainly submitted by golfers themselves. The reviews on Golfshake are much more based upon the actual experience of the customer golfers.
We therefore also present an Alternative Top 100 that are courses that did not feature within the published magazine lists to ensure a rounder picture for you to assess and evaluate.
The Manor House rests at number 8 out of 100 on the list and consistently attracts excellent scores and gradings submitted by golfers, drawing well over 200 reviews.
This is always an extremely good indication of consistent quality across the whole range of services. When customers are sufficiently motivated to post a review then the views and opinions provided deserve to be taken seriously.
Becoming More Environmentally Friendly
Since my last visit I am pleased to report that the high standards still remain but there has been a discernible push towards making the venue even more environmentally friendly.
The golf buggy fleet has been changed and now offers 50 electric buggies that are capable of storing enough power for 36 holes between charges.
Link this to the roof mounted solar panels to charge the buggy fleet and this adds a useful extra service to the golfer without adding anything to the carbon footprint. An excellent initiative.
Having taken these buggies onto the golf course they are very well appointed. They are much lighter than lead acid versions, capable of 12 hours of use without charge. Another welcome touch is the provision of extendable rain covers. These were very useful as our second day was greeted by non-stop rain. I also found the integrated USB phone charging points of value.
The buggies are also fitted with state-of-the-art GPS systems allowing accurate assessment of shot distances but also allowing the management of the course to see the movement of players around the venue. A very useful concept ensuring a decent pace of play for all.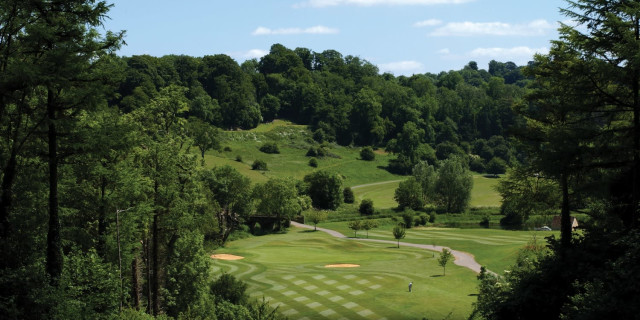 The Unique Qualities
I think this is a fantastic venue for a corporate day golfing.
Great golf, great food and hospitality. Excellent practice facilities and buggies are exactly what a corporate golf day should be about.
This course is available all year as there are tarmac buggy paths and the ground drains easily. The rain on day two of my trip was nothing short of biblical but did not impact in any way on the golfing enjoyment on offer.
This course has a lot of distance between greens and tees and I would certainly recommend use of a buggy if you are a first-time user. There are a number of shorter routes created for the golfer using a trolley or carry bag and it can be walked without too much difficulty. This is evidenced by the fund-raising efforts of the staff supporting charity by playing 72 holes in a day carrying clubs.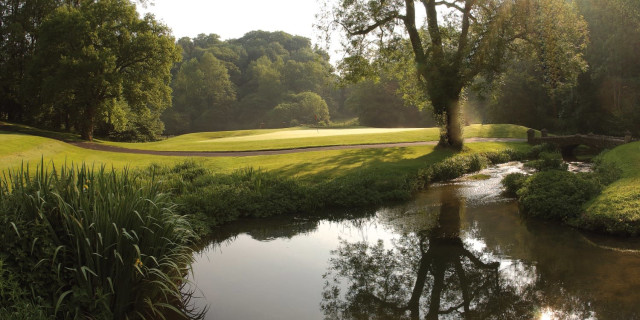 Reflections
This is an excellent golf course, supported by a superb hotel.
The same chef brigade provides the food from the Michelin starred restaurant as at the 12th Century Castle Inn. The food provided was of the very highest standard and the setting is superb.
The Manor House has achieved our Highly Recommended status for five consecutive years and certainly maintained that standard throughout my recent stay.
My best assessment?
Would I drive four hours to stay and play at this venue again? In a heartbeat.
It really is that good!
---
Related Content: golfshake Golf Courses Courses
What do you think? leave your comments below (Comments)
---
Leave your comments below
comments powered by

Disqus
Plan Your Next Round
Ardglass Golf Club
County Down
from £22.00
Save 50%
Castlerock Golf Club
County Londonderry
Galgorm Castle Golf Club
County Antrim
from £13.00
Save 23%
More Golf Course & Travel Features
Plan your next golf break with Golfbreaks.com