Why You Must Plan a Trip to Play Golf in The Algarve
By: Liam Moore | Tue 29 Mar 2022 |
Comments
---
If you have not been on an international golf trip, there is a completely new world awaiting to be discovered.
Say goodbye to those rainy rounds and the countless hours you have lost from cleaning your shoes, as you'll be swapping gloomy and cold weather for the basking European sun.
The biggest issue you'll encounter is deciding on a destination for your travelling group, with several countries boasting first-class golfing facilities.
Today, however, we are going to focus on the Algarve - one of Portugal's most popular tourist destinations.
Algarve
With an enticing climate, sandy beaches, and a wide collection of outstanding golf venues, the Algarve is seldom topped for visiting golfers.
This region of Portugal experiences more than 300 days of sunshine annually, which makes it viable throughout the year - regardless of season.
When it comes to accommodation, the Tivoli Hotel collection can act as the optimal base, where they are linked with surrounding golf courses.
Our friends at Golfbreaks have identified five Tivoli complexes that you must experience if you're ever in the Algarve.
Tivoli Carvoeiro
As you might expect with international golfing experiences, the resorts and accommodation options mirror the level of golf on offer.
At Carvoeiro, which is just a 45-minute drive from Faro airport, there are 248 luxury rooms available, all equipped with air con, a TV and the majority of rooms boast beautiful views of the surrounding sea.
The 5* hotel, that was recently renovated, is also home to two swimming pools and their own diving school.
Although Morgado, Alamos, Salgados, Pinta, Gramacho, Alto and Palmares can be accessed easily from the resort, the most popular courses are Morgado, Alamos and Salgados.
Morgado is the ultimate test, measuring 7,300 yards from the tips. Having opened in 2003, not many British golfers have experienced its charm, and it's a must-play if you're ever in the area.
Alamos is the sibling or Morgado and isn't quite as lengthy - although you'll struggle to find many longer considering its 7,300-yard measurement.
You'll want to be fully focused on the tees here, as the narrow fairways are lined by trees in intimidating fashion.
Finally, Salgados' layout is reminiscent of a links course, although the ground is typically flat with plenty of water hazards for you to avoid.
If you'd like more information about the sensational Tivoli Carvoeiro, you can check out Golfbreaks' page here.
Tivoli Lagos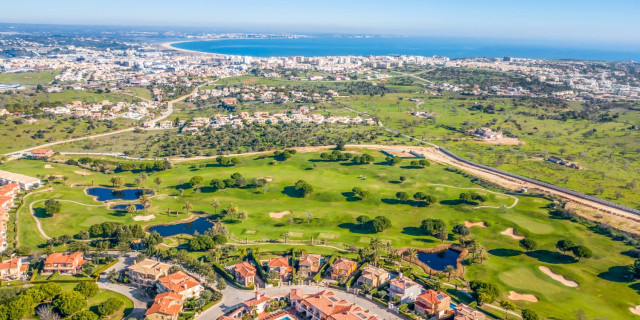 Located deeply into the centre of Lagos lies Tivoli Lagos, one of the leading hotels within the immediate region that is accessed within an hour from Faro airport.
There are 324 rooms available and each one boasts amenities such as air conditioning, a TV and a balcony or terrace area.
Tennis courts, a games room, swimming pools, a health club and a massage parlour all add to the experience of this fine Portuguese resort.
Boavista, Espiche and Palmares are the standout choices if you stay in Lagos, and each has its own special quality.
Boavista boasts an excellent golf course and tremendous practice facilities, so there's no excuse for any errant performances.
Espiche is located conveniently from Boavista and its parkland setting will provide the sternest of tests.
The design of Epische incentives the risk-reward nature of golfers, and we expect you all to take on every risk!
Palmares is arguably the main event in the Algarve, having ranked as highly as 26th in the Top 100 Golf Courses in Europe.
If you're looking to play a first-class layout that combines features from both inland and links golf, then look no further than this majestic venue.
Tivoli Marina Vilamoura
Located just a 27-minute car journey from Faro Airport lies Tivoli Marina Vilamoura, a magical complex that overlooks the Atlantic Ocean.
All 383 rooms are furnished exquisitely and a collection of bars and restaurants provide lively evening entertainment.
A spa and health centre is also located on-site, with two outdoor swimming pools, sauna, jacuzzi and a gym.
As always with the Algarve, you are spoiled for choice, in regard to where to play, but the most ideal would be Victoria Golf Course.
Measuring 7,100 yards from the tips, the Victoria Course is a renowned set-up throughout the world - highlighted by its annual hosting of the Portugal Masters.
Alternatively, you may want to trial the Old Course that is dipped in history and provides an excellent test to anyone brave enough to walk its fairways.
Tivoli Marina Portimao
Tivoli Marina Portimao is approximately located one hour away from Faro airport, but the beautiful surroundings make the slightly longer trip justified.
There are 196 rooms available and all rooms have ample space that has been divided into separate sleeping and living areas.
The three most accessible courses are Gramacho, Vale da Pinta and Silves - we'll provide a short insight into their appeal.
Gramacho has long attracted European golfers and has made quite the name for itself, with olive trees and treacherous bunkers dominating the layout.
If there is one thing you are guaranteed during a visit to Vale da Pinta, it's the excellent maintenance and general care of the course - we can see why their greenkeepers are so passionate!
Featuring Bermuda grass, the 6,728-yard measurement should encourage an array of ability to tackle the tips.
Silves Golf Course is dominated by unmatched scenery, which is always welcomed when you're struggling out on the course.
With bunkers and water hazards awaiting any errant shots, accuracy will be the theme of the day at this venue - and you should definitely visit the town of Silves after your round.
Anantara Vilamoura
Anantara Vilamoura is accessed conveniently from Faro airport, only a 28-minute car journey away from the complex.
With 280 rooms and 16 suites, it is often a popular base for travelling golfers and there are three restaurants and three bars also located on-site.
There are three particular courses that are located nearby, and these are Pinhal, Millennium and Laguna.
Pinhal was one of the first golf courses to be constructed in the Vilamoura complex and it was revamped by Robert Trent Jones in the 1980s.
Boasting a parkland setting with a magnificent challenge, the intelligent placement of hazards ensure that careful consideration is given to each subsequent decision.
No prizes for guessing when Millennium was opened to the public! The parkland setting provides an excellent experience of golf and the introduction of this course helped elevate Vilamoura to the global standing it holds today.
Finally, Laguna boasts a collection of 79 bunkers and if you're not a fan of the sand, you must avoid them all.
Unlike the majority of Dom Pedro courses, the coastal environment - coupled with a lack of trees - helps to make this feel like a typical links challenge.
---
The Algarve has long been an excellent destination for British golfers, and its appeal continues to strengthen on an annual basis.
With a guaranteed warm climate, excellent activities and friendly locals, it may just be the greatest spot for European golf.
If you'd like more information about the region, or to peruse potential bookings, then check out Golfbreaks' dedicated Algarve page here.
---
Related Content: travel Portugal golfbreaks Algarve
What do you think? leave your comments below (Comments)
---
Leave your comments below
comments powered by

Disqus
Plan Your Next Round
Ardglass Golf Club
County Down
from £22.00
Save 50%
Castlerock Golf Club
County Londonderry
Galgorm Castle Golf Club
County Antrim
from £13.00
Save 23%
More Golf Course & Travel Features
Plan your next golf break with Golfbreaks.com