Why You Should Play Golf at Celtic Manor
By: Liam Moore | Wed 23 Feb 2022 |
Comments
---
Celtic Manor is one of the most revered resorts anywhere, so we should be thankful that a world-class venue like this resides on our shores.
Three tremendous golf courses are situated on the premises and the Twenty Ten Course is steeped in rich history, having hosted the 2010 Ryder Cup.
Away from the golf and the accommodation options are lavish and there are also numerous restaurants to facilitate the vast number of visitors expected each week.
A fully-functioning spa and other activities help to bolster the overall experience when staying at Celtic Manor.
Before we dive into the specifics, let's explore the history and how Newport became the location for one of the leading golfing resorts worldwide.
History
The earliest record of any building located on the resort's property dates back to 1634, where it operated as the resident home for High Sherriff of Monmouthshire, Lewis Van.
After passing hands frequently, being used as a shelter and then a maternity hospital - where over 60,000 babies were delivered - Sir Terry Matthews bought the property in 1980.
Ironically, Matthews was one of the babies born there, so the project held special importance for the businessman.
Following the purchase, £100 million was invested into the premises; the manor house received substantial renovation and the hotel opened in 1982, originally with 17 bedrooms.
Only eight years later and the number of rooms expanded by 500%, as it was generated into a 70-room hotel.
The year of 1991 holds significance, as the owner decided to sanction the creation of two golf courses - Roman Road and Coldra Woods.
Matthews had become good friends with renowned architect Robert Trent Jones, who he leaned on to design the layout of the two loops.
Jones had family roots in Aberystwyth so just like Matthews, there was special relevance to the project.
By 1994, further work had been approved; the resort's hotel was extended to 400 bedrooms and a new, £10 million clubhouse was to be constructed.
After the development had been completed, Celtic Manor Hotel was renamed to The Manor House to help differentiate from the new Resort Hotel.
Once its bid had been accepted for the 2010 Ryder Cup, Ross McMurray was employed as chief designer and the project totalled £16 million.
The development included a new golf course (Twenty Ten), 120-metre suspension bridge and further investment for renovation to the clubhouse and surrounding area.
However, since then, the bridge has closed due to drivers being in danger of being hit by stray golf balls, as the driving range is situated alarmingly close to the bridge.
Golf Courses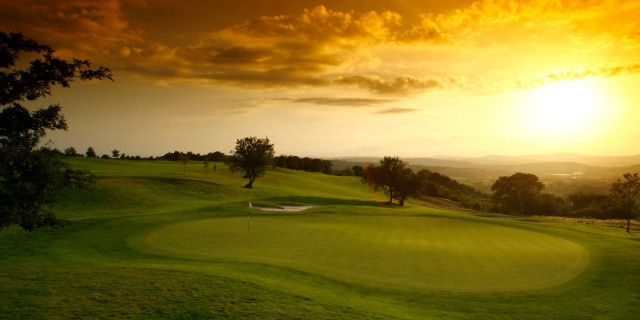 If you're planning to head to Celtic Manor, it's highly likely you have your eyes set on only one course: Twenty Ten.
Of course you do, after all, everyone wants to experience what a round of golf is like on a legitimate Ryder Cup course.
The two alternative loops, however, are filled to the brim with quality and offer a fantastic alternative experience - at a fraction of the cost.
Roman Road
The original golf course at Celtic Manor, you know you're in for a treat when you're preparing to tee off a Robert Trent Jones design.
Having only opened in 1995, it's certainly not as old as other reputable locations, but stunning scenery as far as Somerset and Devon can be thoroughly enjoyed on the Roman.
The layout was named after several Roman roads crossing through the course and special care was taken to ensure that the remains were not disrupted.
The opening nine can be argued as friendly, as open fairways allow power off the tee but a similar approach for the latter half will likely end in disappointment.
The back nine twists through trees and there are several water hazards present in lakes and ravines.
The undulating fairways result in this being a fairly difficult walk, so we encourage hiring a buggy to ensure maximum enjoyment.
Roman Road has played host to Celtic Manor Wales Open (2005-07) and the All Star Cup (2005-06).
Montgomerie
The Montgomerie was designed by, can you guess it? Of course you can, Ryder Cup icon Colin Montgomerie - who utilised the land from the old academy to create his own vision.
This parkland route, that boasts a par of 69, features plenty of deep pot bunkering and some difficult moments on the greens.
The natural hazards and all-round feeling of the experience exudes an inland links feel, and considering the majority of the layout is downhill, it makes for a unique challenge.
Similarly to Roman Road, Montgomerie boasts stupendous views from all corners of the course and this is certainly a track you don't want to miss out on.
Twenty Ten
Now for the main event: a Ryder Cup venue that has received plaudits from pundits, professional players, amateur hackers and just about everyone who has visited.
Never had a Ryder Cup venue been constructed specifically for that reason, but we suppose Celtic Manor is not like a lot of golfing complexes.
Designed by Ross McMurray in readiness for the 2010 Ryder Cup, the course opened in 2007 and measures an intimidating 7,493 yards from the tips.
The course relentlessly questions your golf game; chipping, ball-striking, putting and intelligent thinking is just the beginning of what's required.
Set in Usk Valley, no two holes play similar and a lot of them provide a typical 'links' challenge, that is further bolstered by well-placed water hazards.
This is golf like no other and yes, the other two courses are also dipped in high quality, but Twenty Ten is the justified king when it comes to Celtic Manor.
Accommodation
The resort's hotel boasts a 5* rating, which should come as little surprise considering the magnitude of this iconic venue.
There are 330 bedrooms available for hiring, each providing the necessary amenities needed throughout your stay.
Alternatively, you can stay in the Manor House Hotel that has been around far longer than the resort's hotel.
A collection of 65 rooms all feature stylish and contemporary designs that is set in beautiful gardens.
The Hunter Lodges are another excellent choice for accommodation, overlooking the Twenty Ten Course to help start your morning in the best possible manner.
Each lodge can accommodate up to eight golfers and they come equipped with en-suite bedrooms and a hot tub.
Finally, Coldra Court Hotel is located just a five-minute drive from the resort and it is another viable option for overnight stay(s).
The bedrooms have recently been refurbished and it also features its own restaurant - The Rib Smokehouse and Grill.
Gastronomy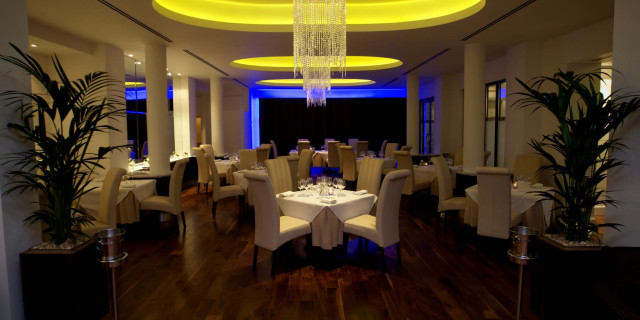 There is plenty of choice around Celtic Manor, which helps further highlight just how impressive this forward-thinking resort is.
There is a collection of seven restaurants linked with the venue and within the Resort Hotel, there is The Olive Tree, Signature Sixth Floor Restaurant and Steak on Six.
The Manor House also has Cen, which serve a wide range of Asian food and you have the option to drink at Cellar Bar, a sports bar with all live sports being shown.
The Grill and award-winning Rafters overlook the Roman Road course and if you're up for an adventure, then travel a few miles upstream where you will find Newbridge on Usk, a 2 AA Rosette eatery.
Spa
Celtic Manor boasts two spas - which speaks volumes of its size and popularity - where a collection of treatments are available to guests at an additional cost.
The Forum Spa and Ocius Treatment Rooms share 20 treatment rooms between the pair of them, offering services such as Elemis and Jessica Nails.
There is also The Forum Health Club, where a 20-metre swimming pool is accessible, alongside a jacuzzi, gym and café.
---
Celtic Manor continues to set the standard when it comes to UK golfing resorts and the collection of three fantastic golf courses helps elevate it above its competitors.
With a healthy array of bedrooms, restaurants and external activities, your trip simply begins as you walk off of the golf course.
If you are interested in more information or would like to peruse available bookings for this Welsh resort, then please visit https://www.golfbreaks.com/en-gb/holidays/newport/celtic-manor/.
---
Related Content: Why Play Golf at Series golfbreaks Golf Courses Courses celtic manor
What do you think? leave your comments below (Comments)
---
Leave your comments below
comments powered by

Disqus
Plan Your Next Round
Ardglass Golf Club
County Down
from £22.00
Save 50%
Castlerock Golf Club
County Londonderry
Galgorm Castle Golf Club
County Antrim
from £13.00
Save 23%
More Golf Course & Travel Features
Plan your next golf break with Golfbreaks.com