De Vere Dunston Hall
By: Adam Smith | Tue 20 Jul 2010 |
Comments
---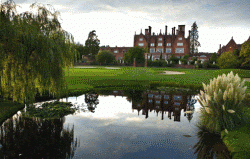 The Course
Deadly accurate is all I will say about this course. You need to bring your S game and by that I mean straight.
Apart from the par three's obviously, and the first I'd say that every hole is no wider than 20 yards.
Set against a spectacular backdrop of the once grand Victorian mansion, the Dunston Hall hotel has become one of the foremost golfing hotels in East Anglia.
At 6725 yards of the championship tees, Dunston Hall is not the longest of courses by any means, but you can certainly find trouble.
As I said earlier you have to be straight but the course also has numerous lakes waiting to gobble your ball up at every attempt.
Along with the 18 holes the course also has a 22 bay floodlight driving range, chipping and bunker practice areas and a good sized putting green.
My Experience
Dunston has a very generous start, a short par 4, with which you can be aggressive and go for the green, some 280 yards across the dog-leg or layup with no more than a mid-iron to get to the corner and have a nice wedge in.
That is followed by a short par 5, where if you miss the fairway bunkers then you should be looking to make a good score.
I was lucky that the wind stayed away for most of the day. My playing partners who had played the course previously said that if the wind got up, some holes are treacherous which I could certainly imagine.
The 3rd and 5th are short par 4's you have to layup short of the big lake on three, but five is very drivable, just don't tug it a bit left into the huge bunker short of the green.
The 6th is the first good test you face and it is a long par 4's. I say long it stands at 420 yards off the back tee's which isn't that long in this day and age but it's how you have to play the hole that makes it long. A Dog-leg right with the fairway split in two by a huge lake. It will have to be an almighty hit to cut the corner and get over the lake, so a long iron or fairway wood hitting straight for position will leave you a long iron into a narrow green. A Great golf hole.
The 8th is an interesting little par 4. At 243 yards you would think no problem, but the tee shot has to be threaded through trees either side of you and then faded around a slight dog-leg to be en route to the green. But don't overcook it, out of bounds runs all the way down the right. If you can hit long enough with your fairway wood you need to fly it over two strategically placed bunkers about 30 yards short of the green to get it there.
You have to cross the road you drive in on to get to holes 10 and 11 that run side by side. Again very narrow. The 11th is a great hole that turns ever so slightly to the left at the green. Out of bounds running all down the left hand side and a lake to the right. So you have to be deadeye with your approach again to a fairly narrow green.
The 14th is a lovely little par 3, ideal for nearest the pin. Downhill and 145 yards from the back tees, it is so difficult to pick the right club.
After the long par 5, 15th you come to the signature hole at Dunston. BBC pundit and ex-golfer Ken Brown tells you in the strokesaver exactly how to play it:
"A good, long and straight drive will be rewarded with a medium to long iron into a slightly elevated island green. An errant drive into the trees, that line , define and add character to this hole, will mean a careful lay-up to the daunting lake's edge needs to be well judged. A precise pitch is need if par is to be attained on this deceptively fast and sloping green."
Another long par 5 follows' on 17, the approach to the green whether it be a fairway wood for you second shot or short iron for you third will have to be put between the two lakes either side of the green and the four bunkers. Daunting shot for any golfer.
You stand on the 18th tee with only you and a par 3 to finish. Big difference of 40 yards from the back tees to the yellows will determine what club you will hit over a large lake. A quite generous green awaits but so do the five bunkers, three of which are behind the green. So don't be short as you will be wet and don't be long as you will find sand.
Go on just put it on the green.
The Pro
As usual I grab a word with the pro and ask him the key questions.
Peter Briggs, PGA Professional:
Q: What three qualities do you need to play well around Dunston Hall?
A: Straight driving, positioning both off the tee and on the greens and good course management.
Q: What is the toughest hole out there?
A: Quite a few are tough if the wind blows, but I will have to say the 16th, it's a great hole.
Q: What's your favourite hole?
A: The 14th, I love that little par 3.
Q: What's your best score?
A: 69
Q: If you had one round left to play in your life, where would it be?
A: If I didn't have to pay for it then Augusta, but if I knew I could get a tee time then it would have to be Royal West Norfolk, The Brancaster.
---
Related Content:
What do you think? leave your comments below (Comments)
---
Leave your comments below
comments powered by

Disqus
Plan Your Next Round
Great Yarmouth and Caister Golf Club
Norfolk
from £11.00
Save 40%
Eaton Golf Club (Norwich)
Norfolk
from £30.00
Save 50%
Bungay and Waveney Valley Golf Club
Suffolk
from £18.00
Save 18%
More Golf Course & Travel Features
Plan your next golf break with Golfbreaks.com