Amendoeira Golf Resort - Faldo Course Review
By: Kevin Paver | Mon 06 Jan 2020 |
Comments
---
The Faldo Course is one of two distinct 18 hole layouts at the Amendoeira Resort, situated just over 30 minutes from Faro Airport in Silves,. The Faldo Course is a different kind of test to its sister course, the O'Connor Course; whilst the O'Connor is very much about the water that comes into play, the Faldo has a much more 'desert like' feel.
---
Amendoeira Golf Resort - Faldo Course Vlog
---
Designed by Sir Nick Faldo, this 7258 yards Par 72 championship course is a real challenge, whatever your handicap. As Sir Nick said of the course, "The real skill is that when you stand on the tee, the golf hole tells you what to do, and if you do what it tells you there is reward, but if you don't you're penalised".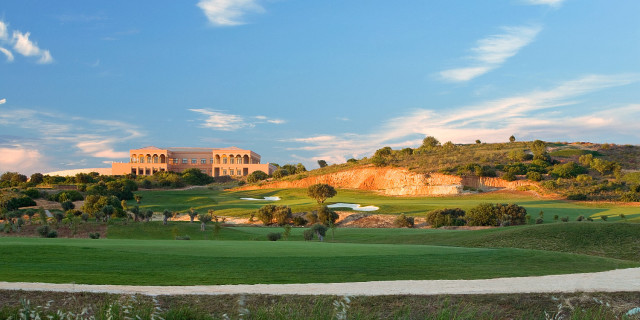 Pre Round Thoughts
As you arrive at the Amendoeira estate, it's impossible not to be impressed. YOu'll be welcomed in 5 star style and shown to the professional shop, which is stocked with everything you could possibly need. However, it's as you head to the balcony and see the courses for the first time that you are really blown away. Stunning rolling hillsides, cacti, olive tress and desert scrub bunkers all await your golf ball.
If you want to do some practise before you play, there are practice facilities a'plenty. Not only do they have a super range, a short game area and two practice putting greens… but if you have a bit more time, head onto the 9 hole Par 3 academy course to really dial in your game!
Front 9 Overview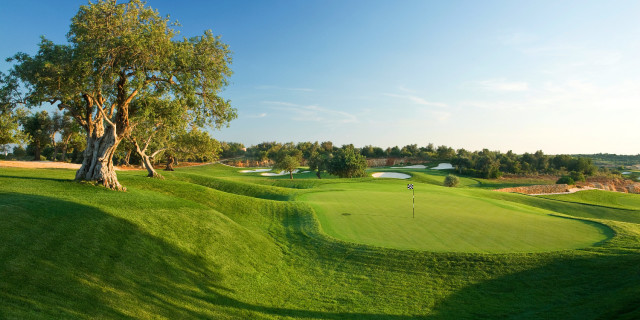 The round begins with a 448 Yard par 4 from an elevated tee, which really highlights Sir Nick Faldo's earlier words. Keeping right of the fairway is a better line into a green with olive trees to the front left and bunkers front right and some pretty angry looking carob trees at the back of the green! This very much sets the tone - be too aggressive, it will bite you!
At 522 yards, the par 5 4th hole is stunning from the tee… and reachable if you can get a good drive away. However, you are faced with a pretty demanding tee shot. If a draw is your preferred shot shape, you will stand a good chance. But, you will need to be sure of a solid strike with your second shot as you'll need to carry the bunkers and the barranca (a dry ditch filled with rocks) to make the green. The more sensible of us, will be laying up and getting there in 3.
As we get to the stroke index 1, 8th hole, you can quickly see why this par 4 is rated as the toughest on the course. Firstly, a large bunker runs right up the centre of the fairway, which is very cleverly located… and a little sneaky too. There is more room to the right hand side, but it does leave a longer second shot… aim for the left hand side and you have a narrow landing area and OOB to consider. However, if you make it, you are rewarded with a shorter shot into the green which runs away.
Back 9 Overview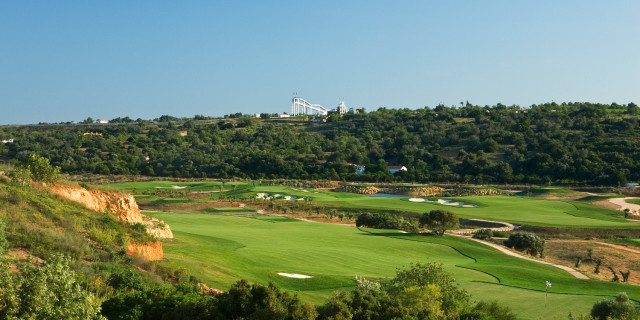 The back 9 takes you right up into the hills, with some stunning views back to the clubhouse. As you stand on the 11th, you are about to begin a wonderful stretch of three holes that will make you want to keep taking pictures.
The par 3 11th is surrounded with danger, and is a classic example of a par 3 that doesn't need to be particularly long to be tough. At just 144 yards, it demands an exceptional tee shot over water to a long, two tiered green. Take too much club and hit it left you could be in trouble as it runs away left, potentially into a stream. Too long and right and you'll be dealt a slightly less punishing run off to the right. If you manage to make a par here… you should walk off very happy.
Another spectacular tee shot awaits you on the Par 4 12th hole, as you play over a wooded valley. The green starts your climb to the highest part of the course and is guarded by a beautiful cork oak tree.
As you walk onto the 13th hole, you have reached the highest point on the golf course, and the views are amazing, albeit a little daunting to the fairway! A 570 yard left to right par 5 with everything running left to right, so consider that as you aim your tee shot. The second shot again offers your some choices; carry a large area of scrub and thread it through two fairway bunkers OR play short.
To finish in style, and as is the theme of this course off the tee, only those that hit a good tee shot stand a chance of getting on the green in two. You need to aim between two fairway bunkers, and ideally, with a fade. If you've made it and have a chance, you'll still have a long shot to the green ahead which has been created in a fantastic hillside amphitheatre. The more sensible of us will lay up, leaving a short iron in. However, make sure you take enough club or you'll find your ball running all the way back to you whilst the golfers on the balcony watch!
Verdict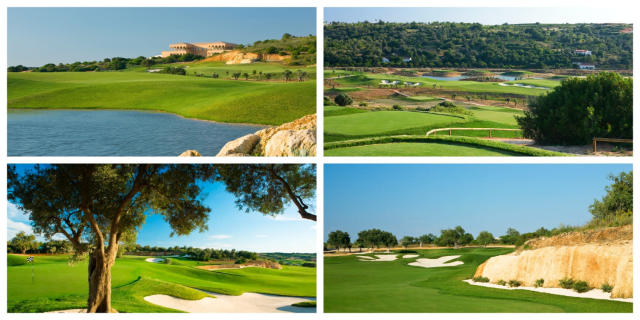 The Faldo is a stunning golf course, and a real credit to Sir Nick and his team. It's design is clever, and really makes you think about the shots you need to make to put together a good score. Not to mention the superb vistas that will be discussed for a long time with your playing partners.
Yes, it's tough and challenging for all levels of golfers, and it could easily intimidate you. However, remember that you are there to have fun, so chose from the many tees available to make sure you play from ones that suit your ability.
During his visit to the area in 2007, Sir Nick said 'The land at Amendoeira is dramatic and the project has the potential to be a real talking point in the Algarve'. A talking point it most certainly is.
OVERALL RATING – 10
Course (Conditions) -10
Course (Hole Variety/Layout) - 9
Course (Green Condition) - 10
Course (Challenge/Difficulty) - 10
Club Facilities & 19th/Clubhouse - 9
Practice Facilities - 9
Friendliness/Hospitality - 10
Pace of Play - 10
Value for Money - 10
---
Related Content:
What do you think? leave your comments below (Comments)
---
Leave your comments below
comments powered by

Disqus
More Golf Course & Travel Features
Plan your next golf break with Golfbreaks.com