Experience Dordogne Valley in France for Golf and More
By: Andrew Picken | Tue 30 Jul 2019 |
Comments
---
Dordogne is a beautiful region in the south-west of France, one that you may have not have consided a golf destination, but there are many courses to choose from. However, the main attraction is the variety of activities available, something that Golfshake Amassbador Andrew Picken had the chance to experience.
---
I recently had the opportunity to fly into Brive airport, France via Stanstead. Prices range from £25.00 return. That's not a mistake. There are simply some very well priced flights into one of the most rapidly growing tourist areas of France.
Our group were staying at Souillac Golf and Country Club near Lachapelle-Auzac.
This is an area of France that I have never visited before and I was excited at the possibilities once I completed my preliminary research. The local tourist agencies provide excellent English based guidance for those wishing to explore this area.
We were provided with self-catering lodges that are placed within the golf course providing superb views of the surrounding countryside. Each lodge is uniquely designed and privately owned. They are kitted out perfectly with every conceivable utensil that you would need for a stay. The lodges can provide for up to eight people and are very comfortable. There are excellent child friendly facilities including tennis courts.
The site has nine swimming pools and an excellent restaurant and bar area. It is very popular, so pre-booking is advised. We quickly appreciated the quality of the food and the care with which it is prepared.
Each element of the menu is provenanced allowing the consumer to identify directly the farmer or producer from where the item was sourced. This gives an excellent guide of the quality and it is clear that there is real pride from the stockist to the staff on the quality of the ingredients used in all the dishes.
Daily deliveries of bread and cakes can also be arranged via the reception and its multi-lingual staff.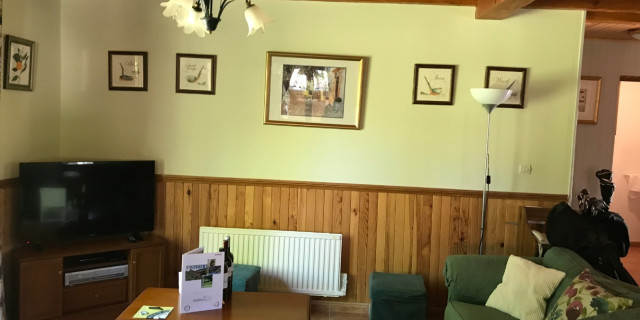 The lodges are built in a swiss chalet type design with two bathrooms and a shared dining room and lounge. Balconies are provided for the main bedrooms and the exterior patio areas with BBQs are excellent. There are drying rooms and areas for storage of clubs or hiking equipment to keep the main living areas free from clutter. I loved the design and quality of the lodge's construction.
Souillac
Souillac has its own bespoke golf course. It was great fun to play given the small greens and undulating layout. We played three different courses during our trip and each has its own unique charm and attraction. I love the quirky approach to golf in France with most not taking themselves too seriously.
I loved the Souillac pro shop that had a fabulous display of vintage wines next to the golf shoes and golf shirts. Come to think of it why ever not?
What's more important, wine and food or the latest branded golf clothing?
In another shop a bicycle was being offered as a raffle prize. This was a mountain bike with fat tyres specially branded by Titleist. Brilliantly French to find it taking pride of place in the pro shop display.
French golf courses are community centres and those we sampled offered gastronomic delights at a ridiculously low price. The quality of the food and menus designed for the golfers was nothing short of superb.
We even got to meet former Premier League David Burrows who was running the clubhouse with his wife and friends at La Marteirie. Fancy meeting a Liverpool FC legend in a clubhouse in France. His French was superb and his love of the country and its gastronomy visibly transparent.
I soon found myself falling for the Dordogne region. It offered such a lot on your doorstep.
Wider Attractions
1001 castles, UNESCO world heritage sites and some historical and religious attractions that attract millions each year. Some having done so since the 10th Century.
Rocamadour
This is a sacred city that seems to hang and cling to a cliff edge. It has been a pilgrimage site since the Middle Ages. A wooden statue of the Black Virgin has been worshipped for over a thousand years at this site. It is a beautiful city with breath taking views. There some great restaurants and theatres on the lower levels but please take time to ascend or descend the 216 steps that are an intrinsic part of the pilgrimage route. There is a lift for those who wish to take a simpler route.
Chateau de la Treyne
This is one of four Michelin starred restaurants in the region and we were blessed to have had a menu created specifically for our group to showcase the gastronomy of the area.
Chef Stephane Andrieux simply excelled himself and created a meal of memorable and monumental proportions.
I illustrate my pleasure by simply detailing a copy of his menu with accompanying photographs and reveal that we sat, ate, chatted and drank. We enjoyed this wonderful castle for over four hours and it has immediately gone into the top ten meals I have ever had in my life. It was wonderful!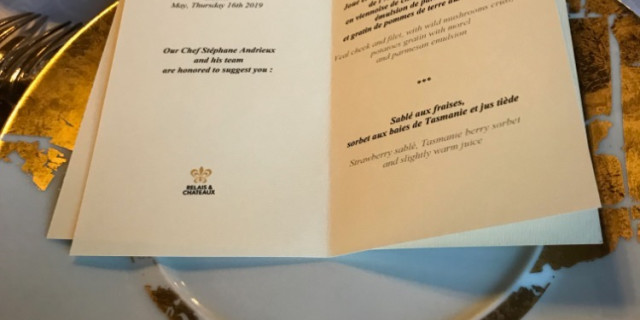 Collonges la Rouge
This region has fve villages within it that qualify for the label of "most beautiful villages" in France. This was a joy to visit and wander around. Built entirely in red sandstone it is known as the Ruby of the Dordogne Valley. Narrow, medieval streets populated by artisan shops and workshops. What a delightful place to visit.
Dordogne River
The river is the catalyst for all the local developments throughout history and many of the Chateau are situated along its banks for strategic reasons. The river itself has a heritage status given its ecology. Fishing, Kayaking and other water based activities are another keen attraction to the visitor. It flows from east to west for around 130 kilometres. It is clean, clear and cold. It also boasts some incredible fishing, particularly for trout that are a local gastronomic speciality.
Land of History
Men have found this area ideal for habitation since the dawn of time. The skeleton of a Neanderthal Man was discovered at l'Archeosite Des Fieux. We also visited Lascaux which I found absolutely fascinating.18,000 years ago our ancestors left amazing traces of their existence by painting the walls of the caves. They are known as the Masterpieces of Prehistory. The display allowing interaction with these drawings is mind blowing and should not be missed. No pictures of golfers but all other daily activities are represented using a host of painting techniques. Simply fascinating and educational.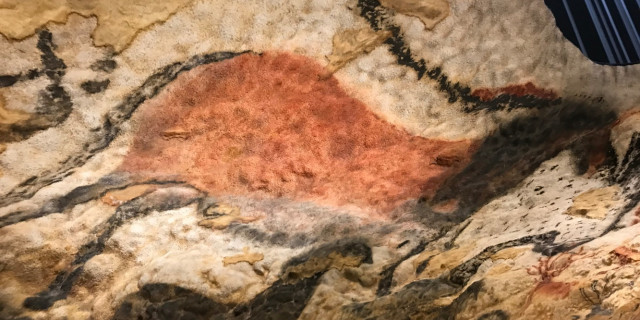 Gastronomy
It is difficult to get away from food and wine in this area as it so intrinsic to the life of the region. Outdoor markets are available each day of the week within an hour travel of the country club selling seasonal products direct from the producers.
These include the black diamond. The black truffle is a luxury treat providing a subtle flavouring to all manner of dishes. From the same family as the morel mushroom it adds a delicate level of flavours. I had some over a trout fillet and it took the flavour combinations to another level. There are only three tons of this product sold in France annually most coming from this area.
Perigord Walnuts are another traditional favourite dried or fresh. The walnut oil sourced from these nuts is simply delicious. Walnut bread created for our visit to Chateau de la Treyne was a real highlight of the trip.
Rocamadour cheese is a goat cheese made from unpasteurised whole milk and has a wonderful creamy texture and flavour. First created in the 15th century this is a superb artisan cheese that even has its own annual festival on Whit Sunday. Many local farms produce duck-based products including some of the best foie gras I have ever tasted.
Lou Pe De Grill: The literal translation is Crickets Foot this is a delicious aperitif made from dandelion flowers.
Straw Wine is also a local delicacy having been made using the same process since the Middle Ages. It is also called honey of the muse and is usually served with foie gras or cheese.
Hiking
There are over 101 hiking treks detailed within the Dordogne Valley Tourist Office recognised for environmental and architectural interest. Given the number of pilgrimage routes travelled over the years this is not a surprise. www.vallee-dordogne.com
Gardens
With its greenery garden of topiary art composing astonishing avenues, Eyrignac is a jewel in the Perigord Noir, an enchanted universe only a few kilometres from Sarlat.
Around the 17th century manor lives a wonderful example of the formal French garden. There are box-trees arabesques, the flowing fountains, the water mirrors, the lawn carpets and a collection of living sculptures hand cut by Eyrignac's gardeners. Rich with a family history of 500 years this is a popular visitor site all year long. There are over 80 000 visitors per year, seven km of lawn borders, 50,000 trees, six gardeners, ten acres of maintained gardens, 1.5 km of gardens to discover.
Chocolate Factory
Bovotti chocolate is known throughout France. We were given a guided tour detailing the history and manufacturing process of top quality chocolate and then given let loose with a liquid chocolate fountain enabling us to create our own items for later consumption. The visitor centre and shop is a superb place to visit, but do not expect to wander off empty handed.
The samples of the creations on offer see to that, once you have tried this quality of chocolate your palette will be spoiled for any of the lesser grades more widely offered. My suitcase was crammed for the return journey with flavours I had bought for family and friends to try. The salted dark chocolate is a reason in itself to make this journey again. Please visit, you will not be disappointed. C'est Magnifique!
Golf Courses to Play
Golf de la Marterie
This course is nestled in the heart of the Perigord Noir in Dordogne. It is equidistant from the medieval cities of Perigueux, Bergerac and Sarlat.
This is an interesting, challenging, but fair layout that is designed to accommodate golfers of all standards. It was very well presented and maintained at the time of my visit. I enjoyed the challenges the layout presented with water coming into play on several of the holes.
The natural elevations are very well used to enable the visiting golfer to see hazards easily from the tee. Avoiding them is another issue.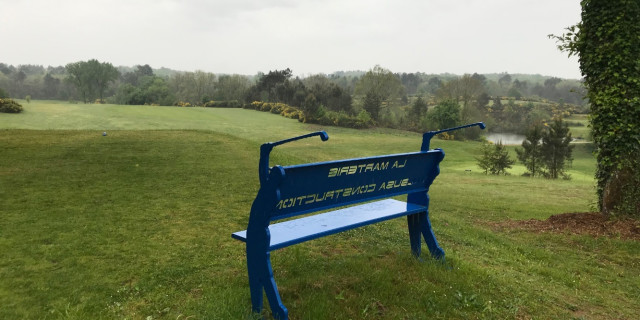 It is set amidst 70 hectares of undulating wooded land. There are wide, tree-lined fairways, sculpted bunkers and daunting water hazards. The course boasts an excellent combination of challenging shots and beautiful scenic backdrops.
There is a functional practice area including a putting green and a 15-tee driving range.
The clubhouse, renovated from an authentic 18th century Perigourdine stone house, offers a warm and inviting atmosphere. There is an excellent outdoor terrace giving panoramic views of the golf course.
The English version of the website is easy to navigate and provides diagrams of the course layout.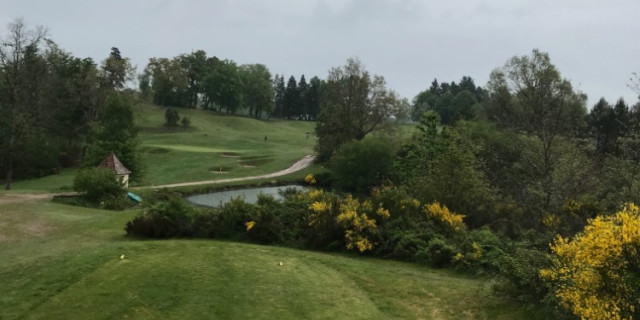 The first three holes are a little non-descript but the remaining ones are well worth a visit. Holes 4 – 18 are testing and pleasurable given the range of tee options. Conditioning is also very good given the climactic conditions in this area of France.
Please ensure that you give yourself enough time to properly enjoy the clubhouse. Great local produce, well cooked and delicious. Many of the staff are multilingual and extremely welcoming to the visiting, English speaking golfer.
In conclusion, I believe that this venue is really worth seeking out if playing in this area.
This is not a championship course, however, it is highly entertaining, well thought out and conditioned. The greens are true and small, offering challenges on each hole. The holes follow the natural terrain and are undulating using the natural elevations well to make the most of a relatively new course structure. I really enjoyed my round here and found my game tested throughout.
It is a perfect holiday layout that could be accessed by the whole family. Multiple tee options would allow children to play with grandparents and that is exactly what I would do when returning to this venue. I would bring a group of friends and try and access the entire range of attractions that are within an easy commute.
Multilingual scorecards detailing local rules and the hole locations are a clear indication of the international appeal of this facility.
Aubazine Golf Course
This course is located within the Parc du Coiroux. It is found between Brive and Tulle. It is west within an area of outstanding natural beauty with lakes providing the framing to many of the golf holes. There are many other leisure activities associated with the parc including open water swimming, kayaking and top grade fishing.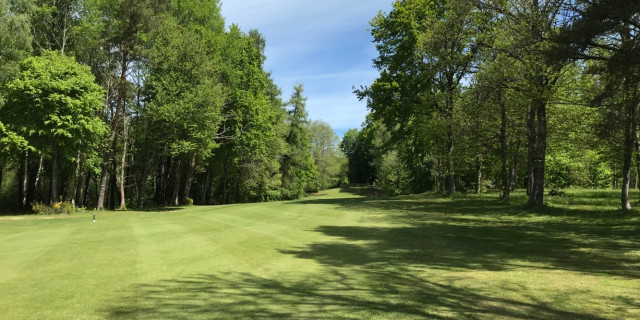 Please watch out for the electric fences that provide boundaries to the course. They are only small, around two feet high, but they are electrified to prevent access by wild boar that are prevalent in this area. The boar can create considerable damage to the well conditioned course hence the defences required. They also don't rake bunkers so don't be surprised to find deep hoof prints in the sand if one has managed to breach the defences.
Please don't do as I did when a ball luckily remained in bounds and accessible requiring me to back slightly into the fence to allow a full backswing. The shock I received was definitely enough to stop a wild boar and it certainly did nothing to improve my swing for the next shot!
The avenues of trees and the number of elevated tees make it an easy course layout to follow. There is clever use of the lake in the design of many of the holes and it is set to visually intimidate from many tee boxes.
I took a photograph of the general plan before the round and then used it to work out the position of the next tee box from each green. A useful tip to ensure a decent pace of play when playing an unknown course without the benefit of a course planner.
Each hole is well signed and displayed on the tee box. Using the tee box visual added to the enjoyment of the course.
Conclusion
The Dordogne area does not yet have the reputation for golf that is enjoyed elsewhere in France, but there are certainly a host of other attractions available to the holiday golfer that make this a very appealing area to explore. I really enjoyed the flexibility and style of the self-catering lodges and the quality of the cuisine available is simply stunning. This is an area that is as yet untapped to the UK golf market and I certainly intend to return to explore further in the future.
---
For more information, visit http://www.souillaccountryclub.co.uk.
---
Related Content: travel golf travel France
What do you think? leave your comments below (Comments)
---
Leave your comments below
comments powered by

Disqus
More Golf Course & Travel Features
Plan your next golf break with Golfbreaks.com