Getting Into Golf Secret Harbour Golf Links Review
By: Golfshake Editor | Tue 13 Mar 2018 |
Comments
---
Article by Kim Dowsing
---
WHEN I first started playing golf just over a year ago I had a dream. I wanted to play 18 holes at a course called Secret Harbour Golf Links, near Perth in Western Australia. It holds a very special place in my heart.

My aunt, Penny Dinsdale, emigrated to Secret Harbour many years ago with her husband, Max, and their three children. They had a house built that overlooked the course. It was a dream come true, especially for my Uncle Max, a Felixstowe docker who loved golf. Tragically, 20 years ago Max dropped dead on the seventh tee at Secret Harbour. My first trip to Australia was for his funeral. It was a deeply distressing time, but I fell in love with the place and secretly hoped that, one day, I might be able to follow in his footsteps and play on the course that meant so much to him.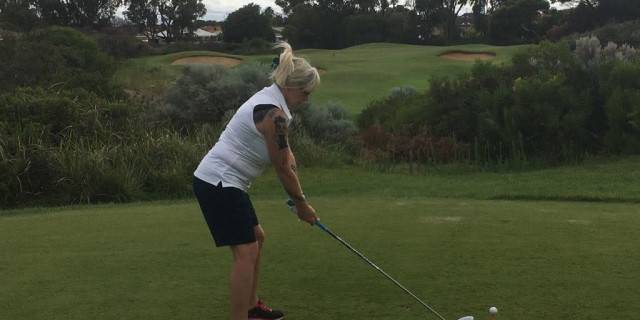 Well, I am here to tell you that it has finally happened. I have just returned from three wonderful, unforgettable weeks in Perth, accompanied by Himself. And I did it. I played golf at Secret Harbour. And not only did I play, but I did so rather well.

The course was designed by Graham Marsh, one of the best golfers Australia has ever produced, and a man who has built a reputation as a renowned course architect. The rolling fairways are beautifully manicured and feature many well-placed pot bunkers that have to be avoided at all costs. It is a layout that demands good course management. You can't just stand over the ball, hit it and hope for the best. It measures 6,447 metres from the championship tees.
Read Kim's Full Getting Into Golf Series

The day before our round, we went along to the practice ground to hit some balls and get a feel for the place. At first, I could do nothing right. I missed the ball completely, and when I did make contact it was dribbling just a few yards ahead of me. I was distraught. And then I had a light-bulb moment when I remembered something I had been taught during my series of six lessons with Caroline Grady at Bawburgh Golf Club near Norwich. I had been trying to hit the ball without hinging my wrists properly. Eureka! All of a sudden, I was making sweet contact and the ball was soaring into the air.

I couldn't wait to come back the following day.

The opening hole is a par five of 527 metres, with trouble right and left and thick rough in front of the tee. Himself duly sent his opening drive straight down the middle. Now it was my turn. I was never more nervous but I somehow managed to strike a beautiful opening drive, with a lovely right to left draw. I managed to negotiate the hole in seven shots. The highlight of my round came at the third, another par five of 469 metres where I once again hit a great drive. I followed it with an even better second shot with my five wood and another that finished just short of the green. I then chipped the ball to about 10 feet and holed the putt for a par. A par five! I was ecstatic.

Let me tell you that there are some marked differences between golf in Australia and England, the most obvious of those being the weather. The temperature when we played was around 38C, there wasn't a cloud in the sky and a gentle breeze blew in from the Indian Ocean. The fairways are firm, which means that the ball rolls a long way – a very long way. The drive I struck at the par-four sixth travelled almost 200 yards. I felt like a proper golfer. Oh yes, and then there are the greens. They are quick. This was confirmed by himself, who said that they were the fastest he had ever experienced. This is a man who has played in Spain, Portugal and the United States, as well as all of the courses on The Open rota. And the sand in the bunkers was white and soft.

We arrived at the seventh hole, where a magnificent stone plaque stands in memory of Uncle Max. "In memory of Max Dinsdale, a true gentleman. Passed away suddenly March 22, 1998 on this hole. Never to be forgotten and always remembered. May your drives be long and straight, May your putts be short and true, and may there ever be a bit of green grass under every life. In the hearts of his Family SHSGC members." You will not be surprised to learn that there was a tear in my eye as I stood on the tee of this tough, 155-yard par three. There is trouble everywhere, but Uncle Max had a guiding hand on my shoulder and I struck a tee shot that cleared all the trouble and finished just short of the green. I walked off with a four marked down on the card and a huge smile on my face. In the five minutes or so that it took to play the hole I had experienced every possible emotion.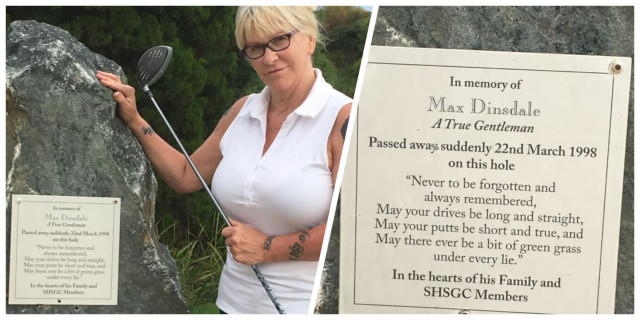 The eighth is a tricky par four, 299 yards from the men's tee, 244 from the ladies' tee. Sounds straightforward enough, but there is one bunker slap bang in the middle of the fairway, with a further five traps beyond. Oh yes, and there is the small matter of the huge lake that guards the green. A good drive was followed by an approach that found a watery grave. But that was the only ball I lost all day.

The ninth hole is the most difficult at Secret Harbour. It is a par four measuring 386 metres, with trouble all the way down the left and bunkers waiting to catch your drive. I hit the best tee shot of my life, fully 20 yards beyond Himself's drive.

From the men's tees, the best hole on the course is the 13th, a par four that measures 413 metres (the ladies' tee is fully 100 metres ahead). Himself faced a daunting drive, calling for him to carry the ball about 180 yards to clear a daunting waste area filled with reeds, while avoiding well-placed bunkers. He hit his best drive of the day and duly found the green with his second. And hey, I also hit another cracker. I love my driver!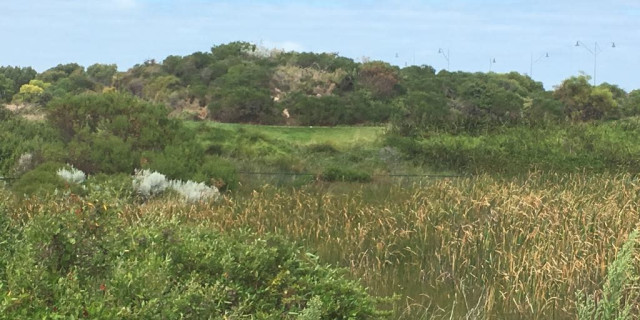 My best shot of the day came at the 17th, a par three that is widely regarded as being the signature hole at Secret Harbour. It measures 144 metres and is played over a lake to a shallow, sloping green with a deep bunker to the rear. Gulp! Guess what? My tee shot comfortably cleared the water, landed on the green and bounced through the back. I took three putts but I didn't care. This is a difficult hole, it didn't get the better of me and I was delighted to make a four.

We came off the 18th green and I couldn't stop smiling. Secret Harbour Golf Links was everything that I hoped it would be – and more. We finished our day with a couple of cold ones while looking out over this magnificent course and planning our next trip.

Secret Harbour Golf Links

Par 72, 6,447 metres, links

Green fee $Aus60-74 (approx £30)
---
Related Content: 2017 getintogolf
What do you think? leave your comments below (Comments)
---
Leave your comments below
comments powered by

Disqus
More Golf Course & Travel Features
Plan your next golf break with Golfbreaks.com