Troia Golf Feature Review
By: Golfshake Editor | Mon 07 Nov 2016 |
Comments
---
Feature by Golfshake Ambassador Andrew Picknan who visited the Algarve in September 2016.
---
Designed by leading American golf architect, Robert Trent Jones Senior, Troia Golf was named as one of the best golf courses in the world in 2011, while Golf World had declared it the 32nd finest on Continental Europe.
Situated at the northern tip of the Troia Peninsula on a long, flat sandy strip of land separating Setubal lagoon from the Atlantic Ocean, the course occupies a dramatic location at sea level, against the back drop of the Arrabida Mountains. It is found some 30 minutes south of Lisbon by taking the ferryboat across the river Sado.

At the crossroads of the Sado Estuary and Serra da Arrábida,the Troia Golf Championship Course is an 18-hole, par 72 course, measuring 6.317 metres alongside the beach with a magnificent sea view.

Designed by the American golf architect Trent Jones Senior, TROIA GOLF was elected one of the best golf courses in world by Rolex in 2011.Golf World qualified TROIA GOLF as the 32nd best golf course on Continental Europe.

It features narrow fairways that are hemmed in by sandy dunes and pine trees. It bears all the hallmarks of the work of Robert Trent Jones with small greens, defensive bunkers, in addition to swales and hummocks.

The venue previously hosted the 1983 Portuguese Open, a European Tour event that was won by Sam Torrance returning a score of two-under after four rounds. He was the only player to record a score under the par of the course, which underlines its significant difficulty.

These facts gave an indication of the quality and test that we were about to face. However, despite my rising handicap and currently struggling golf game, I loved this course and its challenges.
Golf Experience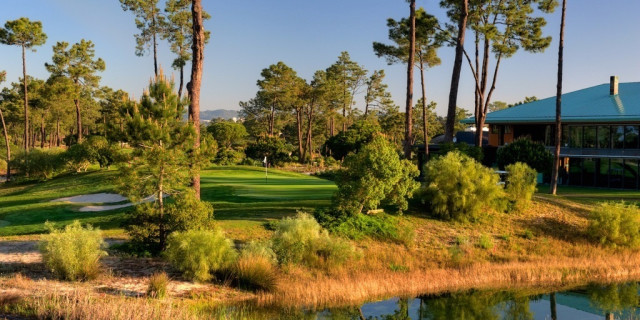 Troia is part of a world heritage site and the area is a site of outstanding natural beauty. I have never before travelled to golf course via a ferry. There is a bespoke marina for those wishing to combine yachting with golf. This was a golf first for me.

The site was originally a major Roman centre where salting of fish and the preparation of fish sauces provided for the Empire. Today, it still resonates with its antique traditions and architectural digs that are still happening daily.

If visiting this course try and give yourself the extra time to enjoy a tour of the ruins. They are fascinating. The tour is an invitation to go back to the 1st Century A.D. and discover a national monument that has survived over 2000 years, with houses, factories, baths, mausoleum and necropolis, all marks of Roman citizenship.

Visible are six centuries of history, from the 1st Century to the 6th Century A.D. Tróia, the "Pompeii of Setúbal", as Hans Christian Andersen called it, was designed on the scale of the Empire and it is the largest known fish-salting facility in the Roman world.

Travelling by ferry was a great way to start the day, it was warm but slightly overcast and having the opportunity of the distraction of learning more about the resident pod of bottlenose dolphins settled my nerves a little.
Course Highlights
I enjoyed the design of the clubhouse, as it is modern but not in any way obtrusive to the site as a whole. The positioning of the outside tables from the bistro area is the perfect place to enjoy a pre or post round drink.

There is a calm, unhurried feel about the place and despite its outstanding quality and reputation there is no feeling of intimidation for the visiting golfer.
#1 Par 5 473 metres Stroke index 3
The opening shot is imposing with water featuring on the left supported by out of bounds for the really errant shot. Waste land further down the hole means an accurately placed tee shot is a requirement for success. This is not an easy opening hole so ensure you are properly prepared.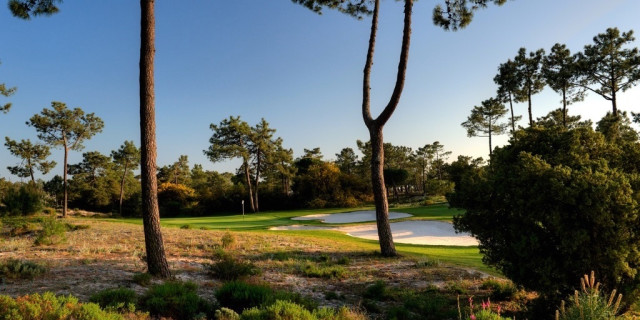 #3 368 metres par 4 stroke index 11

I can see why Robert Trent Jones is so proud of this golf hole that he included it as one of his best designs globally. Given his world wide productivity this is a major accolade. I loved the way that he followed the natural contours and used the existing sandy waste areas to define the areas of play. My pictures do not give this golf hole full justice. It is a gem, a real masterpiece. I was genuinely excited to play it.

#4 par 3 123 metres SI 17

Even though this is one of the easiest holes on the course, it still has sufficient presence to intimidate from the tee. Wind from the ocean is a real factor at this hole and the clever bunkering and closely cut swales ensure the need for an accurately placed shot. This is a great example of a single shot golf hole.

There are no weak holes on this course but I cannot describe all of them and simply choose to select my personal favourites. I can guarantee that none will disappoint although we may disagree about favourites and rankings.

Having eased off slightly with the rhythm of the round he immediately throws in its hardest hole.

#7 par 515 metres SI 1

This is another absolute gem, requiring accurate placement off the tee, followed by laser sharp accuracy for the approach to a formidably protected green. Par here is a prize to be cherished.

There is a tempo and rhythm to any well designed course and this has it in spades. It is as if the designer is toying with the golfer as you move around his field of play.

Each hole offers challenges at whatever skill level and that is a design skill in itself. I did not find this a relaxing course to play as it was necessary to keep a real focus and concentration on the task in hand.

When I became distracted by the gorgeous views or properties adjoining the fairways my game disintegrated. This course requires your best at all times and it is a wonderful challenge.

#11 par 3 165 metres SI 16

Watch out for the tee being set slightly off set to the green as it will affect your alignment. This hole runs along the course boundary facing north west. Again, it's a beautifully designed tranquil setting.

#14 par 5 475 metres SI 4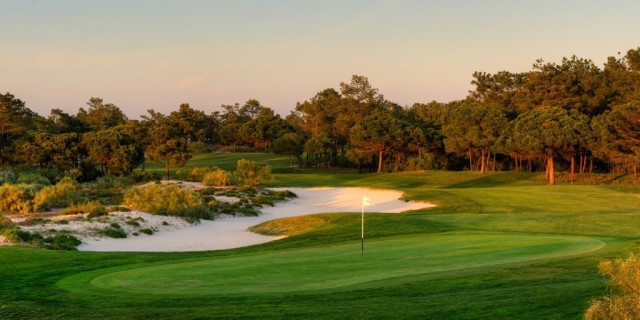 Again the tempo of the round changes and it feels like the turn towards home and the Atlantic Ocean via a double dog-leg is a real gauntlet being thrown by the designer. This is a true championship challenge.

Ignore the amazing properties built parallel to these fairways as you need every ounce of concentration to navigate this piece of 3D golfing chessboard. Brilliantly conceived and executed design.

#17 par 3 160 metres SI 18

This is the easiest hole on the course. It is an absolute beauty. The out of bounds markers on the right come up to the tee box to reinforce its presence. The hole runs parallel to the ocean and beach. Sandy waste land turns it into an island green without water. This wasteland is littered with bushes and foliage that grabs and holds any less than perfect shots. Visually this intimidates and it is only after the round has finished that I realised that this was the easiest offering from the designer.

#18 par 5 486 metres SI 2

This hole is a real crescendo finish to an exceptional golf course. Strategic placement of shots is an absolute must to have any chance of success. Mature trees line the fairways and bunkers add further protection to any proposed landing areas. If you do find the fairway off the tee the next shots become tighter and tighter as you head towards a well protected small finishing green.
Overall Thoughts

This experience was a genuine golf highlight for me. I loved the challenge of the course and feel privileged that I have played it. It is not an easy course and full concentration was required, but it was a memorable experience that I would happily repeat.

Having re-read the review, it has occurred to me that this course could be described as a golf roller coaster. Robert Trent Jones offers easier holes immediately followed by those of much increased difficulty. This technique helps the pace of the round quicken and slow to his direction. He dictates the difficulty of the shots being presented and therefore the pace of the round.

If you are in the area playing golf ensure you check out availability as the experience is one that will stick long in your memory.

Flight Information

Our group of golfers travelled from to Lisbon from Gatwick then returned via Faro using Monarch Airlines scheduled flights.

Lisbon: Monarch, the scheduled leisure airline, operates year round flights to Lisbon from Birmingham, London Gatwick and Manchester airports with fares, including taxes, from £44 one way (£79 return)

Faro: Monarch, the scheduled leisure airline, operates flights to Faro from Birmingham, Leeds Bradford, London Gatwick, London Luton and Manchester airports with fares, including taxes, starting from £49 one way (£94 return)

For further information, please visit www.monarch.co.uk.
---
Related Content: review Portugal Algarve
What do you think? leave your comments below (Comments)
---
Leave your comments below
comments powered by

Disqus
Plan Your Next Round
Ardglass Golf Club
County Down
from £22.00
Save 50%
Castlerock Golf Club
County Londonderry
Galgorm Castle Golf Club
County Antrim
from £13.00
Save 23%
More Golf Course & Travel Features
Plan your next golf break with Golfbreaks.com