Experience the Best of Golf in France with Blue Green
By: Golf Shake | Mon 18 Jul 2016 |
Comments
---
Wherever you venture in France, you will never be far away from a Blue Green golf course. The Blue Green group is one

of the leaders in Europe in Golf club management and manage numerous courses in France, covering many regions from Dunkerque to the Riviera.
The Blue Green group has over twenty years experience with over 400 affiliated companies. As well as being a promoter of a European Challenge Tour heat, nearly 14,000 beginners start learning golf with Blue Green meaning there are courses for everyone across France.
Golf in Northern France
Northern France is a popular destination among UK golfers as it is so close to the Eurotunnel. For this reason, many golfers take advantage of the wonderful Blue Green Dunkerque Course. This course features 18 holes dating from 1983, with further 9 holes added in 1999, and walls of gabion and wood, honeycomb turf partitions and green walls evoke the architecture of Fort Vallières.
---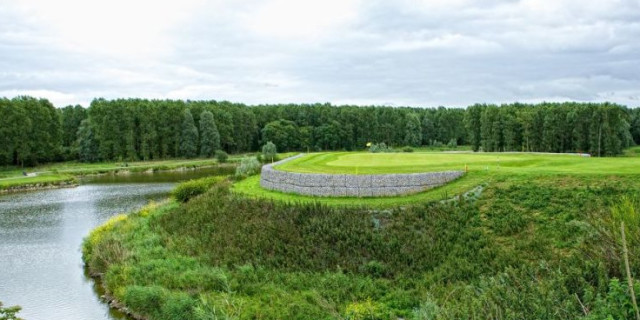 Blue Green Dunkerque
---
The Pol hotel, which is just a short drive from Dunkerque, is popular among golfers and offers luxurious rooms with an elegant, contemporary design not far from the golf course. Also popular are Martin's Relais, Hotel Les Frangis and Hotel Chateau Tilques.
When in Dunkerque it would be rude not to visit the beaches famed for their role in the war and take in the incredible history. Alternatively, you can make the short journey to the capital of the Nord-Pa-de-Calais region, Lille. The city was once an important merchant centre of French Flanders but is now a cultural hub and bustling university town.
Also in Lille is a great Blue Green golf course, Lille Métropole. The Golf Blue Green Lille Métropole course is a links-style course that is technically demanding and hilly. The course features pot bunkers typical of a links course, water hazards and large greens. This course is also just a 15-minute drive away from Lille city centre.
Also in northern France is the region of Normandy and like Dunkerque, it is well known for its coastline of varied beaches, white-chalks cliffs and World War II beachheads that includes Omaha Beach. When not on a golf course, Normandy is a great place to relax as it features endless, tranquil countryside on top of its ranging history from the Viking raids to the D-Day landings.
Located in Normandy is Golf Blue Green Houlgate and is popular among golfers who find themselves in the region as it is a treat for the eyes and used to be a former landscaped garden. The course is dominated in part by Château de Beuzeval and offers outstanding panoramic views over the varied landscape of the region.
---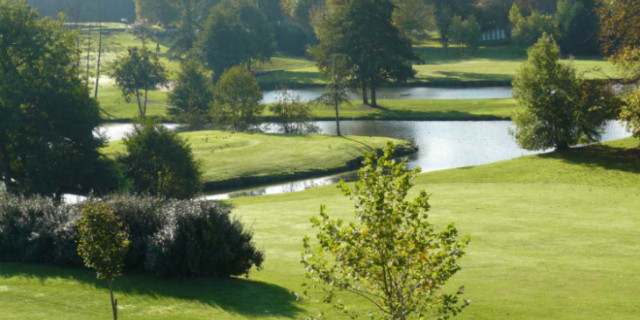 Blue Green Golf de Houlgate Beuzeval
---
Also in the region is Golf Blue Green Caen, which has proved popular on golfers first and last days in the region as it located near to the ferry port in Ouistreham. This course features an 18-hole course and a nine-hole course, with both offering a challenging test of golf. La Plaine-Vallon is the 18-hole course and length and risk taking is finely rewarded on all of the La Plaine holes, while Vallon will showcase your accuracy. The nine-hole Le Bois course provides a comprehensive set of challenges, requiring length and accuracy in order to be successful.
It is suggested you stay in the Mercure Deauville Centre Hotel when playing golf in this region, as it is ideally located in the heart of Deauville. As well as being within an hour's drive of both courses, the hotel is also just a short walk from things such as the casino and is opposite the marina. The soothing atmosphere and quality service at this Mercure hotel will fully satisfy your needs when off the golf course.
On the north-western tip of France you will find the region of Brittany and here you really are spoilt for choice of Blue Green courses. Near Saint Brieuc is Golf Blue Green Pléneuf-Val-André, which is consistently in the top 50 of French Golf guides. The course offers exceptional views of the Brittany coastline and runs parallel to the beach and sea, which means when the wind picks up, the courses becomes pretty formidable. If the wind does get really strong, you can often find the Emerald Coast showering you in sea spray as the tides dictate.
---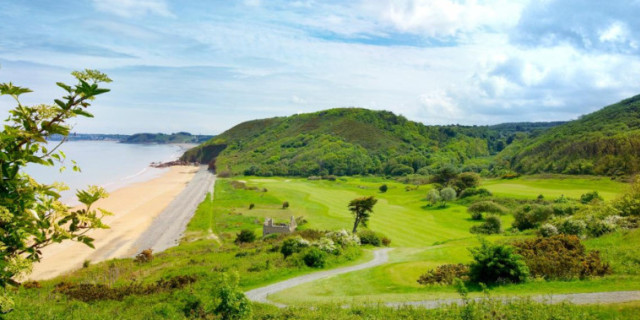 Golf Blue Green Pléneuf-Val-André
---
Those playing Pléneuf-Val-André tend to base themselves in the Spa Marin Du Val André Thalasso Resort. The hotel has easy access to Val André beach, the casino and the Marine Spa to make sure you have a relaxing time when you're not on the golf course.
If you find yourself driving through Rennes then you should definitely take advantage of Golf Blue Green Rennes Saint-Jacques and its championship course. Rennes Saint-Jacques is the largest golfing complex in Brittany and is chosen for its speed and quality of its greens. The fairways are narrow and will require the golfer to think tactically but no matter what your level, everyone will find a course to suit them.
The greatest concentration of courses in Brittany feature along the coastal stretch between Quimper and Vannes. Near Quimper you have Golf Blue Green l'Odet, which is a magnificent parkland course where traditional Breton banks separate the wide fairways of peaceful ponds. This course is also close to the sea resort of Bénodet, so there is much more to do than just play golf.
L'Orient is a popular destination among golfers as it has its own airport and there is a plethora of great golf courses in the area. One of these courses is Golf Blue Green Ploemeur Océan and as you can probably tell from the name, it is a links style golf course with fantastic views of the ocean. If you would prefer to play parkland golf then just a 20-minute drive inland is Golf Blue Green Val Quéven. This course possesses a stunning 18 holes that features a technically demanding layout, but is still enjoyable no matter what standard of golfer you are.
---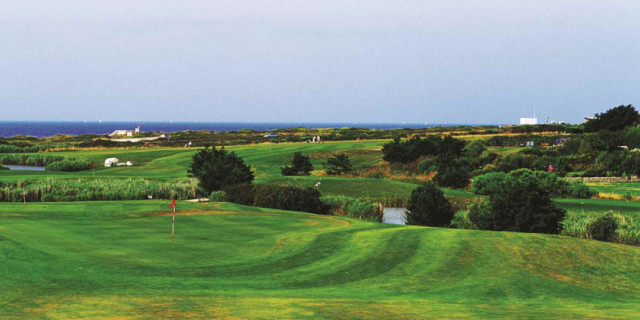 Golf Blue Green Ploemeur Océan
---
If you drive further south you will find Golf Blue Green Saint Laurent and you most definitely will not be disappointed with this scenic resort. The 27 holes sit in the heart of pine forest and is regularly voted in the top 40 courses in France. On top of this, if you enjoy rolling out of bed and onto the first tee then you can take advantage of the beautiful Hôtel du Golf de Saint-Laurent. The hotel sits on the edge of the Saint Laurent golf course and offers peaceful views over the golf course, swimming pool or garden and there is even a spa to add to the serenity of this beautiful resort. For those who want to stay in a town, then there is the delightful resort town of Carnac just a 20-minute drive away.
If you don't mid travelling then you should definitely make your way Golf Blue Green Rhuys Kerver. This course is on the other side of Vannes and is situated on a peninsula and is very similar to Golf Blue Green Ploemeur Océan. As it is located right on the Atlantic Ocean, the course really does provide a tough test of golf when the wind starts to blow.
Located on the Loire River is the city of Nantes. The city has a long history as a port and industrial centre as well as being the home of the 15th-century Château des Ducs de Bretagne, where the Dukes of Brittany once lived. But when you aren't taking in the rich history of this city, you may find yourself on either Golf Blue Green Nantes Erdre or Golf Blue Green Savenay. The latter is just a stone's throw away from Nantes. Water features and small woods of chestnut trees are the hallmarks of this technically demanding course but if you're up early enough you can take in the beautiful morning mists to take your mind off the challenge ahead.
---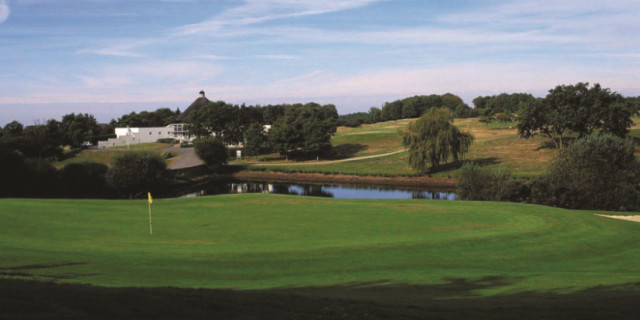 Golf Blue Green Savenay
---
Both of these courses are on the way to the outstanding Golf La Baule International. La Baule is one of the largest golf resorts in France with 45 holes to play. Located on the edge of the Briere Regional National Park, the golf courses are a joy to play with views of lush grassland as far as the eye can see.
Golf in Southern France
Southern France is well known as being the playground of the rich and the famous, especially in the Cote d'Azur region but there are also many outstanding golf courses under the Blue Green name in le Midi.
In the region of Aquitaine you will find Bordeaux where you have a various golfing options. Just north of Bordeaux you will find Golf Blue Green Bordeaux-Lac where you can delve into the depths of the countryside on this parkland style course with its several lakes to battle against. On top of the golf, all the best wineries are located in this area of France. So if you like your wine, you can take advantage of a vineyard tour before or after your round of golf.
South West of Bordeaux you will find Golf Blue Green Pessac. This course proves popular on golfers first or last days in France as it is close to Bordeaux-Mérignac airport. Although relatively flat, the course is carefully dotted with water hazards and is renowned for its quality, undulating greens to make the course an impeccable challenge. You even have three courses to choose from as there is an 18-hole course, a nine-hole course and a nine-hole pitch and putt course.
---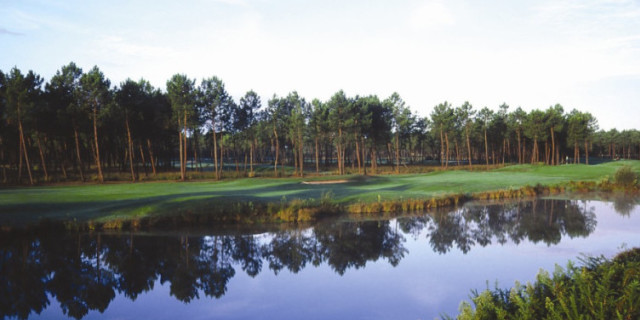 Blue Green Golf Pessac
---
Although quite a drive out of Bordeaux, Golf Blue Green Gujan-Mestras is well worth the travel. This course is known around the world for its technical difficulty and attractive layout. The course is located in a forest of pine trees and features bunkers of white sand and lakes that will most definitely raise your game.
If you keep travelling further south still, you will find what is arguably the best course on the Blue Green portfolio, Golf Blue Green Seignosse. The Robert Van Hagge design is regularly voted in the top 50 courses across continental Europe as well as featuring the first par 6 in Europe. On top of this, you can stay on site in the Golf-Hotel Blue Green Seignosse 3*, which is a Louisiana style golf hotel set among the Landes pine forest and close to the beach. The hotel includes 45 comfortable rooms, an excellent restaurant specialising in local cuisine and an outdoor pool.
Cote d'Azur is arguably the most famous region is France as it features the likes of Saint Tropez where you will find many celebrities and international socialites. Although rather pricey, you will find some of the best golf courses in France in this region. When you aren't on the golf course you can take in the glorious beaches and bustling nightlife as well as the many multimillion-pound yachts in the harbour.
---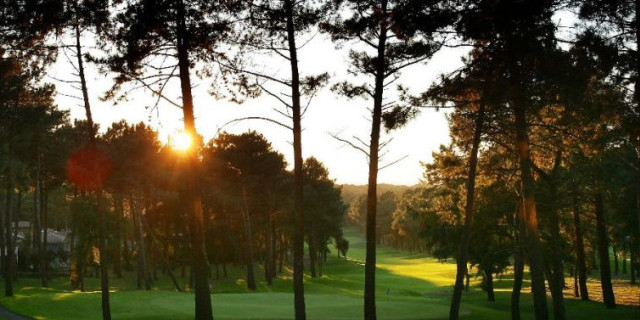 Blue Green Seignosse
---
The likes of courses such as Ramatuelle or Gassin may be slightly pricey, or most likely you won't be able to get on them, but do not worry as Golf Blue Green Sainte-Maxime is nearby. The elevated tees, steep gullies and water hazards make the front-9 a tough test while dropping down towards to village of Sainte Maxime and climbing up again to the clubhouse. The back-9 is laid out on a plateau providing splendid panoramic views of the Maures and Esterel massifs.
Further along the coast you will find Saint Raphael and a terrific Blue Green course, Golf Blue Green l'Esterel. This course is situated in the undulating countryside on the outskirts of Cap Esterel village and each hole offers picturesque views of the Bay d'Agay or the foothills of the Esterel. Most of the holes are narrow and long meaning you will have to be accurate off the tee in order to succeed.
So no matter where you are in France, you will more than likely be near to a Blue Green golf course where you will come off the course feeling satisfied at the great value you've enjoyed at a very good price.
For more information on Golf Breaks to France, please - Click Here
---
Related Content:
What do you think? leave your comments below (Comments)
---
Leave your comments below
comments powered by

Disqus
More Golf Course & Travel Features
Plan your next golf break with Golfbreaks.com