Golf Club Cleaning Services
Ensuring your golf clubs are sparkling between rounds can be a challenge after a particularly mucky day, but it remains vitally important if you wish to maintain performance.
It is advised that you wash your clubs after every round as a build-up of dirt and grime can seriously hamper spin and launch properties.
Club-Clean provides a fantastic service that results in your golf clubs looking like they've just come out of the box.
What is Club-Clean?
Club-Clean is a highly successful golf club cleaning service that has been in operation since 2016.
Throughout their history, they have become a trusted business that offers a mobile, ultrasonic golf club cleaning service.
The combination of ultrasonics and degreaser is the ultimate remedy for grimy clubs, leaving them in perfect condition and ready for the next deployment.
Club-Clean have agents scattered across the UK and Spain, offering their services for any golf day.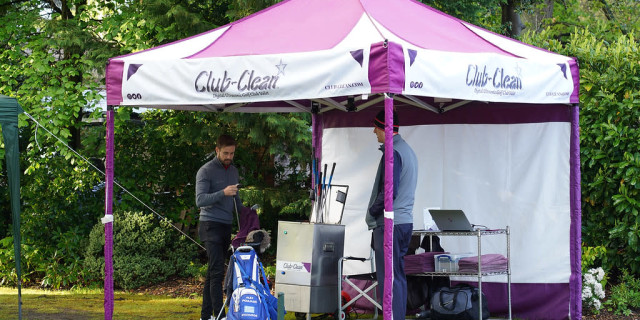 How it Works
By utilising ultrasonic machines, a full set of clubs can be cleaned in just a few minutes, which is highly convenient for golfers playing on the same day.
Their machines have been specifically designed in the UK for the exclusive use of cleaning dirt from golf clubs.
The process could not be simpler; golfers will bring their clubs to an agent and once they are cleaned, they are ready for immediate use.
Available Packages
Club-Clean offers three packages for golf days, with the premium bundle providing on-course benefits.
The Half Day package allows guests' clubs to be cleaned either before or after their round of golf, whilst the Full Day option provides complimentary cleaning to all guests with the cleaning service taking place before and after the round of golf.
The final offering is the Event package and it includes the complimentary cleaning service of the Full Day bundle.
However, Club-Clean will also provide golfing challenges such as Beat the Pro, £5,000 or £10,000 hole in one prize and a bottle of Moet for each nearest the pin and longest drive.
If you would like more information about Club-Clean, you can visit their website or contact them at [email protected] and 07855934649.
Website: www.club-clean.com