Chambers Bay - Fear of the Unknown
---
The United States Open has long established a fearsome reputation as being routinely the most brutally difficult of golf's four grand slam championships. However, you could exchange 'difficult' for 'predictable'. Generally, the examination paper at the game's second major of the year is decidedly formulaic. Very narrow fairways, extremely deep rough and firm greens are what we have come to expect from the USGA. Joyful.
Rather than simply being challenging, it would be more accurate to describe these setups as being restrictive. The consequence being the reduction of the individual talents of players, forcing them to all play the course in essentially the same way. Constricting. And it has been largely the same now in America's national championship for more than half a century since that doctrine was introduced.
It would be the equivalent of sitting down at the same restaurant every night of the week with just one item on the menu. Perhaps a tough steak that is chewy, aesthetically bland, and (after repeated helpings) monotonously tiresome to consume night after night. That is what sadly became of the U.S. Open.
However, as we enter the 115th edition of this historically significant championship, it appears that the once unashamedly warped minds at the USGA have broadened their horizons and expanded their palate with the inclusion of the undeniably intriguing and fresh layout course Chambers Bay.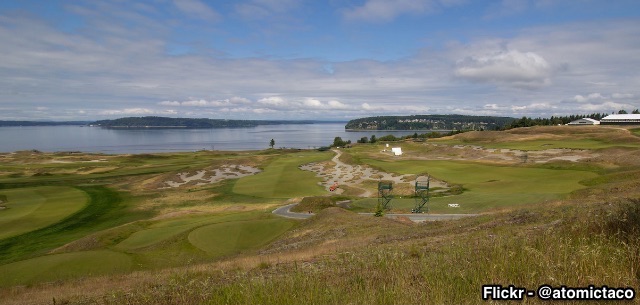 Spawned from an expansive sand and gravel quarry in Washington State, Chambers Bay was designed by Robert Trent Jones Jr and his associates. Opened in 2007, it quickly received a lot of attention, with the USGA (just a few months later) confirming the new course as the venue for both the 2010 U.S. Amateur and 2015 U.S. Open Championships.
With fescue grass embedded within the fairways and greens, the course is visually reminiscent of the modern Scottish links venues of Kingsbarns, Castle Stuart and Trump International. A sustained period of fine weather has dried out the course, which will ensure that Chambers Bay will be playing extremely firm and fast, with the ground game becoming more paramount than we have ever seen in a U.S. Open. Creativity is needed.
It certainly won't be a prosaic test of simply joining the dots. Of hitting the fairway and launching a high shot onto the green. Many approaches will have to be run along the ground, with the unpredictability of the bounce and roll having to be a constant consideration. Accuracy (not necessarily straightness) will be key.
Rather than merely being an examination of technical execution, a sound strategy will be one of the critical questions that will have to be answered. Those who have prepared due-diligently will find themselves at an advantage over the rest. It is a course that doesn't easily reveal its secrets. They will have to be learned.
The layout has certainly attracted a wide array of responses in weeks before, ranging from the glowingly positive to the downright angry. Strangely, many of the more negative comments have come from players who haven't actually been to Chambers Bay. They have made a conclusion based on second hand information.
All of this would have been joy to the ears of the great Jack Nicklaus, who loved to hear of fellow players complaining about a course before a major championship. In the mind of the 18-time major champion, those individuals could be dismissed from being potential contenders. At the recent Memorial Tournament, the 75-year-old reflected: "When they said, 'I don't like the course, I checked him off.' Oh, the fairways are too narrow? Check him off. The fairways are too sloppy? Check him off. The greens are too fast? Check him."
Patience and a psychological ability to overcome adversity are a prerequisite to win a championship of this nature, which is clearly less likely to be present in someone who has already forsaken their own chances on a particular course. As Nicklaus went on to state: "Guys would say a course doesn't suit their game. It's not supposed to suit your game. You are supposed to suit your game to the golf course."
Ultimately, there is unfortunately little in the way of variety within the professional game to be found. The courses and setups on the PGA Tour (and increasingly the European Tour) have become tediously one dimensional. The same questions are asked of the players to such a monotonous regularity that it is now all they are accustomed to. It is what they expect. Anything that differs from it is suspicious and unwelcome.
Phil Mickelson, who has been a runner-up on an agonising six occasions in his national championship, has been the most vocally positive of all the players who have actually made the journey to the northwest. Admittedly, public negativity from the five-time major champion is usually solely reserved for aging Ryder Cup captains, but the 45-year-old's enthusiasm is striking for all who are hoping to see him finally clinch that elusive trophy.
"I think it's wonderful,'' Mickelson said. "It's not going to be your typical US Open, hit and hack out of tough. You're going to be able to control it much more like British Opens than I've ever seen, where there's a lot of room and a lot of firm fairway cut.''
Having won the Open Championship in 2013 at Muirfield (an achievement that for so long seemed beyond him), Mickelson's appreciation and love for a more imaginative style of golf has continued to grow, which may prove to be advantageous at Chambers Bay. The correct attitude will be required in order to succeed.
"The first time you play it, you don't know, so I can see why the first impression isn't favourable for some. But I think the more you play it, the more you like it. The first time you play it, it's like St. Andrews. You don't know where to go, you don't know which mounds do what to the ball."
Chambers Bay is something that is inherently different. It is a new venue that demands skills from the players that are not usually required. For many, it is simply a fear of the unknown. Those who embrace it will succeed.
Image Credit: Flickr - @atomictaco (https://www.flickr.com/photos/atomictaco/)
---

Be part of the action with a selection of unique golf tournament experiences, from playing in a pro-am with the stars to watching the action at golf's most illustrious events. Whether it's the Masters or The Open, The Ryder Cup or WM Phoenix Open, build your own bespoke package with the experts at Golfbreaks.com.
---
What do you think? leave your comments below (Comments)
---
---
PLAY MORE PLAY BETTER - LATEST TUITION TIPS
---
Leave your comments below
comments powered by

Disqus