Darren Clarke talks to Golfshake about gear, stats and how to get the most from your game
---
Post by golf writer Kevin Markham
---
The Darren Clarke Golf School sits within the Greenmount Campus of the College of Agriculture, Food and Rural Enterprise. Located on the outskirts of Antrim town, the School has been running for several years with the aim of providing young golfers with the opportunity to achieve their potential in golf, provide a strong education and encourage personal development. The School includes extensive practice facilities, a three-hole course, fitness centre and the TaylorMade Performance Centre, as well as the facilities of the college.
On Friday, it also doubled as the perfect base for Darren Clarke to show-off the TaylorMade AeroBurner driver, fairway woods and rescue club to golf pros and retailers in the region. It was fitting since he was about to head off to South Africa to play with the new clubs for the first time.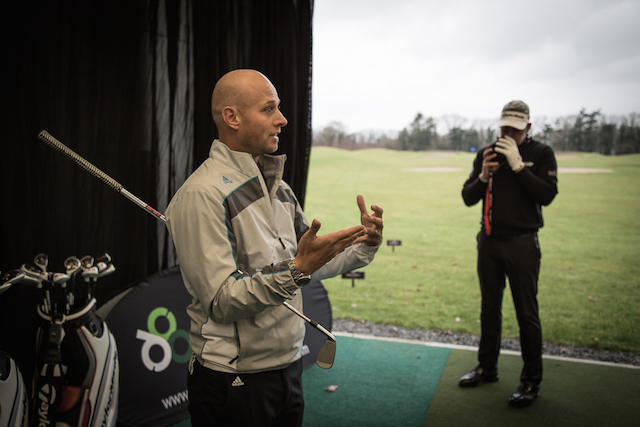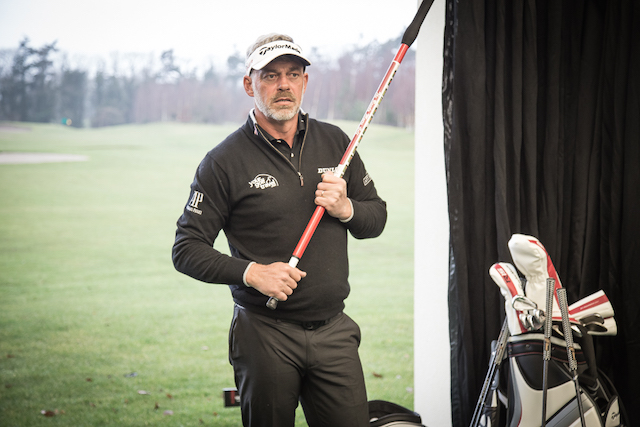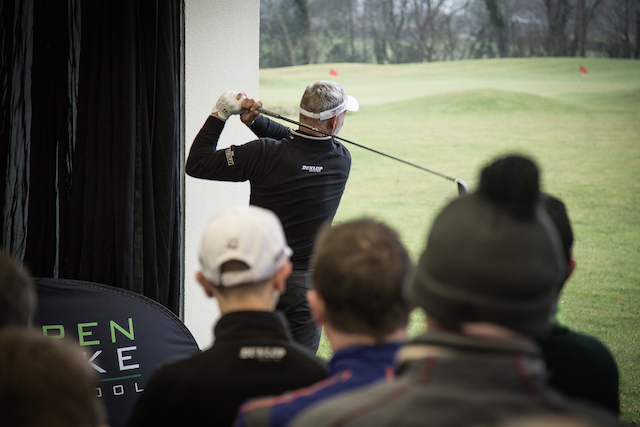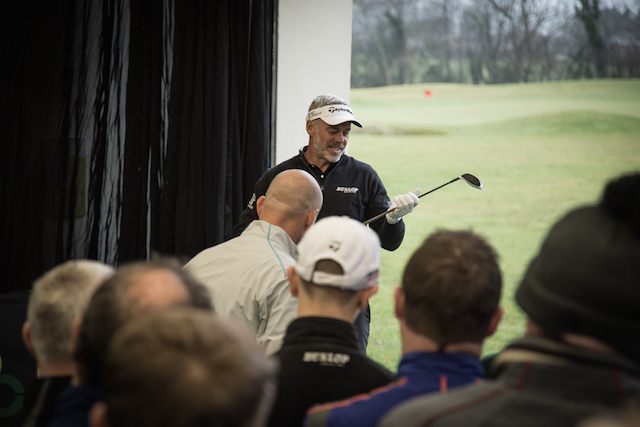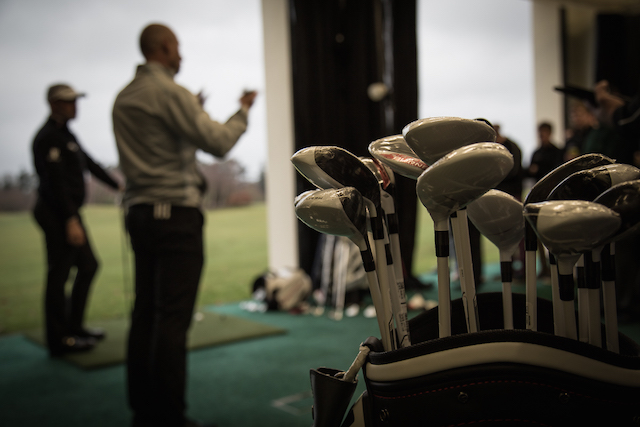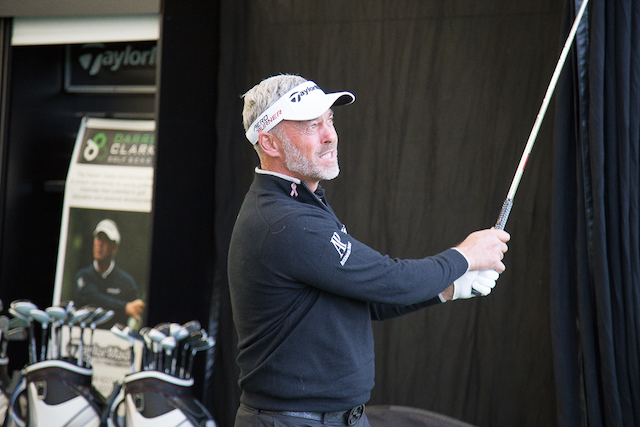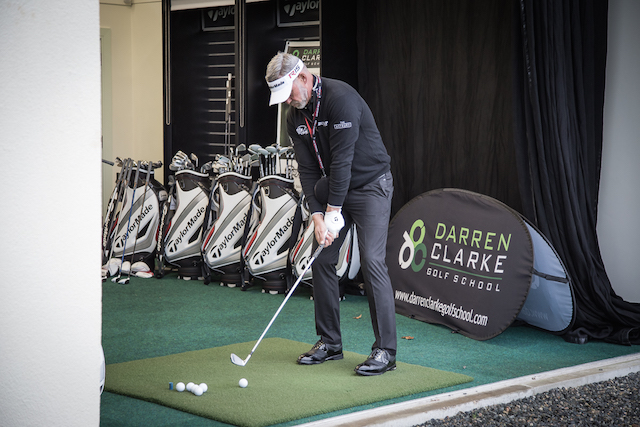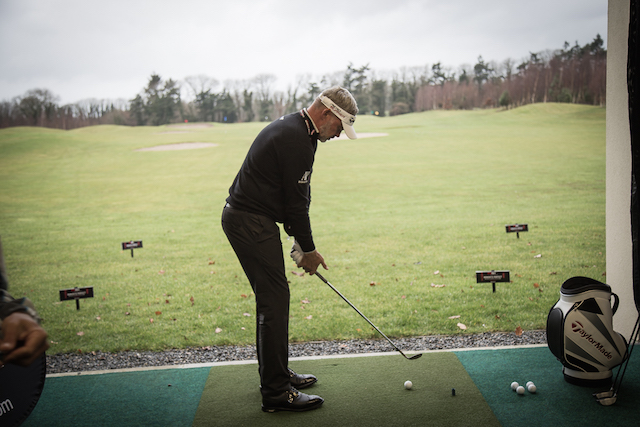 This is the latest range of clubs from TaylorMade, a company that admits it has flooded the market with new clubs in the past; but not anymore.
"With TaylorMade now there is a definite awareness that we have to be very careful how we launch products to market and in the last couple of years we haven't launched that much," says Mark McDonnell, the TaylorMade account manager, watching as Darren rips a drive 321 yards with the new club.
And as Darren Clarke says himself, TaylorMade don't introduce something unless it is better.
He points to his own game and ball speed specifically, which is now reaching 170mph with his driver. He's changed his bag too, replacing one of his wedges with a 5 wood. His stats showed him that he had no club hitting around 250 yards, which, as he proved time and again (thanks to the Trackman) was almost precisely the range of the new 5 wood. He admitted that, in the past, it had been one of the most successful clubs in his bag. He definitely seemed pleased to have it back again.
"(Making changes) is nothing I haven't done before, but I hadn't been working with Chris Sells for a number of years and, until he highlighted the omission from my bag, I didn't really think about it. It's a little bit different not having those four wedges but nothing I can't fix. Stats are facts."
Q. Are the new clubs all in the bag for South Africa this week?
I've been working with the new clubs for four weeks. The 5 wood was really good. The rescue was really good. They will make the trip but so will my old ones. It's different here driving them with the Trackman than it is in tournament play, so I'll need a few more days hitting them. But if they perform like that they'll be in the bag.
Q. Have you a long association with TaylorMade?
I have. They've been brilliant for me. They've supported me through thick and thin. They are, in my opinion, the best company in golf. They're at the forefront of R&D. They lead in innovation and others follow them. Hence why, whenever Taylormade bring out their new stuff, they're ahead of the game and everyone else tries to catch up.
Q. How different is the technology compared to when you first teamed up with TaylorMade, some 12 years ago?
A lot. Everything's changed and everything's moving ahead and moving ahead. In order for me to compete with the younger guys – they're hitting it so much further – I need to embrace the technology on offer. I have someone working with me from TaylorMade, who knows my swing inside out, from the stats, from Trackman. He will make clubs for me and he knows what's going to work for me and what's not.
Q. Talking about Stats, has your focus on Stats and Score Tracking changed because of the technology over the past 15 years?
If you watch the PGA Tour they're throwing in stats left, right and centre – and that's more a global phenomenon where people want content, information –Social Media's the same. Everyone wants information. It's very easy to get carried away with a load of stats, so I basically look at some key numbers and go with those.
Q. Presumably some 15, 20 years ago you didn't have this wealth of information at your fingertips?
Not quite as much. We always had things that we could go and test. Now it has become much more information focused, but it's how you use that information.
Q. Is that part of the thing with amateurs as well – do they focus too much on their score?
First and foremost, amateurs should enjoy the game. Pros should enjoy it too, but amateurs should enjoy it because they're amateurs. It's not their job. To enable them to enjoy it as much as they can they should be using facilities such as this one (The TaylorMade Performance Centre) where they can get clubs built to their spec by an expert who looks at the swing and says 'this is going to work for you'. When you have that opportunity you should use it. Not quite enough people are embracing that technology. I wish more people would because they'd enjoy the game more. They need to walk away from here with a set of clubs that's built to their game. They don't need to know all the facts and figures – they need to know a few – but that's up to the expert standing behind looking at the screen determining what will work.
Q. Do you think the numbers take away from it a bit? You're all about 'feel' after all.
No, I don't think so. I know what I like and what I don't like. I don't rely on the numbers but they do help me. Most Pros can manipulate the numbers if they want. I don't want to do that. I just want to stand there and hit a little draw shot or a fade shot because I'm more old school. If the numbers are reasonably close to where they should be then that's fine by me.
Q. Is there an over reliance on the numbers in the amateur game?
A little bit. That's the way of modern teaching, isn't it? There's a fine line between stats and figures and Trackman, and then going to play. But, if you have the clubs made to your personal spec, it's much easier to walk away and forget about the numbers because the clubs have been made for your swing.
[Darren continues to discuss the state of the game]
There's a decline in participation and that's obviously a concern. And the average age of the member going up and up is not what we want to see for the game but, in harsh terms of what's going on in a global recession, people are going to cut back. And playing golf is quite an expensive, long day out so the options that people are looking at to make the game shorter and more affordable can only be good to attract people to the game.
Q. Do you think there's one particular option that you would favour at the moment to correct things?
If there was, somebody much more intelligent than myself would have come up with it… so, it' s a very pertinent question to what's going on at the moment but hopefully the powers that be will come up with the right answer.
Q. Have you found it difficult to focus on your own game with all this speculation about the Ryder Cup Captaincy?
No, not at all. That's out of my control. I can control what I'm doing on the back nine at Portrush, when it's minus 4 blowing 40 miles an hour and I'm hitting balls – that's what I can control. We'll just cross that bridge when we come to it.
Q. Have you been doing much at Royal Portrush in relation to The Open [planned for 2019]?
A little bit. I was with Martin Ebert from the R&A yesterday, going around the golf course and it was very interesting.
Q. Any updates on changes to the course?
Yes, it's all very interesting!! Martin's doing a fantastic job and his suggestions and ideas to improve the golf course look fantastic.
Q. Is it advice you're giving him?
[Darren fends off the final questions with plenty of laughter, giving nothing away.]
I was just having a nice drive around with him.
For more information on the Darren Clarke Golf School, visit the website - Click Here
The school offers a two year Full Time course, a one year Part Time course, Junior Training Camps and Adult Courses, both in Antrim and in Sicily.
---

Be part of the action with a selection of unique golf tournament experiences, from playing in a pro-am with the stars to watching the action at golf's most illustrious events. Whether it's the Masters or The Open, The Ryder Cup or WM Phoenix Open, build your own bespoke package with the experts at Golfbreaks.com.
---
What do you think? leave your comments below (Comments)
---
Tags: taylormade darren clarke
---
PLAY MORE PLAY BETTER - LATEST TUITION TIPS
---
Leave your comments below
comments powered by

Disqus