The BEST of the 2014 Ryder Cup
By: Golf Shake | Sat 04 Oct 2014 |
Comments
---
Post by Golf Journalist Nick Bonfield
---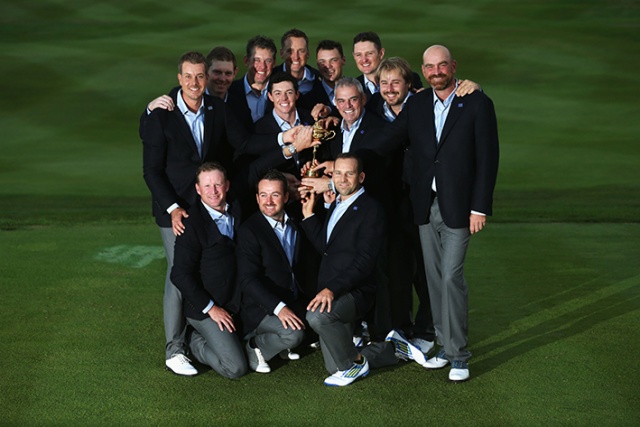 So, another Ryder Cup has been and gone. Once again, we are left to reflect on the sheep brilliance of a European team that has instilled yet more discontent and disillusionment into the American camp. Europe has now won five of the last six Ryder Cups, eight of the last ten and ten of the last 15, plunging the Americans – who simply can't seem to halt the seemingly interminable blue and yellow charge – into disarray.
Phil Mickelson's outburst in the USA's post-tournament press conference – while presenting a number of valid opinions – was out of place, and incongruous with his character. Still, it was indicative of the frustration felt by a group of players who landed in Scotland with high expectations, but once again found themselves on the losing side. The European unity was evident for all to see, as was the fundamental belief they were playing for each other, not themselves.
Paul McGinley was an inspired and informed leader and a real contrast to an out-of-touch tom Watson, who made a number of questionable decisions over the three days. The result? A display of dominance from a superior European team with a greater collective drive to succeed.
Below, I take a look at some of the best performances at Gleneagles…
Best captain
There can only be one winner in this category. Tom Watson labeled Paul McGinley as 'a class act' when his captaincy was announced and the Irishman conformed to that assessment all the way through the process. He was meticulous and painstaking in his planning, he controlled every aspect of the captaincy with pragmatism and detail, he conducted himself with grace and dignity throughout, he instilled a sense of pride, honour and camaraderie in his teammates and left absolutely no stone unturned. He must surely go down as one of the best European captains in Ryder Cup history.
Best US player
I'm going to have to go for Patrick Reed in this category. Yes, he irritated some of the home supporters with his bumptious and arguably rash gestures on the 7th green, and indeed throughout his singles match with Henrik Stenson, but he displayed a passion, drive and intensity that was sorely lacking in the US side (think of the contrast between Reed and the likes of Zach Johnson, Jim Furyk and Matt Kuchar). What's more, he'd been heckled on the first tee beforehand by partisan fans who crossed the line into unsporting territory. He looked unbeatable alongside Jordan Spieth and displayed great tenacity and self-belief in defeating one of the Europe's stars on Sunday. I don't deny that he rubbed some people up the wrong way, but let me ask you this: would you like Ian Poulter if you were an American?
Best European player
Justin Rose gets my vote here for a display of brilliance and a masterclass in how to conduct yourself, both on and off the course. He was pumped, passionate but always respectful of his opponents; he played in all five sessions and wasn't beaten once, fighting back from 4 down to claim a half against Hunter Mahan in the singles; he produced one of the best fourball performances in Ryder Cup history alongside Henrik Stenson on Saturday; he took his Ryder Cup win percentage into the 70s; he inspired all those around him with his skill, patriotic zeal and gentle nature and acted as a role model throughout. In short, he looked every inch the world-class golfer he's become, while also demonstrating why so many people think so highly of him as a human being.
Best rookie
With Patrick Reed already spoken for, I'll give this accolade to Jamie Donaldson. However, Victor Dubuisson – who delivered 2.5/3 points, played some unbelievable golf and seemed to relish the camaraderie and companionship of the Ryder Cup – and Jimmy Walker pushed him very close. But Donaldson took to the contest like a duck to water, excelled alongside Lee Westwood in the foursomes, thrashed Keegan Bradley in the singles and closed out the contest with the best shot of his life on the 15th hole. The 39-year-old recorded three points for four on his debut and looked at home on the grandest stage of all. I've no doubt we'll see him at Hazeltine, and wouldn't be surprised to see a major challenge in the intervening two years.

Best shot
It has to be Jamie Donaldson, doesn't it? Clinching the Ryder Cup for your home continent on your debut in golf's greatest event with a stunning stiffed wedge really is the stuff dreams are made of. Elsewhere, Justin Rose's pitch from the cabbage on the 14th hole during the Sunday singles warrants a mention. It took his game with Mahan back to all square, swung the momentum firmly in his favour and capped off a fine resurgence in a crucial match.
Best pairing
This is arguably the hardest category in which to choose a winner, but I'm going to go for Graeme McDowell and Victor Dubuisson. They gelled so well together, with the Frenchman's imperious long-iron play and the Ulsterman's prowess from 10 feet and in combining to create a dominant team who didn't look troubled at any stage. It was also terrific to see the two players bonding, particularly given the nature of Dubuisson's reclusive childhood. Donaldson and Westwood were also fantastic, as were Reed and Spieth, who, for some unfathomable reason, were left on the sidelines for the Friday foursomes after inflicting a heavy defeat on Ian Poulter and Stephen Gallacher in the morning fourballs.
Best hole
Gleneagles was full of risk/reward holes ideally suited for matchplay golf, but my favourite was the 16th. At a point where matches could be won or lost, players had to back themselves to find the tiny slither of fairway to the left of an imposing fairway bunker. Those who missed were often forced, by circumstance, to take on daring shots over water from bad lies - shots they'd never have dreamed of contemplating during strokeplay golf.
Best celebration
It has to be that man Patrick Reed. After holing a slick left-to-right downhiller on the 7th to stay all-square in his match with Stenson, he sauntered around the green with his finger to his lips as if trying to incite a riot. He then proceeded to give some fist pumps and a few Poulter-esque chest bumps as he made his way to the 8th hole. It was a questionable celebration, but one that showed just how much the Ryder Cup means to him. The Americans could have used some more of that spirit and determination over the three days.
Best pundit
I've said before how much I enjoy listening to Nick Dougherty on Sky Sports. Once again, I found myself nodding in agreement every time he spoke – a product of his excellent analysis and eloquence. He also uses his personal touring experiences with restraint, and when they are most apt, something other members of the Sky commentary team (which I think is fantastic, by the way) could learn from. He comes across as a very pleasant individual who has remained upbeat and charismatic despite a horrible slump in form on the golf course. I genuinely hope he finds some form once again, but if not, a long and prosperous career in the media awaits.
---

The Ryder Cup is unlike any other tournament in golf and the atmosphere is something that every golf fan should experience. The experts at Golfbreaks.com can help with all aspects of your Ryder Cup experience, from accommodation and ticket packages to hospitality and travel and playing some of the fantastic nearby courses.
---
---
What do you think? leave your comments below (Comments)
---
---
PLAY MORE PLAY BETTER - LATEST TUITION TIPS
---
Leave your comments below
comments powered by

Disqus