Hacker to single figures - An update
---
Kevin Paver updates us on his quest to go from hacker to single figures in just one year
---
In my last update back in February, I talked about the mental challenges I'd been having with my golf, and how I was struggling to play the game I knew I could during a competitive round.
Essentially, as far as Ryan Metcalfe (my swing coach) was concerned, the work with my swing was finished. He was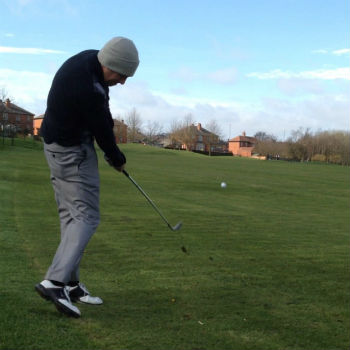 totally confident I had a swing that was now capable of shooting the kind of scores I needed to achieve the goal of the challenge, so it was my mind holding me back.
That was the end of February. We're now heading towards the end of April, and I'll be honest…it's not improved massively! I've encountered many different issues over the past 7 weeks, many of which I'm sure you will also have encountered.
Firstly, the weather has been rubbish! I don't know about your courses, but at ours (The Manor, Drighlington), it's been as muddy as hell. At times, it's looked more like a cow field rather than a golf course! With that comes heavy shots, instability on your feet and the worst one of all… lost balls… ON FAIRWAYS!!! I had one round a few weeks ago where I lost two balls somewhere in the middle. That's a tough one for your brain to understand! Only last week did we come off winter mats and get a fully open course.
Secondly, I discovered that playing golf after a heavy night on the ale does not work out too well either. This happened during a round about three weeks ago! It was quite possible the worst four hours of my life!
And finally, I discovered that new clubs are not always the answer. I was told by many that some new clubs would really help me with the challenge as my old MX-19's were past their best. Given the pressure that is now sitting with the challenge, I was at the stage where anything that might help me drop a few shots was acted upon! So, I got some new ones. However, they had the opposite effect. I lost all my confidence. The moment I had them in my hand, I had no idea what would happen, and subsequently my game ended up feeling like it did at the start of the challenge. The worst thing was that at a time when my score really need to show signs of improvement, they were doing quite the opposite.
So, in a quite unique and controversial move, I've gone back to my trusty old sticks. It's amazing really. The only thing I can try to compare it to, is that of your favourite old battered pair of trainers. Nothing ever feels quite as comfortable. That's what I felt like when I put my old clubs back in the bag.
It's only been a week now, but my game has really reflected it. I feel confident again with a club in my hand, and most of the time the ball goes where I expect it to (within reason of course!). I've had some really good scores across 9 holes too, I just need to work more on my pre shot routine to help achieve the same results during competitive rounds.
Maybe if I'd have persevered, I'd have got used to the new sticks…or perhaps they were not the right ones for me? But, time is not on my side to fiddle on with stuff like that.
I now only have 5 months to get my handicap from 20.3 to a single figure.
So, for me… the season really does START NOW. Not only is it the real start of the club comps and the handicap adjustments, I'm also playing in the Rabbits league. Oh, and I've signed up to play in the League To Dubai Amateur Golf Competition, where the final is an all expenses paid golfing trip to Dubai.
Now, that's a motivation to get your game in shape!
Kevin
---
You can keep up to date with Kevin's challenge by visiting www.hackertosinglefigures.co.uk and subscribing. Also, you can follow him on Twitter @kevinpaver or on Facebook - facebook.com/hackertosinglefigures
---
What do you think? leave your comments below (Comments)
---
---
PLAY MORE PLAY BETTER - LATEST TUITION TIPS
---
Leave your comments below
comments powered by

Disqus