Carne: Nine Stunning New Holes in Irelands North West
---
When Carne was first designed by the great Eddie Hackett, in the 1990s, he kept an ace up his sleeve. Yes, he had created one of Ireland's great links courses, but he saw even greater potential for this remote spot on the edge of the Atlantic Ocean. Sadly, when he died in 1996, he had not had a chance to play that card. He did, however, leave behind a vision that others were determined to fulfil.
On 23rd July, 2013, that vision was realised when Carne's new nine – named the 'Kilmore' nine – opened for golf club members and a group of American golf writers. These are the first new holes to be built in Ireland in several years and there are two points to be made: they form an astounding run of holes that rival the very best in the country; and they are the result of community spirit, hard work and a respect for the principles of sustainability.
It has taken time to achieve this vision and a budget that would teach many of the world's golf architects and developers a lesson or two. The work was completed for roughly €200,000 and most of it was done by a six-tonne excavator, a six-tonne dumper and by hand. That speaks volumes of the respect paid to Hackett, who always believed in working with the land and not through it.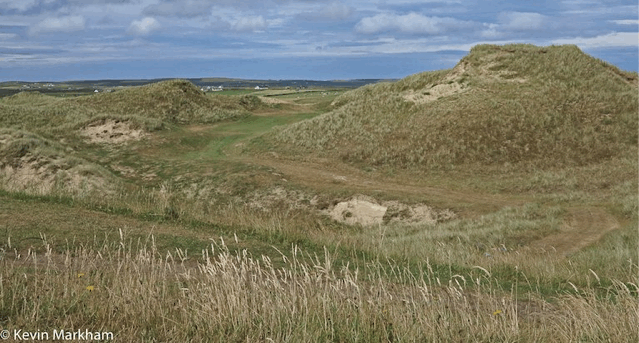 The Design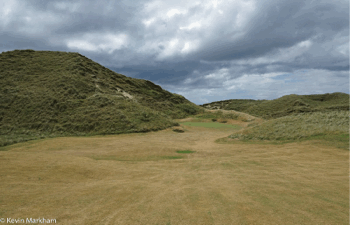 The Kimore nine were designed by Ally McIntosh, with an initial routing mapped out by Jim Engh, a member of Carne and an American golf architect.
"The dunes are entirely chaotic, entirely random," said McIntosh, a Scottish golf architect now based in Ireland. Typically, dunes are created in a formal line of ridges, parallel to the sea. That is not the case at Carne. "Here, it's one dramatic hole after one dramatic hole," McIntosh says, thanks to what he believes are the biggest dunes in the world of golf.
Carne now has 27 holes, formed by three loops of nine. The new holes open officially on August 1st, 2013, with limited play available in August, September and October, as part of a 27-hole package.
For some, building a new nine holes, given Ireland's current woes, may seem extravagant (despite the club's limited expenditure), but there is a sound rationale. Carne is a remote spot and for golfers who venture this far, the 27 holes offer them a wider choice. The new holes also tackle the misguided charge that the front nine are bland – a statement that holds no merit. Compared with the back nine they are not as muscular or big, but these are scintillating holes nonetheless, routed through and around dunes that would overwhelm most other links courses.
The Kilmore nine venture into the dunes where the existing back nine reside. They therefore use the biggest dunes on the 280-acre property. At times the sheer scale can leave you speechless, as the depths of the new 5th fairway accentuate, but between McIntosh, Engh and Hackett they have created the most dramatic holes of all. The style is very much in keeping with the original 18, but McIntosh has introduced a few quirks of his own: some greens have heavy ridges to follow the flow of the land; and the bunkering is more punitive, nowhere more so than on the 6th, where a small serpentine bunker to the right of the green will cause havoc.
Location
From almost every tee box, golfers will be rewarded with stunning views. Islands are dotted across the ocean, the Nephin Beg mountain range rises to the south-east and Slievemore stands proud on Achill Island to the south. In every direction there is endless sky, until you drop down into the heart of the dunes and chase that little white ball.
What has been achieved on a shoestring budget, using sustainable principles which marry with the beauty of the landscape, is hard to appreciate unless you visit Carne in County Mayo. The road across the county is long and barren, but golfing joy awaits and it is a journey no golfer will regret.
For more information visit www.carnegolflinks.com
Green fees: €35-€70. €90 to play all 27 holes (2013).
Places to Stay: Broadhaven Bay, The Talbot
Nearest Airport: Knock Airport (60 miles). Flights from nine UK destinations.
Images: Copyright Kevin Markham
---
Kevin Markham is an Irish golf writer, blogger and photographer who writes for a number of Irish and UK golf websites & magazines. His book 'Hooked: An Amateur's Guide to the Golf Courses of Ireland' was published in 2011 and reviews all 350 golf courses which he played whilst travelling round Ireland in a campervan.
To read his blog visit: www.theirishgolfblog.com
---
What do you think? leave your comments below (Comments)
---
---
PLAY MORE PLAY BETTER - LATEST TUITION TIPS
---
Leave your comments below
comments powered by

Disqus