Odyssey launch 'The Tank'
---

Odyssey Golf, have introduced the Tank Putter, which they claim is the ultimate in stability and maximum forgiveness.Odyssey, which led all other putter companies with 57 wins across the major professional tours last year, continues to play a leading role in innovation in the category. Most recently by providing a putter designed to help those golfers looking for added stability through the stroke. 'The Tank' Putter features weighted components with a calculated balance point for a higher Moment of Inertia (MOI), increasing the putter's resistance to rotating during the stroke and twisting on off-centre hits. Additional weight helps promote a pendulum stroke that keeps the wrists from breaking down, providing consistent control.
Chris Koske, Global Directory, Odyssey Golf, said: "At every golf club in the world, we've heard golfers say, 'I just want something a little heavier.' With the proposed anchoring ban in discussions, we thought it was the right time to service golfers with an alternative and stability-focused method to putting and putter design. We didn't just do heavy -- each component is carefully weighed to ensure a proper balance point and ultimate stability. We brought two prototypes out to Riviera and one went in to play immediately. We therefore brought forward our tour introduction the week of Doral."
Tank Technology: How It Works
The conventional length Tank putters (34"/36") have an MOI (
resistance to twisting
) that is 34% higher than a standard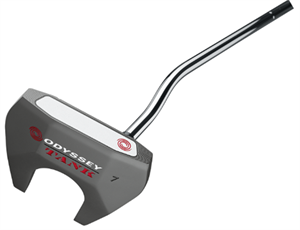 putter (with a 19% increase in total club weight), and the longer options of Tank (38"/40")
putters have an MOI
that is 109% higher than a standard putter (with a 32% increase in total club weight). Stability weighting and a heavier head and shaft quiet the hands during the stroke to provide consistent control while a double barrel alignment clearly frames the golf ball at address. Traditionally, MOI has been measured only at the head level, but by weighting all of the components in harmony to dial in a balance point, the team at Odyssey has raised the MOI of the entire club.
Golfer benefit: Added weight quiets the hands for consistent control
Odyssey Tank Putters use Counterbalance Stability Weighting, comprising of a heavier head (400g) and heavier shaft (150g) to quiet the hands during the stroke. This added weight raises the MOI to create more stability through impact and helps quiet the hands to create more of a pendulum stroke.
Golfer benefit: Greater stability and a more pendulum stroke
One of the main reasons Odyssey is able to achieve a greater level of stability in Tank is due to the total club MOI with increased weight. The shorter-length options have a total club MOI that is 34% higher than a standard putter with a 19% increase in total club weight. The long options have a total club MOI that is 109% higher than a standard putter with a 32% increase in total club weight.
Golfer Benefit: Balance point is positioned on the shaft for a similar feel to a conventional putter
Based on feedback from the world's major professional tours, the Tour Preferred Balance Point, depending on the shaft length of each Tank putter, is positioned to provide the counterbalance feel a golfer would be familiar with in a conventional putter.
Golfer Benefit: More consistent sound and feel
The wildly popular White Hot® insert claimed more than thirty victories across the worldwide tours in 2012. In 2013, Odyssey introduces a new and improved White Hot insert that brings more consistent sound, feel and performance across the putter face. Critical to the insert's enhanced consistency, a new laser milling cutting process allows Odyssey to achieve extremely tight tolerances and to better match insert shapes to the various head shapes.
Austie Rollinson, Principal Designer, Odyssey Golf, said:
"With Tank, we wanted to enhance the stability of the putter by increasing the moment of inertia of the entire club. We feel this achieves most of the benefits of anchoring without actually touching the body.
"In redistributing the weight in the putter to achieve this increase in inertia we focused on placing the balance point in each length option in relatively the same position as you would find in a conventional putter. So at each length Tank is offered, the balance point is in a slightly different place on the shaft to provide the golfer with an optimal counterbalance and stability."
Tank will be available in conventional length options (34" and 36") and options slightly longer than conventional (38" and 40"). Odyssey Tank putters will be available at retail starting on April 12, 2013.
The Odyssey Tank will be available at the following recommended retail price:
GBP 139
EUR 199
---
---
PLAY MORE PLAY BETTER - LATEST TUITION TIPS
---