S-Blade putters launch new DIY putter builder
---
UK-based S-Blade Putters has launched a brand new range of putters with an online DIY putter builder - which offers over 200 head shape, shaft length and grip size/colour options.
The Northamptonshire-based company's putters feature their laboratory-proven and patented CurvedFace Roll Technology (CFRT) and are available in three head shapes - all with a superb new anti-glare black finish and CNC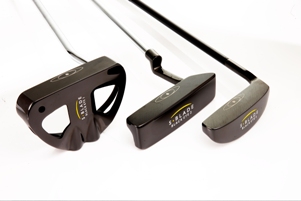 milled faces.

Every putter features gentle convex curves on the face which have been proven in the Quintic Putting Laboratory to give outstanding results on ball roll and to significantly reduce ball skidding and bobbling.

S-Blade BlackEye1e (from £95.95) is a striking oversized mallet weighing 440 grams. Designed with an ultra high MOI it offers incredible stability and forgiveness and is available in standard lengths from 30 inches to 36 inches; as belly putters from 37" to 43"; and as full-length broomhandle putters up to 51".

S-Blade BlackEye2e (from £95.95) features a traditional Anser-style blade head, with superb toe-heel balance and forgiveness. It is available in standard lengths 30"-36"; or as a belly putter up to 43", where the 400 grams head excels and delivers wonderful consistency.

S-Blade BlackEye5e
(£89.95) is a retro scoop back, half-mallet reminiscent of the classic Wilson 8802 and Major-winning George Low 600 putters. With a gorgeous gooseneck hosel and matching black shaft, it offers a wonderful soft feel for golfers who prefer a lighter, traditional putter.
The putter head shapes are offered exclusively with a combination of over 200 shaft lengths, grip designs and colours from the exclusive S-Blade black and yellow grip with ball marker; Golf Pride grips; new G-Rip Wave standard, oversize and jumbo thickness; G-Rip Long Wave belly grips; or Winn 21" Pistol (belly) or 2-Piece (broomhandle) grips.

Golfers simply select their own specification at www.s-blade.com and their putter is hand-built to order in Gloucestershire.

CurvedFace Roll Technology (CFRT) explained:
All S-Blade putters are designed with CFRT.

A distinct North-South curve features on the face, with its radius precisely measured so the putter's point of impact with the ball is always above its equator. This gets the ball rolling with topspin and negates skid and bobble that can be caused by typical flatter-faced putters.

At the same time, a gentle East-West convex curve running along the entire length of the face widens the sweet spot and minimises the effect of any less than perfect swings or 'twitches' - increasing the chances of the ball staying on its intended target path.

The Quintic Consultancy performed independent Biomechanical Analysis on three S-Blade putters and six other putters from some of the biggest names in golf.

Using a putting robot arm, the Quintic Consultancy study examined the effect that S-Blade putters have on the roll and skid performance of a golf ball during the first part of a twenty-foot straight putt and compared it with the others.

Video analysis at 250 frames per second (fps) was used to record ball rotation, distance traveled, club-head and ball velocities during the initial stages of putts. On average, eight frames were digitised prior to impact and a further 15 frames after impact and the amount of forward ball rotation was recorded in degrees.
In the test, only the S-Blade Emperor got the ball rolling with topspin immediately on impact (frame zero) and was the putter that gave the most roll in the first seven frames.
For more information about S-Blade Putters visit www.s-blade.com
---
---
PLAY MORE PLAY BETTER - LATEST TUITION TIPS
---