Vijay Singh issues statement on Deer Antler Spray
---
Sometimes, not very often, but sometimes a bad news story engulfs golf and it looks as if the use of Deer Antler Spray by Vijay Singh is one of them. The story which suggests that Singh used the spray which contains a banned substance was first run by Sports Illustrated earlier this week.
So what does Deer Antler Spray do?
It contains IGF-1 which is a naturally occuring growth hormone and has been well on the PGA Tour's radar for some time. They issued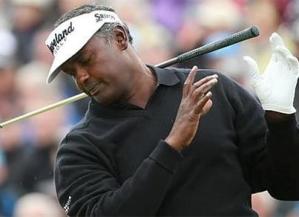 a warning to players in August 2011:
The PGA Tour has learned that a supplement product marketed as 'deer antler spray' contains a prohibited substance under the PGA Tour anti-doping program," It cotinued:
"Deer antler contains IGF-1 which naturally occurs in the human body and is a growth factor, like human growth hormone. IGF-1 protects cartilage, promotes the growth of bone cells and facilitates recovery. It is universally banned in all sports."
It was reported that Singh was using the banned substance following an investigation by Sports Illustrated into a company called S.W.A.T.S - Sports with alternative steroids. Singh is reported to have paid one of the directors of S.W.A.T.S $9000 for a host of products including Deer Antler Spray and Beam Rays which the reports suggest he sleeps under every night.
Following Sports Illustrated's investigation Vijay Singh has released the following statement:
In light of the recent article on sportsillustrated.com, I want to issue the following statement:
While I have used deer antler spray, at no time was I aware that it may contain a substance that is banned under the PGA TOUR Anti-Doping Policy. In fact, when I first received the product, I reviewed the list of ingredients and did not see any prohibited substances. I am absolutely shocked that deer antler spray may contain a banned substance and am angry that I have put myself in this position. I have been in contact with the PGA TOUR and am cooperating fully with their review of this matter. I will not be commenting further at this time.
The PGA Tour has yet to make an official statement, but their doping policy states:
"Other conduct may lead to the finding of a violation and sanctions under the program, including the possession, use or attempted use of a prohibited substance or method; refusing or failing to be tested; tampering with a sample; trafficking in or administering any prohibited substance; or admitting to any conduct that violates the program."
It goes on to say:
"It is each player's personal duty to ensure that no prohibited substance enters his body. … Accordingly, it is not necessary that intent, fault, negligence or knowing use on the player's part be demonstrated in order to establish an anti-doping violation."
Vijay Sing is not the only player to have admitted using the spray with former Open Champion Bob Charles is quoted as saying:
"(I was) totally unaware of illegal substances … being in the horn or the antler of the deer," said Charles, now 76, according to the AP. "I take one or two deer velvet capsules daily and have been doing so for virtually 20 years or more."
The Golfing waits to see what, if any, action the PGA Tour will take.
---

Be part of the action with a selection of unique golf tournament experiences, from playing in a pro-am with the stars to watching the action at golf's most illustrious events. Whether it's the Masters or The Open, The Ryder Cup or WM Phoenix Open, build your own bespoke package with the experts at Golfbreaks.com.
---
---
PLAY MORE PLAY BETTER - LATEST TUITION TIPS
---