Nikon COOLSHOT AS hits the fairways
---
Nikon have announced their new state of the art laser rangefinder, the COOLSHOT AS - a high performance model with improved accuracy in order to help golfers improve their game.
Featuring cutting edge technology from Nikon, the COOLSHOT AS rangefinder is increasingly becoming an essential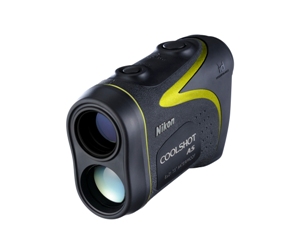 tool for all golfers to measure distances accurately on the golf course. Not only does the new range finder measure the distance to the hole quickly, it also features Nikon's angle compensation technology which takes into account the height of the target, and instantly provides both the actual horizontal and slope-adjusted distance within a range of 10-550 m (11-600 yd).
The Target Priority Switch has two measurement modes: First Target and Distant Target. The First Target Priority mode is ideal for golfers because it offers a precise measurement of the distance to the flag with the push of a button. Even in difficult lighting conditions, the bright LED illuminated display is clearly visible.
The new COOLSHOT AS amis to build upon the success of the previous model andbecome an essential tool to help golfers to up their game and improve the accuracy of their swing – useful not only for enhancing personal performance but also when preparing for competitions.
The ergonomically built COOLSHOT AS is the perfect golfing accessory. Compact, lightweight and waterproof, it fits easily into the golf bag and can be used in all weather conditions.
Key COOLSHOT AS features
Quick and easy measurement within a range of 4.5-550 m (5-600 yd)
Bright field of view with 6x magnification
Compact and lightweight design – measures 113 x 39 x 70 mm; weighs 175 g (without battery)
Angle compensation technology provides actual horizontal and slope-adjusted distance
Dual Target Priority Switch System – First Target and Distant Target
The Nikon COOLSHOT AS is launched in February and will have a RRP of £399. For more information please visit www.nikongolf.co.uk
---
---
PLAY MORE PLAY BETTER - LATEST TUITION TIPS
---