Tommy Hilfiger announces new 2013 collection
---
The Tommy Hilfiger Group have announced the Spring 2013 men's and women's golf collections.
"Golf represents the ultimate prep lifestyle," said Tommy Hilfiger. "Our golf collections are inspired by the integrity and tradition of the sport. We've added a twist to the classics through an innovative use offabrics and details, delivering performance, comfort and style in golf sportswear that can be worn on andoff the course."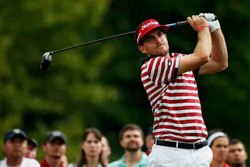 The Spring 2013 collections feature three deliveries inspired by the preppy heritage and energetic spirit of the Tommy Hilfiger brand. The first delivery draws inspiration from the wide open Arizona desert witha neutral palette that emphasizes strong graphic details. Pieces include lightweight cardigans, cotton zip-neck sweaters, shorts and classic slacks. Delivery two incorporates the unique summer vibe of BarHarbor. Nautical stripes, a Sleeveless polo shirtdress and red, white and blue plaid trousers give aclassic New England shoreline vibe. Inspired by the sun and sand of Palm Beach, the final deliveryfeatures shades of sun washed yellows, pinks, blues, and greens paired with subtle patterns.
Key to the collections are designs that incorporate three technical performance fabrics. TH ComfortTech is a hybrid cotton fabric used as the foundation for the golf collection to combine style andcomfort with the functional properties required in performance driven garments. TH Tech is a 100%polyester fabric with moisture wicking capabilities that keep garments dry and provide the anti-odorproperties essential in a technical garment. TH Cotton is a 100% cotton fabric designed for superior quality and comfort.
In early 2012, Tommy Hilfiger announced Keegan Bradley, the 2011 PGA Championship winner, PGA Tour Rookie of the Year and 2012 World Golf Championship Winner as global ambassador for the Tommy Hilfiger Golf men's collection through 2014. Since January 2012, Bradley has been representing the brand at major tournaments in select pieces from the men's golf collection. In March, British golfer Melissa Reid was announced as the ambassador for the Tommy Hilfiger Golf women's collection. The 24 year old, who placed second on the Ladies European Tour last year, will wear select pieces from the women's golf collection throughout the 2013 LPGA championship and European Tour season.
The men's collection, with approximately 60 styles, offers a wide selection of garments with expected retail prices ranging from £50/€65 for short-sleeved polos to £185/€225 for sophisticated outerwear options. The versatile women's collection includes approximately 60 styles with expected retail prices ranging from £70/€87 for bermudas and polos to £125/€150 for knits and outerwear.
---
---
PLAY MORE PLAY BETTER - LATEST TUITION TIPS
---