Glenmuir Seve shirts help inspire Europe to victory
---
The 2012 Ryder Cup is the first to be played since the death of former Ryder Cup captain, Seve Ba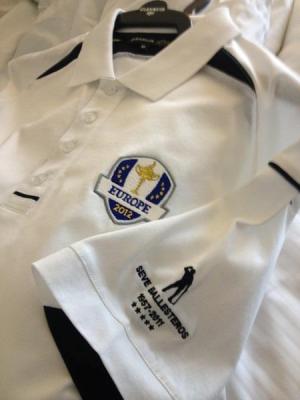 llesteros.
In memory of the great Spanish golfer, The European Ryder Cup Team's clothing for the final day at Medinah will carry the embroidery "Seve Ballesteros 1957-2011" and five stars signifying the Majors he won during his illustrious career.
The design of the clothing, including the cresting was carried out by the team at Glenmuir's headquarters in Lanark, Scotland, from where it has operated since 1891.
The idea to memorialise Ballesteros in this way, who was one of Ryder Cup's finest competitors, came out of consultations between The European Tour, European Ryder Cup Team captain, Jose Maria Olazabal and Glenmuir's Design Manager, Ann Miller.
The final day outfits of dark blue sweaters and trousers with white shirts was a combination always worn by Ballesteros on the final day of the Majors in which he played.
Colin Mee, Glenmuir managing director, said: "Seve was an inspiration to generations of European golfers and we were delighted and honoured to help remember him in this special way.
"This was a way for the current team to draw on that inspiration and the fighting spirit shown by Seve throughout his golfing career and particularly in the last few months of his life, which was tragically cut short by illness."
For more info and to purchase European Ryder Cup shirts click - HERE
---

The Ryder Cup is unlike any other tournament in golf and the atmosphere is something that every golf fan should experience. The experts at Golfbreaks.com can help with all aspects of your Ryder Cup experience, from accommodation and ticket packages to hospitality and travel and playing some of the fantastic nearby courses.
---
---
---
PLAY MORE PLAY BETTER - LATEST TUITION TIPS
---