Buckle & Twill - Unique English golf products
---
Quietly beavering away in the depths of the English countryside, an independent and dedicated team are taking on the upper echelon of the golfing retail elite, their name is Buckle & Twill.
Bringing together a plethora of hand-made products from independent manufacturers and some carefully selected brands with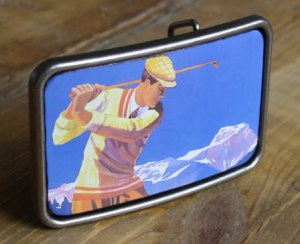 which the golfing world may be more familiar, the range on offer is individual and exciting and celebrates the dapper side of golf.
Following a trip to Austin, Texas, the team at Buckle & Twill were inspired to offer interchangeable belt straps and buckles to enable golf lovers to tailor their own belt to suit their style on or off the course. There's also a unique range of high quality hats and ball markers available, forming a wide product selection with prices ranging from £15 to £75.
Oliver Goffe, Director, says 'At Buckle & Twill we understand that golfers want to express themselves through their look as well as their ability on the course, and we're proud to be a part of that tradition while at the same time offer something a little different.'
The team at this young company, that launched online last month (August), are enthusiastic and passionate. This is evident in everything from their carefully conceived website design & packaging (each beautifully packed order comes with wooden Buckle & Twill golf tees), to their devotion to seeking out the next exciting product to add to their inimitable collection.
Find out more about Buckle & Twill by visiting www.buckleandtwill.com/about-us.
---
---
PLAY MORE PLAY BETTER - LATEST TUITION TIPS
---