Four Nations golfers ready to do battle at the Oxfordshire
---
After hundreds of Matchplay duels over five months of gruelling, competitive regional brackets in England, Ireland, Scotland, and Wales - The Four Nations successful finalists are ready to represent their country and attempt to win the title of Champion Golf Nation of the Year.
The Final of the Four Nations Golf Challenge 2012 (FNGC) is hosted at The Oxfordshire Golf Club in the Chiltern Hills from Sunday 23rd. to Wednesday 26th. September, 2012. This leading amateur competition is due to be broadcast on Sky Sports.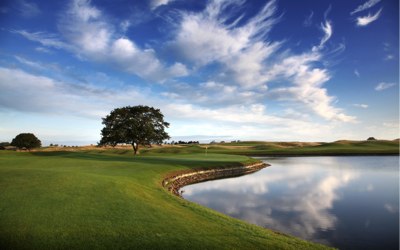 The four day competition is open to the public, whether you are a golf-lover or new to golf this thrilling Four Nations final is not to be missed.
The four National finalist teams of twelve from England, Ireland, Scotland, and Wales will descend on the award winning Rees Jones-designed American parkland style Golf Course at The Oxfordshire. This spectacular rolling layout is owned by Leaderboard Golf, which also boasts some of South England's best golf courses; Chart Hills (Kent), Dale Hill (East Sussex) and Sandford Springs (Hampshire). During the Grand Final players will stay in The Oxfordshire's four-star hotel, where they will be able to relax and revitalise in the 'Tempus Spa', gym and swimming pool after the tournament days.
Tim Pettifer, General Manager of The Oxfordshire said; "We are very pleased to have been selected yet again to host one of the most prestigious amateur golf contests in the UK. I'm sure it will be two days of great and challenging golf."
The format for the Grand Final will be Fourball Betterball, Matchplay and will consist of two 18 holes semi-finals followed by an 18 holes Play-Off for third and fourth place and of course, the 18 holes Final itself. The winners of this will be crowned the Champion Golf Nation of the Year.
A Final Qualifying event took place at Mottram Hall on Monday 3rd. September to decide the final six pairs who would represent each country in the Grand Final. Forty Eight qualifiers (four teams of six pairs) will now battle it out to see who will win the prestigious 2012 Grand Final Four Nations Golf Challenge.
The Four Nations Golf Challenge is sponsored by Golf Plus Direct and organised by Concierge Golf Limited. Concierge Golf has set out to establish an attractive and stimulating annual, amateur golf tournament which gives competitive members of UK golf clubs the rare opportunity to represent their Country. This competition is potentially the most exciting team competition for amateur golfers in the UK!
The Four Nations will be represented by:
TEAM ENGLAND
Clive Downing & Shaun Tarplett from Hillsborough G.C.
Matthew Hobbs & Tim Coxall from Bath G.C.
Fraser Carnihan from Brampton Heath G.C. & Steve Jackson from Kettering G.C.
Bertie Chambers & Charlie Jones from Slinfold G.C.
Richard Meade & Steve Hall from North Hants G.C.
Kevin Dupree & Neil Dawson from Tylney Park G.C.
TEAM IRELAND
Ian Dallas from Collingtree Park G.C. & Fraser Thomson from Huddersfield G.C.
Derrick Hynes & Jonathon McKnight from Loughgall G.C.
Colum McLaughlin & Andrew Mclaughlin from Princes G. C.
Kevin Ryan & Tom Ryan from St. Margarets G.C.
Padraig McElwain & Mathew O'Driscoll from Powerscourt G.C.
Eddie Kelly & Antoinette Russell from Rathdowney G.C.
TEAM SCOTLAND
Graham Lyall & Robert Easton from Ramsdale Park G.C.
George Bullamore & Sandy Thorburn from Eden G.C.
Kevin Smith & Scott Sneddon from Colville Park G.C.
Brian Lamb & Colin Kennedy from Irvine Bogside G.C.
Grant Thomson & Mark Thomson from Grange G.C. Monifieth
Bob Scott & Wayne Orme from The Carrick
TEAM WALES
Duncan Thomas & Chris Gunn from Maidenhead G.C.
Gary Cook & Bruce Brown from Woodlake Park G.C.
Paul Davies & Richard Thomas from Carmarthen G.C.
Andrew Povah & Richard Godbold from Wrexham G.C.
Teg Roberts & Mel John from Lancaster G.C.
David Bailey & Kashif Shabir from St. Pierre G.C.
---
---
PLAY MORE PLAY BETTER - LATEST TUITION TIPS
---