PAYNTR X-005 F Golf Shoes Review
REVIEW: PAYNTR X-005 F

---
PAYNTR Golf's newest spikeless shoe, the X-005 F, brings together its innovative technology to benefit golfers on the course. Golfshake Ambassador Mel Davies had the opportunity to test the new shoes and shares his thoughts in this new review.
"In our product development, we discovered that using the larger molecule of nitrogen helps the shoe's footbed respond significantly faster to ground reaction forces helping the golfer achieve more speed throughout their swing," said Michael Glancy, Co-founder and Brand/Product Creative Director. "Combined with all our technology, the PAYNTR X 005 F will go down as a trailblazing achievement in performance footwear."
"Our goal is to always show our customers that the PAYNTR Golf brand is at the forefront of advancement in the golf footwear market," said Mike Forsey, Co-founder and President of PAYNTR Golf. "We will continue to push the boundaries in product development, engineering and design to showcase how each of our models will improve the golfer's performance while also supplying industry leading comfort, traction and stability."
Tech Specs
Clarino Trivela microfibre upper delivers lightweight support and flexibility.
PMX Fit Heel counter hugs the back of foot for snug, supportive fit.
TPU Outsole delivers traction in three dimensions for the life of the shoe.
Dual Density PMXNITRO+ Foam Midsole provides maximum energy return and ultimate under foot support.
Carbon fibre propulsion plate allows golfers to harness ground reaction forces more effectively.
Neverwet superhydrophobic solution offers non-wicking and water-resistant protection.
Looks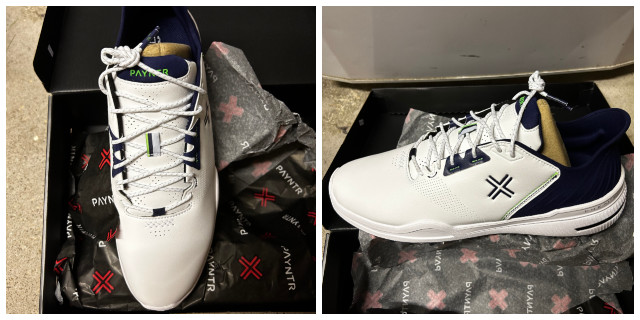 The X-005 F comes in a choice of three colours: black/grey, white/navy and white/silver, I was given the white/navy to try and the colour scheme is great right across the shoe. Once again PAYNTR have managed to design a shoe that looks great no matter what outfit you choose to wear and is suitable for either shorts or trousers. The undersole even has the same colour scheme as the shoe itself with a little bit of green thrown in for the "X" logo. Very sleek and stylish yet at the same time very fashionable which PAYNTR have managed to do with all the shoes I've been given so far.
Feel
This is really where PAYNTR excel. From the first time you put them on they feel like they were made for you especially. Lovely and snug, lightweight and they make your feet feel like you're walking in a bed of cotton. Not a single issue from the off with how they fit and how they feel.
Performance
Yet again this is another area where PAYNTR do really stand out. Whether it be the spiked or the spikeless, the shoes really do give you the feel that no matter what the stance, weather, or ground condition, they offer confidence that you can play whatever shot without a worry! I've played a good few rounds with these in mainly very dry conditions, but I did play a few holes in heavy rain and also some holes with a bit of dew on the ground and not once did I have any concerns about stability on and through the shots.
Pros
Ultimate comfort and playability. Great looking shoes. Also at a price that's better than more established competitors, which makes these a shoe well worth trying.
Cons
None!
The Bottom Line
PAYNTR continue to reach new heights with their shoes and these are just another great addition to an already wonderful range of golf shoes. Three choices of colour that should cover the needs of every golfer.
They really are by far the most comfortable shoes I've had the pleasure to wear. I already have one friend who has ordered these and he said he can't believe how comfortable they are.
All I can say is give these a try and I personally don't think you'll be in the slightest bit disappointed.
The PAYNTR X-005 retails for £144.99 and is available to purchase in three colourways - Black & Grey, White & Silver and White & Navy - at payntrgolf.eu.
Golfshake Ambassador Mel Davies had the opportunity to test the new shoes and shares his thoughts in this new review.
---
What do you think? leave your comments below (Comments)
---
Tags: shoes review golf shoes gear equipment
---
comments powered by

Disqus