Professional Golf Continues to Tear Itself Apart
---
IF YOU had any doubts that a schism still exists within the world of professional golf, they would have been dispelled by a series of press conferences at Muirfield Village, scene of this week's Memorial Tournament.
It saddened me to hear Jack Nicklaus say that he does not consider US PGA champion Brooks Koepka and Open champion Cameron Smith to be part of the game of golf any more.
The Golden Bear was speaking on the eve of The Memorial Tournament, which he hosts at Muirfield Village. And his views are tainted by the fact that Koepka and Smith have joined LIV Golf.
Nicklaus is the best golfer ever to draw breath and I respect everything he achieved in the game and he usually speaks a great deal of common sense.
However, I spluttered on my Corn Flakes when I read his views on Koepka and Smith. Why? Because Nicklaus was happy to take the money to design a golf course in Saudi Arabia in 2021. It is, of course, the same Saudis who finance LIV Golf.
I am sorry Jack but you simply can't have your cake and eat it in this case.
Nicklaus said the field gathered for The Memorial was probably the strongest his event had ever assembled, with 38 of the top 50 in the field, as well as 25 of the top 30 in the FedEx Cup standings.
Strangely, Nicklaus admitted that he had sent a note of congratulations to Koepka after the American's stunning victory at the US PGA Championship.
But asked if he was disappointed not to have two of the reigning major champions at Muirfield Village, Nicklaus replied: "I don't even consider these guys part of the game anymore. I don't mean that in a nasty way. This is a PGA Tour event and we have the best field we possibly can. The other guys made a choice of what they did and where they've gone and we don't even talk about it."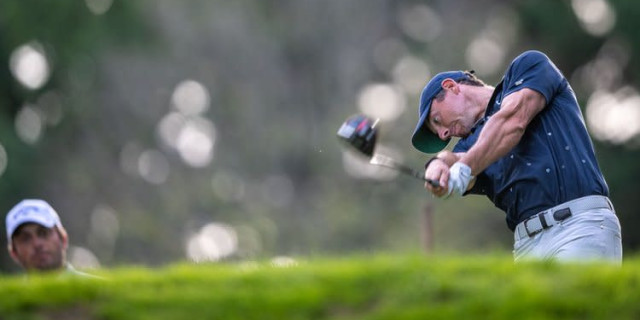 (Image Credit: Kevin Diss Photography)
And Rory McIlroy has weighed in once again, repeating his opposition to LIV Golf players being allowed to represent Europe in the Ryder Cup.
World No.2 Jon Rahm believes the likes of Sergio Garcia, with whom he formed a successful partnership in 2021, should be able to compete in Rome and said he was sad that "politics have gotten in the way" of the biennial event.
Garcia is the leading points scorer in Ryder Cup history, but made himself ineligible by resigning from the DP World Tour in the wake of increased sanctions being imposed for playing LIV Golf events without permission.
American players remain eligible despite being banned or resigning from the PGA Tour after joining LIV, with Koepka set to qualify automatically following his victory in the US PGA.
"I certainly think Brooks deserves to be on the United States team," said McIlroy. "With how he's played, I mean, he's second in the US standings, (having) only played two counting events.
"I don't know if there's anyone else on the LIV roster that would make the team on merit and how they're playing. But Brooks is definitely a guy that I think deserves to be on the US team.
"But I have different feelings about the European team and the other side and sort of how that has all transpired and, yeah, I don't think any of those guys should be a part of the European team."
It was illuminating to hear Rahm's views on the same subject. Luke Donald, Europe's captain, has told Garcia he has no chance of playing in the match at Marco Simone Golf Club. That news should come as no surprise, but Rahm says it saddened him.
Rahm said: "I'm going to miss him. We had a great partnership at Whistling Straits. I'm going to mention history again one more time. A Spanish duo in the Ryder Cup I think to me is embedded into the roots of the Ryder Cup. Look with Seve and Ollie were able to do throughout their partnership, right. So it's a little sad to me that politics have gotten in the way of such a beautiful event.
"It's the best Europeans against the best American, period. And whatever is going on, who is playing LIV and who is not playing LIV to me shouldn't matter. It's whoever is best suited to represent the European side. And I have a hard time to believe that the best player Europe has ever had, the most successful player Europe has had on the Ryder Cup isn't fit to be on the team.
"It's unfortunate. I will miss him. But with that said I want to be hopeful, there's a couple of Spanish guys playing really good right now, so hopefully they can join me on the team."
---

Be part of the action with a selection of unique golf tournament experiences, from playing in a pro-am with the stars to watching the action at golf's most illustrious events. Whether it's the Masters or The Open, The Ryder Cup or WM Phoenix Open, build your own bespoke package with the experts at Golfbreaks.com.
---
What do you think? leave your comments below (Comments)
---
Tags: ryder cup PGA Tour LIV Golf FedEx Cup european tour dp world tour
---
comments powered by

Disqus