Which Golfers Have The Best Social Media Reputation
By: Golfshake Editor | Tue 16 May 2023 |
Comments
---
Since the launch of LIV Golf, the men's professional game has found itself engulfed by a succession of murky headlines, notable fallouts, and legal battles, which have fractured the sport at the highest level.
Consequently, the four major championships have taken on an extra degree of significance, as they present a rare opportunity to bring together the leading players from all sides of the divide.
The Masters was undeniably an example of this; considering LIV stars Brooks Koepka and Phil Mickelson finished second behind Jon Rahm, with a similar result being a realistic possibility for the 105th PGA Championship at Oak Hill Country Club.
When it comes to determining the sentiment of fans and viewers, social media (rightly or wrongly) is the best barometer we have, something that was heightened following the release of the Netflix series, Full Swing, which (by chance) was filmed during the period of the initial split when leading names began to sign up to LIV Golf.
Using the social media tool Linkfluence, our friends at Betway have analysed just how the documentary series affected the popularity of the featured players in the weeks leading up to the Masters.
The first thing to look at is the number of social media posts about each player, both before and after the release of Full Swing.
The Profile of Each Player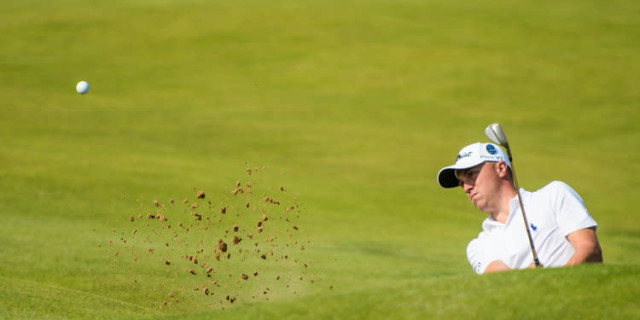 (Image Credit: Kevin Diss Photography)
By analysing social media data from the 45 days before the release of the show, and the 45 days following, we can see how Full Swing affected the profile of each player.
The first thing that sticks out from the data is that there is one player whose profile increased significantly more than any other: Justin Thomas.
Thomas plays a starring role in the opening episode of Full Swing, which focuses on his friendship with Jordan Spieth and his journey to winning the 2022 PGA Championship.
The two-time major champion was talked about just 3,244 times in the period before Full Swing, which rose to 18,475 following its release. That's an increase of 473%.
Another who saw a big uptick in posts after Full Swing was Cameron Young, who enjoyed a breakthrough year in 2022, finishing third at the PGA and second at The 150th Open.
Posts about Young increased by 171% following his appearance in Full Swing.
Third on the list is Scottie Scheffler, the reigning PLAYERS champion. Social media posts about Scheffler increased by 168% after Full Swing.
Indeed, Thomas, Young and Scheffler all remain PGA Tour players.
The LIV player with the biggest jump in posts was Dustin Johnson, who saw a 127% increase in social media posts after Full Swing.
Johnson is one of the most high-profile players to jump ship to LIV, and became the inaugural individual champion in its first season.
Other players to see an increase in posts following their appearance in Full Swing are Spieth (+69%), Rickie Fowler (+67%), Mito Pereira (+59%), Brooks Koepka (+38%), and Matt Fitzpatrick (+34%).
Those who saw their social media profile decrease despite their appearance in the show are Sahith Theegala (-67%), Ian Poulter (-64%), Collin Morikawa (-45%), Tony Finau (-24%), Joel Dahmen (-13%) and Rory McIlroy (-4%).
The Popularity of Each Player
Perhaps more importantly, the social media data was deployed to assess how Full Swing affected player popularity.
With Linkfluence's social listening tool, conversations about each player were broken down by sentiment, showing the percentage of posts which are positive and negative.
Here are the players ranked in terms of positive sentiment in the 45 days following the release of Full Swing:
Joel Dahmen 33.18%
Tony Finau 27.06%
Scottie Scheffler 24.93%
Sahith Theegala 23.47%
Rickie Fowler 21.68%
Matt Fitzpatrick 21.13%
Ian Poulter 20.96%
Collin Morikawa 19.59%
Jordan Spieth 19.04%
Cameron Young 18.88%
Brooks Koepka 18.49%
Rory McIlroy 17.65%
Dustin Johnson 16.81%
Justin Thomas 15.33%
Mito Pereira 15.24%
Comparing positive sentiment from before and after Full Swing, Mito Pereira, despite have the least positive sentiment overall, saw a 28% increase after featuring on Full Swing. But no other player currently with LIV saw their popularity increase.
Scheffler is next on the list, with last year's Masters champion seeing positive sentiment increase by 18% after Full Swing.
Dahmen, who was widely considered one of the stars of Full Swing after featuring heavily in the fourth episode, was another big winner, seeing positive sentiment around him go up by 16%.
McIlroy, a four-time major winner, also saw his popularity increase by 16% in the period following Full Swing.
Thomas (+13%), Finau (+12%), Young (+10%) and Fitzpatrick also saw an increase in positive sentiment.
At the other end of the spectrum, Koepka was the most negatively affected by Full Swing, with positive sentiment dropping by 58%.
Theegala also saw a big drop of 31%, while Johnson (-14%), Morikawa (-11%), Spieth (-9%), Poulter (-8%) and Fowler (-4%) also saw decreases.
Negative Sentiment
Here are the players ranked in order for negative sentiment in the 45 days after Full Swing:
Justin Thomas 31.7%
Brooks Koepka 23.78%
Ian Poulter 19.49%
Rory McIlroy 15.37%
Jordan Spieth 14.68%
Mito Pereira 14.39%
Dustin Johnson 14.04%
Matt Fitzpatrick 12.43%
Collin Morikawa 11.00%
Joel Dahmen 10.92%
Cameron Young 10.73%
Tony Finau 9.58%
Sahith Theegala 8.88%
Scottie Scheffler 8.67%
Rickie Fowler 8.28%
Interestingly, just three players saw negative sentiment about them on social media decrease after Full Swing - Scheffler (-28%), Fowler (-19%) and Morikawa (-7%).
Everyone else saw an increase in negative sentiment, with Thomas topping the list at an increase of 71%.
Young (+56%), Koepka (+52%), Fitzpatrick (+49%) and Poulter (+46%) also saw significant increases in negative sentiment.
The others to see an increase were Pereira (+38%), McIlroy (+36%), Theegala (+25%), Dahmen (+21%), Johnson (+18%) and Finau (+13%).
PGA Tour vs LIV Golf
PGA Tour players remain both the most talked about and the most popular players around.
Since the release of Full Swing, seven PGA Tour players - Thomas, Spieth, Scheffler, McIlroy, Morikawa and Finau - have featured in more social posts than any LIV player.
Six PGA Tour players - Dahmen, Finau, Scheffler, Theegala, Fowler and Fitzpatrick - received more positive sentiment than any LIV player on social media.
Negative sentiment paints a slightly less clear picture, with PGA Tour players making up three of the top five, although all LIV players ranked among the top seven players with the most negative sentiment.
We'll let you determine what this all means for each side of the game right now and the personalities involved, but the reality is that it's on the course where victories count the most - and this week it's the PGA Championship.
---
This article was written in collaboration with Betway
---

Be part of the action with a selection of unique golf tournament experiences, from playing in a pro-am with the stars to watching the action at golf's most illustrious events. Whether it's the Masters or The Open, The Ryder Cup or WM Phoenix Open, build your own bespoke package with the experts at Golfbreaks.com.
---
What do you think? leave your comments below (Comments)
---
Tags: PGA Tour LIV Golf FedEx Cup daily picks
---
comments powered by

Disqus