The WedgeTrainer Training Aid Product Review
REVIEW: The WedgeTrainer

---
Launched just last year, the WedgeTrainer is the creation of Kevin Redfern, who has worked with tour professionals for decades.
Kevin is also the founder and CEO of CustomGolfStix and has earned a strong reputation within the golf world, with the Wedge Trainer being a product that is engineered to help you turn through the ball and keep the loft on your chosen club face.
The WedgeTrainer is very easy to attach to the top of your club and was designed to reduce the activity in the wrists when chipping and pitching to help develop the technique required to deliver solid contact every time.
As Ryder Cup legend, Colin Montgomerie said: "The WedgeTrainer is a fabulous training aid. It really gets you turning through the ball and keeps loft on the face. The technique it promotes is just like that used by Steve Stricker and Jason Day."
Golfshake Ambassador Mel Davies has found out for himself this winter.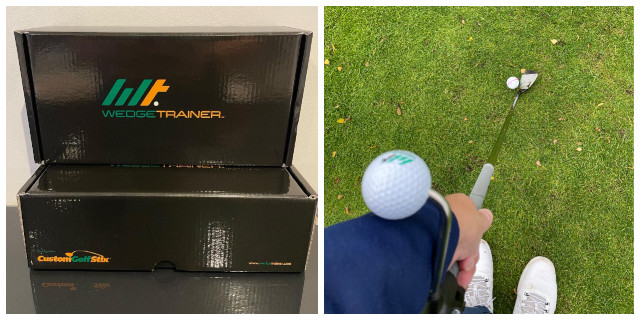 Looks & Feel
You can tell it is made to a high spec and looks and is very sturdy. I love the WedgeTrainer logo on the golf ball. Once set up you just put it into use and you get instant feedback and a great sense for how the shot feels.
Performance
I have been using this both in practice and also just around the house getting used to the feel and getting the repetitions in, so when I go out and play it's second nature to me.
I have been working massively for a couple of years now on my chipping and pitching and this has only helped enhance my ability and confidence around the greens. This has been evident in my recent stats which show my short game exactly one shot better than my handicap target of 4.0.
Pros
The WedgeTrainer is easy to set up and use and the best thing is you get instant feedback from the off. My strike quality has gone up a level and the consistency has also markedly improved on what was already a good area of my game.
Cons
The only downside would be if you have grips bigger than midsize, in which case the WedgeTrainer won't fit, but I personally don't know of anyone who has that big a grip anyway.
The Bottom Line
If you are looking to improve your short game (and who doesn't want to do that) this will certainly give you the results you desire. I really feel that improving chipping and pitching is an area that many can work on easily and as they say is a low hanging fruit in the search for lower scores and a lower handicap.
From my point of view I have been able to gain much more consistency and confidence since using the WedgeTrainer and I will continue to use it around the house and when practicing as I still feel I can gain more going forward.
As golf stats show, the shorter the putt the more you hole, so getting the ball closer is the aim and this will put you on track to achieve just that.
For more information, please visit https://wedgetrainer.com/.
---
What do you think? leave your comments below (Comments)
---
Tags: training aid review gear equipment
---
comments powered by

Disqus