Rory McIlroy Embraces Leadership Role in Golf
---
RORY McIlroy has revealed that he has spoken to Cameron Smith about the current situation in the game. It is widely expected that the Open champion is one of the seven new defectors who will be announced by LIV Golf next week, possibly even in time for him to play in Boston next Thursday.
"I had a conversation with Cameron Smith," said McIlroy. "Firstly, I wanted to congratulate him on winning The Open, but also I want people to make a decision that is completely informed and basically know this is what's coming down the pipeline. This is what you may be leaving behind.
"I just don't want people making decisions hearing information from one side and not from another. I've always said guys can do whatever they want. Guys can make a decision that they feel is best for themselves and their families. But I want guys to make decisions based on all of the facts.
"Sometimes I don't think some guys made those decisions based on having all the facts in front of them."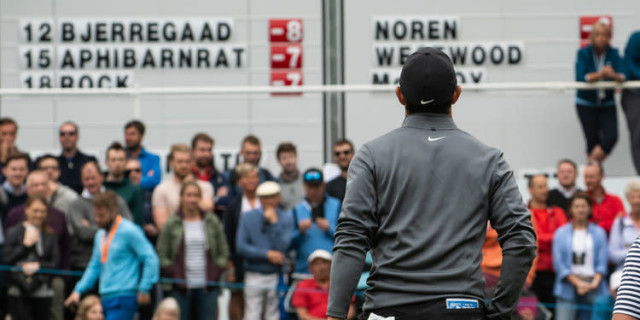 (Image Credit: Kevin Diss Photography)
It comes as the PGA Tour announces more changes designed to head off the perceived threat from LIV Golf. And McIlroy is certain that the changes he and Tiger Woods have helped to oversee will help to safeguard the future of professional golf.
The Tour's leading lights met last week to draw up their plans and hopes for the future.
It may be too late to stop Smith defecting but, with six others rumoured to be ready to switch too next week after the FedEx Cup is completed, the PGA Tour clearly had to do something.
The most important change is the commitment of the top 20 players to play against each other more often, in exchange for more money, creating a stream of super-tournaments outside the Majors. There will be 16 'elevated events' in all from next year, rotating annually, with enhanced prize funds of $20million each.
The top 20 players, who will be required to play a minimum of 20 tournaments each year instead of 15, will be chosen by market impact rather than pure performance.
"Having the top players in the world playing together more often and competing against each other more often is what everyone wants. It's what the players want. It's what the fans want, most importantly," said McIlroy.
"When I tune into a Tampa Bay Buccaneers game I expect to see Tom Brady throw a football. When I tune into a Formula 1 race I expect to see Lewis Hamilton in a car.
"Sometimes what's happened on the PGA Tour is we all act independently and that means that we never really get together all that often.
"We've all made a commitment to get together more often to make the product more compelling. Once we solve that, a lot of the rest of the stuff sort of takes care of itself."
The so-called journeymen will be looked after with a new guaranteed income of $500,000 being introduced for Tour players regardless of winnings.
There will also be a team element with a new floodlit 18-hole Monday evening event which launches in 2024 and which is being put together by TMRW Sports - Woods and McIlroy's company, and Woods has committed to play in it.
"Who knows where we're going to see Tiger play golf next? We don't know what his schedule is going to be, we don't know how his body is going to be. But to be able to see Tiger hit golf shots and still provide people with a glimpse of his genius is a really good use of his time," said McIlroy.
Unwanted Attention
McIlroy has embraced his new leadership role in golf, but that has also brought some negative attention as he and Woods have come under attack from LIV Golf lawyers.
Almost unbelievably, the pair have been subpoenaed next month to reveal details of the players' meeting they were involved in at the BMW Championship during which the above plans were agreed.
Woods has been served notice of a deposition on September 21, McIlroy the following day and PGA Tour commissioner Jay Monahan on September 27 in Florida to provide evidence relevant to LIV Golf's class action lawsuit against the PGA Tour.
"We look forward to Woods, McIlroy and Monahan telling the truth, with sworn testimony, under oath. Their testimony is not just relevant but also crucial," said lawyer Larry Klayman.
"This is not a personal 'thing' against Woods, McIlroy and Monahan. It's about getting information about what occurred at the players' meeting and generally with regard to allegations in our complaint that the PGA Tour, the DP World Tour and their commissioners Jay Monahan and Keith Pelley, are allegedly colluding in restraint of trade and the antitrust laws to harm the LIV Golf Tour and its players."
If McIlroy is required to appear in person it will mean flying back from the UK after competing in the BMW PGA Championship at Wentworth which takes place from September 8-11 before crossing the Atlantic again to play in the Dunhill Links Championship which starts on September 29.
As my and manager will happily confirm, I am not a lawyer, but I have to ask how on earth we have reach a position where LIV Golf is demanding to know what is going on behind the scenes at the PGA Tour. Like most of us, I had hope that, somewhere down the line, we might be able to get everybody round a table with the express purpose of them finding ways to work together. That now looks further off than ever before.
---

Be part of the action with a selection of unique golf tournament experiences, from playing in a pro-am with the stars to watching the action at golf's most illustrious events. Whether it's the Masters or The Open, The Ryder Cup or WM Phoenix Open, build your own bespoke package with the experts at Golfbreaks.com.
---
What do you think? leave your comments below (Comments)
---
Tags: rory mcilroy PGA Tour LIV Golf FedEx Cup daily picks
---
PLAY MORE PLAY BETTER - LATEST TUITION TIPS
---
Leave your comments below
comments powered by

Disqus