Copper Tech Golf Gloves Review
---
The Copper Tech Golf Glove is a market leader in the USA and featured heavily at the 2022 PGA Show in Orlando, so I was intrigued when offered the chance to test and try it.
The golf glove is an important piece of equipment as it ensures a decent connection between the golfer and the club. The best swing in the world can be undone by a temporary loss of grip during the swing.
I definitely don't possess the best swing in the world but like to have confidence that the club is not going to twist, turn or worse still, disappear during the lurching movements I laughingly call my golf swing.
If the grip is correct then the rest of my game seems to align.
Years ago, I had the great fortune to have an individual coaching session with arguably the greatest golf coach alive, David Leadbetter. He instantly pointed out a grip fault stating that this error was the one replicated by most amateur golfers. He took my hand and drew on the glove the optimum position for the golf club.
This glove has not been used for play since but I regularly return to it as a check of the grip position.
The first thing I noticed about the Copper Tech Plus was the great positioning of the finger pads. I instantly found myself using it as a grip check before every shot.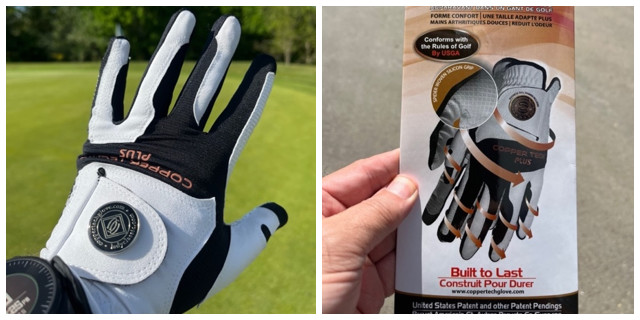 The advertising blurb that came with the product makes the following claims:
Improving a golfer's grip of the club.
Lasting 3 or 4 times longer than a leather glove
Maintaining its size
Being washable
Most importantly for many will be its copper infused technology that helps soothe pain for those with arthritis, rheumatism or other hand problems and pains.
I actually discovered the grip positioning benefits before reading this so I must agree.
I first started using this product on 10th May 2022 at The Manor House Golf Club following a prolonged period of no golf due to injury.
I have used it since with no issues and found that during a recent event in Shropshire when we suffered rain of biblical proportions that it performed brilliantly.
The first competition day started in heavy rain and it got worse. Spare, unused gloves kept in the bag were sodden and unplayable the next day despite a night of drying off in the hotel room.
I simply took off the Copper Tech when it became waterlogged, wrung it out to dry, and put it back on again. The weather that day meant I kept on the glove even for putting. Even when wet through it did not lose its performance and adhesion.
The next day It was bone dry and completely playable again. When compared to the other gloves in my possession this was a real bonus. It is definitely washable as that round proved. Impressively it didn't lose any of its size as tends to happen with dried out cabretta leather gloves that shrink and lose elasticity.
I don't know about the health benefits it claims but can report I found it comfortable at every single wearing. I still continue to use it whenever I play and have been surprised at how new it still looks after three months of regular use.
I am lucky that I don't suffer from arthritis or similar issues so can't really offer an opinion on its value in this area. Many who have suffered have given positive feedback after use so I would certainly encourage you to search out this product to try if this is an issue you face.
There are a great range of colours and styles and I am going to try some others from the style range soon. A ball marker is attached to the glove by magnets and a special version supporting Prostate Cancer UK is being produced with a donation made from every sale to the charity. A great idea I fully support.
Any true golfer will have a crinkled and ragged glove tucked away in the recesses of the golf bag somewhere. Get rid of it as it will no longer fit you comfortably and give these a try.
For more information, please visit https://coppertechgloves.co.uk/.
---
What do you think? leave your comments below (Comments)
---
---
comments powered by

Disqus