Golf In Scotland In The Black And White Era Book Review
---
Golf In Scotland In The Black & White Era by Steve Finan is an amazing book in many ways.
It is the ultimate coffee table book for the golf fan interested in history and the heritage and traditions of the game. To steal a line from Colin Montgomerie who writes the foreword. "This book provides a wonderful, visual reference of what golf was like in "the good old days."
Steve Finan, the author, describes it himself as a "photo-led nostalgia book."
These images hail back to an era of the professional photographer who chronicled important events of the day, using a 35 mm camera with a handful of rolls of film. No digital imagery here. Simply the photographer's art illustrated in an impeccably professional fashion.
Steve was allowed access to an archive held by DC Thomson and became the first person to view the images for decades. These were the images that didn't make the newspapers and therefore become accessible via the British Newspaper Archives. These are literally images that have not seen the light of day for up to 60 years.
A picture tells a thousand words and some of the images tell incredible stories of the fashions and styles of that era through a golfing context.
I have read this book with a simple pleasure. Having had a wonderful week recently at the 150th Open Championship, I was particularly interested in the chapter detailing images from past events at the home of golf.
Some of the photographs are pre-1950s era including many pictures of Bobby Jones and his impact on world golf. Many images developed from the gelatin dry plate negatives of that time.
This is a book that chronicles the history of Scottish and global golf through pictures. It features St Andrews as a golfing star in her own right, a golf town with its own unique history.
I loved the feature on heroines of the women's game with some extraordinary images of the day capturing a moment in time for posterity.
I am fascinated by Babe Zaharias. Some of the images of her in a golfing context are simply wonderful. Born Mildred Didrikson in Texas in 1911, she was a sporting enigma. An All-American basketball star who excelled at baseball, roller skating, tennis, ice hockey, diving, boxing and ten pin bowling. She also made all her own clothes and found time to record hit musical records for Mercury Music. During the US Amateur Athletics Union Olympic try outs in 1932 she competed in eight events. Winning six in three hours. She set three new world records that day in javelin, baseball throw and high jump. How is that for sporting talent?
The 150th Open Championship at St Andrews was a very special event for a host of reasons. Having had a period away from the game through injury, I have been able to monitor with interest the number of books being published with a Scottish golfing theme especially those that are written from a historical interest.
Personal Resonance
Throughout the last two years, I have been heavily involved with a group of passionate, some say obsessed golfers, trying to save Allestree Park Golf Course in Derby from destruction by its local authority owners. A lost and rediscovered Harry Colt original design of historical significance from 1929.
My historical researches have led to submissions to Historic England for the course to be granted a registration as the first UK golf course to achieve such a historic declaration.
All of my research findings have been submitted to a team of experts at Historic England in the form of a 28,000-word dissertation. My paper has been fully validated to a high academic standard by the team and was recommended for approval of a grade 2 listing on 28th April 2021.
We have established a 30-year period that was unknown to its local authority owners. A crucial period when the golf course was seen as one of the most important new ventures in the UK.
I have been able to establish that a number of golfing luminaries were involved in the club, especially the fact that Johnny Fallon was its first junior member. He came to the club through the first professional, Tom Barber, with his younger brother, Jocky. They were employed as caddies. Both left their Lanarkshire home to join Barber and develop careers in golf. Jocky, unfortunately died as a teenager after a period of illness at a Derby hospital.
Page 17 of the book was an iconic image of the final putt by Peter Thomson to win the 1955 Open in front of The R&A. Peter beat Johnny Fallon by two strokes to become the Champion Golfer at St Andrews.
Imagine my excitement turning to page 113 to find a full page devoted to the story of Johnny Fallon.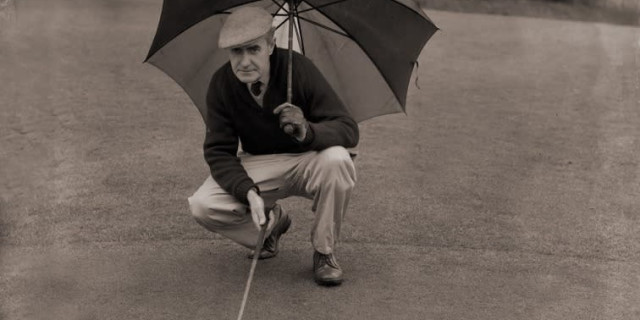 Born in 1913, his golfing career was interrupted by the Second World War. He tied third in the 1939 Open and was runner-up in 1955. Johnny played in the 1955 Ryder Cup partnering with John Jacobs and then went on to be the non-playing Captain in 1963 when GB&I took on and lost to a USA team led by Arnold Palmer.
Johnny was one of the first golfers to realise the benefits of fitness and health to his game and having moved to Flixby in Huddersfield he approached the first division football side and joined them for training to improve his own fitness levels. His playing record was exemplary and he was also known for his club making and teaching skills.
If I ever needed an example of the power of a picture it was this image as It made me realise the importance of the history and traditions of our game to be preserved for future generations to enjoy and understand.
These two young brothers were removed from their Scottish homes to the care of Tom Barber, who himself was narrowly beaten by Bobby Jones in The Open at Royal Lytham in 1926. He repeated the feat at Hoylake in 1930 when Jones won again.
At this time, he was club professional at Cavendish Golf Club in Buxton, Derbyshire. A course designed and created by Dr Alister MacKenzie who developed ideas from this venue in his later designs of Augusta National.
Tom and his proteges were invited to become the first professional and caddies at this newly built venture at Allestree Park, created by MacKenzie's' business partner Harry S Colt.
Conclusion
Even without this especially resonant personal image, Golf In Scotland In The Black & White Era is a tremendous book that will have interest to anyone interested in the art of photography or golf.
The text dovetails beautifully with the images giving just enough information to whet the appetite for more research.
I loved reading this book and would not hesitate in recommending it for addition to any golfing library.
For more information, please visit https://www.dcthomsonshop.co.uk/golf-in-scotland-in-the-black-white-era or Amazon.
---
What do you think? leave your comments below (Comments)
---
---
comments powered by

Disqus