Absent Phil Mickelson Was Sad Loss to PGA Championship
---
IAN POULTER, Lee Westwood, Sergio Garcia, Phil Mickelson, Richard Bland. The list of golfers reportedly committing to the LIV Series tournament at Centurion next month is steadily growing.
And they all have two things in common. They are men who are reaching the end of their playing careers at the highest level and they have all said that they will be competing regardless of the fact that both the PGA Tour and DP World Tour have refused to grant them permission to take part.
A whole raft of their fellow professionals took them to task at Southern Hills, venue for the PGA Championship, the season's second golf major.
Tiger Woods, Rory McIlroy, Jon Rahm and Jordan Spieth were all quick to defend the PGA Tour. Spieth insists that he doesn't play the game for the money. And, of course, with millions of dollars in the bank, that is easy for him to say.
But the point he was making is that he and the vast majority of those who play on the PGA Tour are richly rewarded for their efforts.
The saddest thing about the PGA Championship was the absence of Mickelson, the defending champion..
How things have changed for him since he won at Kiawah Island 12 months ago, in the process becoming the oldest-ever winner of a major. The past year should have been a celebration for one of the most popular golfers ever to bestride the world's fairways.
Instead, it has all fallen apart for the 51-year-old, whom we haven't seen in action since February. His problems are well documented but when his name appeared on the entry list for the year's second major we all hoped that he would take the opportunity to face the world's media and say the right things.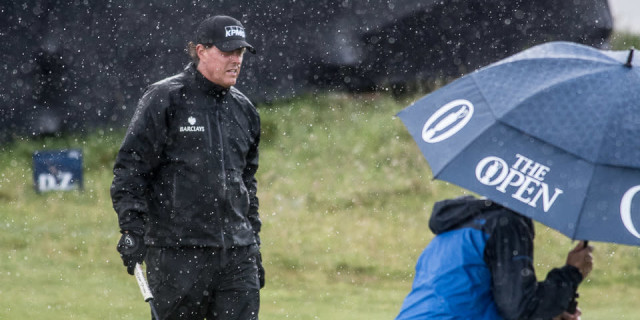 (Image Credit: Kevin Diss Photography)
However, Mickelson withdrew. And the obvious conclusion to draw is that the next time we will see him in action will be at the inaugural LIV Series event at Centurion Golf Club in St Albans next month. If he doesn't play there then we may never see him in action again.
It is all very sad because there is a lot of love for Mickelson. No matter how often he puts his foot in it - and he has done so many times - the world of golf is ready to forgive him.
Rahm does not believe Mickelson's comments or involvement with LIV should overshadow what he has done for the sport of golf.
To briefly recap, Mickelson first of all accused the PGA Tour of greed and was then quoted saying some rather unkind things about the Saudis behind Greg Norman's attempt at a rival league.
Rahm believes that Mickelson's legacy should not be tarnished by this controversy. "I don't think what's happened recently should, or will, damage his legacy too much," said Rahm. "That guy has given his life to golf and a lot of what we have and a lot of what we are competing on now is thanks to him.
"A lot of people focus on Tiger [Woods], but he is easily in the top three best players in the world right now. We should recognise the guy has given his life to the public - nobody has done more for the fans or signed as many autographs.
"I know he's in a bit of a slump right now, for whatever that may be, but I don't think his whole career or legacy should change because of a couple of comments."
Like many of his fellow players, Rahm says that Mickelson has bridges to build. McIlroy and Woods said much the same thing at Southern Hills, with McIlroy suggesting it was sad that Mickelson was not there to defend his title.
Woods said: "Phil has said some things that I think a lot of us who are committed to the Tour and the legacy of the Tour have pushed back against and he has taken some personal time.
"We all understand that, but I think that some of his views on how the Tour could be run and should be run, there has been a lot of disagreement there. But as we all know, as a professional we miss him being out here. He is a big draw for the game of golf, he is just taking his time and we all wish him the best when he comes back.
"The Tour has so much to offer, so much opportunity. I understand different viewpoints, but I believe in legacies, I believe in major championships and big events, comparisons to historical figures of the past.
"There is plenty of money out there. The Tour is growing - like any other sport, like tennis, you have to go out there and earn it."
This time last year, nobody would have batted an eyelid at Bland's participation at Centurion, although they may well have raised an eyebrow at his appearance at the PGA Championship, a tournament he would never have played in had it not been for his unlikely victory at the British Masters at The Belfry. But that win opened many doors for him. He led the US Open after 36 holes last year. And here's the point - had those two things not occurred there is no way he would have been approached to play in the LIV Series.
This is Bland's take on his decision.
He said: "Most of my career is behind me now as regards playing at the very highest level. I'm 50 years old in six months.
"I'm a realist. Mother nature does tend to catch up on you. I have an opportunity to play these events and secure my future and I'd be pretty foolish to turn that down.
"I have asked the DP World Tour for an exemption to be able to play in the 54-hole event. I haven't been granted the release.
"Everybody has their own opinion and are they going to play or not going to play; you can only do what's best for yourself.
"Some people might not like that but it's an opportunity for me to make the next stage of my life very comfortable and how can I turn that down?"
Bland, who has won more than £6m since turning professional in 1996, made headlines in May 2021 when he won the British Masters, his first in his 478th start. He also enjoyed eight top-10 finishes last season as he finished a career-best 11th in the Race to Dubai rankings.
Bland picked up £300,000 for winning the British Masters. With no cuts in the LIV Series, the man finishing last in the 48-man field will collect around £100,000.
Is he worried about being banned by the DP World Tour? Bland said: "That's something I'm prepared to put up with and take on the chin. We'll see what they are and what the repercussions are. No-one really knows. I've spoken to [DP World Tour chief executive] Keith Pelley but he's keeping his cards close to his chest."
Several golfers have pointed to the Saudi-backed takeover of Newcastle United, that boxer Anthony Joshua has fought in Saudi Arabia and that the Formula One circus has competed there.
Bland said: "They don't seem to be getting the bad press that golf's getting. "I know Lee [Westwood] commented on that at the British Masters and I'm of the same opinion. I don't get why we're getting the rough end of the stick."
He is right but he overlooks one crucial thing, namely the fact that what Greg Norman and the LIV Series are doing is to challenge the existing order of things. And many, many golfers and golf fans believe that things are perfectly fine as they are.
---

Be part of the action with a selection of unique golf tournament experiences, from playing in a pro-am with the stars to watching the action at golf's most illustrious events. Whether it's the Masters or The Open, The Ryder Cup or WM Phoenix Open, build your own bespoke package with the experts at Golfbreaks.com.
---
What do you think? leave your comments below (Comments)
---
Tags: US PGA Tour PGA PGA european tour dp world tour
---
comments powered by

Disqus