Interview With 2002 PGA Champion Rich Beem
---
IT IS 20 years since Rich Beem won the PGA Championship at Hazeltine. It was a victory that changed his life.
Beem is now part of the Sky Sports team and has established himself as one of the sport's best and most insightful analysts.
He has seen many changes in the game and is one of those who do not believe that the Saudi-backed LIV Series is good for golf.
LIV Golf Controversy
He said: "It's not growing the game like Greg Norman says it is. I think it's fantastic for some players monetary wise and that's where 90% of the people stand on the issue.
"But it's where the money is coming from and the fact that they're offering so much for them to play for it.
"Let's face it, if they were playing for anything other than money then they wouldn't have an LIV series. It wouldn't exist.
"If you're OK with where the money comes from, then fine that's what you want to do."
But Beem accepts the financial dilemma players are facing. "If I was asked to do it and I was 45, I'd have a hard time saying no," he said.
Norman suggests he's got a team of lawyers on standby to challenge the PGA Tour's decision not to grant permission for its players to take part in the first LIV tournament in England next month.
How does Beem see things going? "It's definitely going to end up in the courts. It's going to get ugly and I don't think it's going to be good for golf and it'll expose even more greed. It's not good for the game and not healthy at all."
The LIV Series will consist of 54-hole tournaments, with Norman suggesting that the game is ready for change and believing that the public have had enough of 72-hole events. Beem disagrees and also points out that the 54-hole concept has nothing to do with Norman.
"We have had 72-hole tournaments forever. Do we need to change it? I don't know. We have a great product as it is," he said.
"Four days can be a little bit long and the Champions Tour already has 54-hole tournaments. I like that at my age.
"But this is not Norman's idea. This was a concept from the Premier Golf League so let's not give Greg any undue accolades. He stole the idea from somebody else. Majors can't be 54 holes but I'll have to see it in action to see how it looks on TV."
Winning The 2002 PGA Championship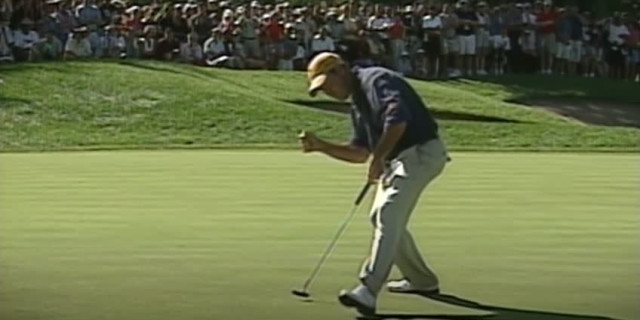 Beem's victory at Hazeltine was a surprise. But how did it change his life?
He said: "Immediately I got taller, smarter and better looking! It was one of those things where everybody wanted a piece of my time.
"Part of it for me that was so interesting is that folks expected something different. They wanted something more polished and probably not an immature 31-year-old, who gave answers from the hip.
"Everything changed, from opportunities to going around the world to a different stratosphere. I'm so fortunate and so blessed to have gone through all that.
"I wouldn't have changed a thing going through all that as it made me who I am today.
"Time has definitely flown by but it also feels great too. I've turned the chapter in my career a little.
"I enjoy working for Sky Sports. I have a great team and the playing kind of takes a little bit of a backburner but I'm looking forward to get back playing this week.
"It's always great to come back and get the chance to play every year but I think my time is limited."
Working For Sky Sports Golf
These days, Beem is best known for his work with Sky. But how did his career go in that direction?
"A few years after I won, a few folks planted the seed and said I should go into commentary and I thought that'd be kind of fun," Beem said.
"I enjoyed some of the characters in the game. David Feherty was the best of the best.
"I enjoyed commentary and it all kicked into gear when I missed the cut in 2012 when playing in Switzerland and I went down to the TV compound and bumped into my now-boss at Sky and said I'd be happy to help out doing commentary. He asked if I had experience so I joined the Golf Channel and a few years later Sky got back to me and now here I am.
"I love the Sky team and I fit right in."
Previewing The 2022 PGA
The headlines leading up to Southern Hills have been dominated by defending champion Phil Mickelson's decision to withdraw. Beem is not surprised that Mickelson will not be there.
"You need to make sure you get everything sorted out on your planet before you come to play golf," Beem said. "This wasn't the place to come back because let's face it, the media were going to roast him.
"I don't know when he'll be back but I really hope it's not for the Centurion LIV series event but if he is, that's the path he's chosen. I don't think coming back for a major would have been a good move.
"If he does go to the Centurion LIV it's for money. If that's where he's going to hang his hat then I wish him the best of luck but we may not see him for a long time.
Mickelson has accused the PGA Tour of being greedy. Beem believes that if he has any plans to return then he owes his fellow players an apology.
"If the PGA Tour is where your allegiance is then he needs to apologise to every single player on the range.
"There are a lot more things to the PGA Tour aside from the money they're paid for."
And who does he think it going to win this week?
"It's hard to look past Scottie Scheffler as he said it's his favourite golf course in the world to play. Then again, with the driving lines I think Jon Rahm and Rory McIlroy have got to be licking their chops. I would also put Matt Fitzpatrick on my list of players to look out for.
"It's going to take a lot of discipline not to be trailing by several shots into the final round."
---
Rich Beem was speaking on behalf of BoyleSports Betting on Golf. See https://www.boylesports.com/sports/golf/uspga-championship-2022.
---

Be part of the action with a selection of unique golf tournament experiences, from playing in a pro-am with the stars to watching the action at golf's most illustrious events. Whether it's the Masters or The Open, The Ryder Cup or WM Phoenix Open, build your own bespoke package with the experts at Golfbreaks.com.
---
What do you think? leave your comments below (Comments)
---
Tags: US PGA Tour PGA PGA european tour dp world tour daily picks
---
comments powered by

Disqus