---
Now they have finally returned to the golf course, the Golfshake Ambassadors had the opportunity to try out and put to use 'The Book' from PuttView.
The Book is an acclaimed tour standard course guide/planner that is available for any course in the UK & Ireland and is usable by anyone from club golfers to elite amateurs and professionals.
While the greens guides are not fully available to users in the UK just yet, some of the Golfshake Ambassadors had books sent to them for use at their home clubs and the guys share their thoughts with you below.
Matt Holbrook tells us: "When the books arrived, I was surprised at how high quality they are, the saddle stitching means they fit nicely into most yardage book covers and the 'waterproof' paper means you won't be worried about taking your book out in adverse conditions."
Rob Treanor and Mel Davies were especially impressed. "Seeing the course in 2D, particularly when not physically there, helps with hole strategy without the influence of visual factors or any typical bias you may have on a hole. As a consequence, it gets you to think differently about the best route into the green and the best positions to aim for to enable the optimal approach" said Rob.
Mel added: "The PuttView Book has been a great addition for me. I love the way it fits in my holder and into my back pocket. The info it gives is second to none. The elevation changes have really helped me as my GPS gives me the yardage, but the book tells me how many yards to add or to take off."
Matt and Mel have also made use of the blanks greens section in slightly different ways. Mel has been using some colour coding to mark some putts, while Matt has gone for a grid system to mark putts that haven't done what he had expected them to do.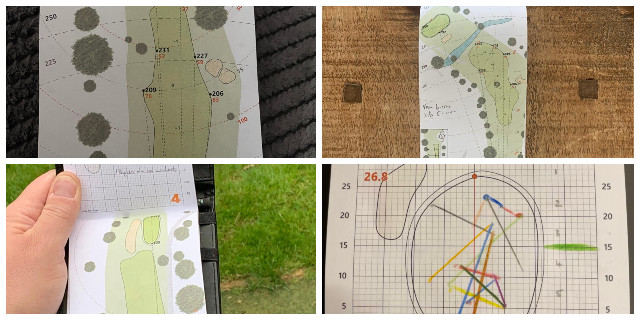 Similarly, Kevin Paver has used his book while recently doing a Tour Caddy Experience session where his professional caddie had spent time making him some notes to use out on the golf course.
Kevin says; "The PuttView Book came in very handy recently when spending some time on the course doing my Tour Caddy Experience. Dom, my caddie for the day, made me some valuable notes that I can refer back to during my round, where to miss, where not to miss, as well as particular lay up places if I am out of position on certain shots. Having that visual point of reference will be super handy going forward."
The PuttView Books are available for any course through their website www.puttviewbooks.com at a price of $29 (roughly £20) plus a shipping cost. PuttView are working on a UK based manufacturer that will reduce the cost of the shipping and they are also hoping to have a solution to be able to provide full greens data here in the UK by the end of 2021.
---
What do you think? leave your comments below (Comments)
---
---
comments powered by

Disqus