View From The Fairway - Horschel Responds to Monty Criticism
---
BILLY HORSCHEL has responded to criticism from Colin Montgomerie and apologised for the pace of play during the final of the WGC-Dell Technologies Match Play in Texas. He says he has never before been accused of slow play and blamed it on the blustery conditions and the fact that he felt uncomfortable over the ball. "I am not a slow player but I understand that the final [against Scottie Scheffler] was a slow round of golf. The wind was blowing all over the place so it was sometimes tough to figure out what we wanted to do. I read what Colin Montgomerie was saying about all the guys having having yardage books and using the green books to line up putts. But I don't carry a yardage book, and I haven't done for four years. And I have never used a greens book to line up my putts. I am not a fan of slow play. I guarantee you that, next time I am in the final group I won't be taking as much time as I did on Sunday. I am a big believer in not taking a lot of time over the golf ball." So, nothing to do with playing for a first prize of $1.8m Billy? It took Horschel and Scheffler more than four hours to complete the final. In anybody's language, that is just far too long. Can you imagine how long it would take him to get round Carnoustie in a howling gale?
---
ONLY in America would they organise a poll asking members of the public if they are rooting for Tiger Woods as he recovers from the injuries he suffered in a near-fatal car crash. According to Set Hall Sports Poll, 43% of Americans say they are rooting for Woods' return to competitive golf, with the number rising to 60% among sports fans and 69% of those who consider themselves "avid fans." Just 19% of the general public said they were not rooting for his return, with 36% venturing no opinion. The poll also showed that 40% of the general public have a positive opinion of Woods, although 29% do not. Over the years the approval for Woods has declined as his disapproval rating rose. When asked a similar question in April, 2015 (more than five years after news of his affairs and divorce were made public), 45% reacted with approval to his name, with 21% registering disapproval. Among sports fans in the current poll, however, 53% had a positive opinion. Do the pollsters really have nothing better to do with their time?
---
THE Masters is a true one-off. As we all anticipate the return of the season's first men's major in its traditional April slot it is worth taking a look at some of its idiosyncrasies. They don't have spectators or fans - they have patrons. If you are caught running at Augusta you will be asked to leave. You cannot take coolers or food containers into the hallowed premises. You can't lie down on the grass - you must either stand or sit on a chair. Anybody caught using a mobile phone will be asked to leave the course. And don't even think about wearing your cap backwards.
---
TV ANALYST Gary McCord once famously quipped that the greens at Augusta were so quick that it was as if they had been bikini-waxed. The stuffed shirts at Augusta National are not known for their sense of humour. McCord was never allowed to return to The Masters.
---
DUSTIN JOHNSON will be aiming to join a pretty elite club at Augusta this week. The only men to have successfully defended the Green Jacket are Jack Nicklaus, Tiger Woods and Nick Faldo. It is perhaps significant that DJ decided to withdraw from the Valero Texas Open in order to ramp up his preparations for Augusta.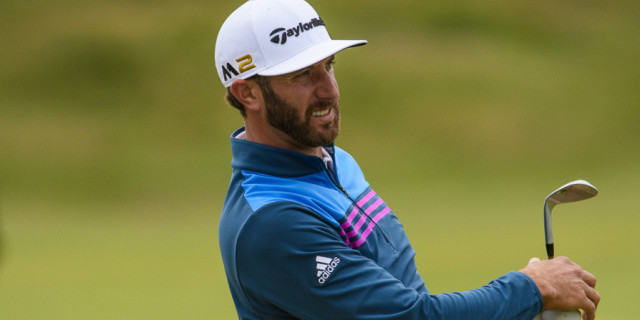 ---
SPEAKING of slow play, it has emerged that LPGA rookie Yealimi Noh was fined $10,000 at the Kia Classic. She had two "bad times" during the third round. It is not her first offence. She was fined $2,500 for slow play last year - as a result, her penalty was doubled this time. And the penny finally seems to have dropped. She blamed her tardiness on the fact that she wasn't playing well and was also working with a new caddie. "I can't appeal because it's obviously my own fault," said 19-year-old Noh. "It is a good learning experience and I am never going to do it again. It's hard to get over. That's a lot of money." She finished in a tie for 61st place and earned $,4,247 so it was an expensive week for her. But such sums are trivial when you are talking about the likes of Horschel - it's time to award penalty shots for slow play. I am convinced it is the only solution.
---
THREE-TIME major tennis champion Andy Murray has started to turn his thoughts towards what he might do when his playing career comes to end. And one of is preferred options is to become a golf caddie. Hmmm…not quite sure how that would work. Murray has a reputation for smashing tennis rackets and arguing with umpires. Perish the thought if his player either hit a poor shot or chose to ignore his advice!
---

Be part of the action with a selection of unique golf tournament experiences, from playing in a pro-am with the stars to watching the action at golf's most illustrious events. Whether it's the Masters or The Open, The Ryder Cup or WM Phoenix Open, build your own bespoke package with the experts at Golfbreaks.com.
---
What do you think? leave your comments below (Comments)
---
Tags: PGA Tour lpga european tour
---
PLAY MORE PLAY BETTER - LATEST TUITION TIPS
---
Leave your comments below
comments powered by

Disqus