Ireland Ready To Open Courses Again - When Will The UK Follow Suit?
---
WITH news that golf courses in the Republic of Ireland are expected to reopen from May 18, there is bound to be renewed pressure on the UK government to follow suit.
Leo Varadkar, the Taoiseach (prime minister) has declared that some outdoor sporting activities will be allowed from May 18 and that would seem to give the green light for courses to open for business again, a decision that has been warmly welcomed in a statement from the governing bodies in Ireland.
Of course, it will not be business as usual, and there are certain to be restrictions in place. And anybody who is not a club member is going to have to exercise some patience because they are not going to be allowed to play from that date. It is for members only.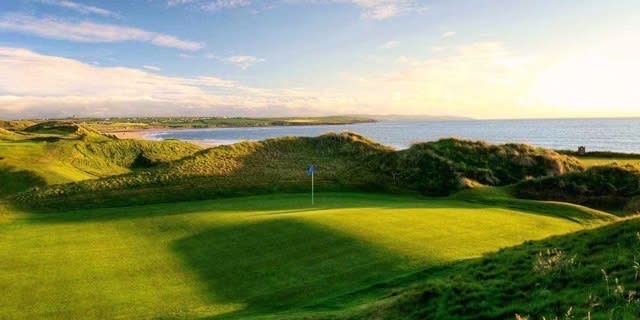 Mark Kennelly, the chief executive of Golf Ireland, said: "The golf community welcomes the Taoiseach's confirmation that our clubs can reopen on a restricted basis. It means golf will be ne of the first sports to resume and will give golf club members the chance to return to play on a limited but safe basis."
Play is certain to be restricted to two-balls, with social distancing measures still strictly applied, and there is unlikely to be access to any part of the clubhouse other than the changing rooms.
"Golf offers the potential to play a significant role in the recovery from this crisis in public health terms. Our sport provides a valuable outlet for healthy outdoor activity which can be enjoyed with the appropriate safety measures in place," said Kennelly. "We hope that later in the year golf can also make a valuable contribution to economic recovery, particularly in the domestic tourism sector. I want to thank the golfers of Ireland for putting the health of their communities and fellow members first during this crisis and to urge them to continue to strictly adhere to the protocols for safe golf, which will be finalise shortly and to continue to follow the public health advice of the Government and health authorities."
A statement from Golf Ireland, the Irish Ladies Golf Union and the Golfing Union of Ireland said in advance of when the "protocol [for return to play] is published, as it will contain vital information on group sizes and timesheet intervals". Club are being advised to refrain from opening timesheet booking for now, but that does rather beg an obvious question: if you don't have a booking system in place, how do you stop hundreds of golfers descending on courses on the morning of May 18th?
The golf governing bodies' statement said they had been "engaging intensively" with the government on the potential for safe resumption of the sport on a limited basis.
"To that end, golf's governing bodies have prepared a comprehensive draft protocol on the safe resumption of play on which we have been engaging with the Government over recent weeks," it said. "We now intend to finalise this protocol in the coming week, in consultation with the government, and issue clear advice to our member clubs well in advance of the reopening of courses on 18 May. That advice will emphasise the absolute necessity of golf clubs adhering to the terms of the protocol for safe play."
The announcement relates only to golf clubs in the Republic of Ireland and the Irish golf governing bodies said they would "continue to work with the UK authorities and the Northern Ireland Executive to seek the safe resumption of golf for our clubs in Northern Ireland".
Varadkar and his advisers clearly believe they are winning the battle against coronavirus. From Tuesday, people aged over 70 will be allowed to leave their houses if they avoid all contact with other people and the exercise distance limit is being increased to 5km.
Sports such as football and gaelic games could also return in front of limited crowd or behind-closed doors on the week beginning July 20, with sports such as rugby expected to kick off again in August.
However, everything will be dependent on continuing progress in the battle against Covid-19. And that most certainly applies in the UK too. Rumours continue to circulate about when we might be given the green light to start playing again in this country, and many of you have contacted us after our piece calling for courses to allow members of the public access for their daily exercise regimes.
---
Guidelines Announced From R&A and Governing Bodies For When Golf Does Return
---
Several of you believe that if it is all right for people to have a walk on the course then surely it is fine to play golf too, while others, sadly, have reported that members of the public have caused wanton damage to many courses.
Here are just a few of your responses:

"If the suggestion is that the public can walk across a cross then why can't I, as a socially responsible golfer, actually play golf on the course? What's the difference? None. I get closer to other people walking down the aisles in Tesco."
Or this from a golf club: "We are closed and have one entrance to the club, a locked barrier. Our perimeter fencing has been cut through or pushed over in places so that new people can get through the course. We have had bikers, footballers, dog walkers, groups of children, even idiots trying to play golf. We now face a significant bill for fence repairs. There is always a minority who don't respect property or guidelines."
Several of you have reported that greens have been left damaged by people riding bikes across them, while it appears that many dog walkers steadfastly refuse to clean up after their pets.
This is typical of the responses we received: "Why can't we play golf? It is easy to maintain social distancing."
"Significant public footfall increases the probability of malicious damage and increased wear and tear to specially cared-for parts of the course such as tees and greens. That damage needs to be paid for. Some argue that allow people to access golf courses may increase membership. If people are interested in golf they will join."
There are clearly a huge number of increasingly impatient club golfers out there. We understand that and of course we want to see you all back out there enjoying this wonderful game of ours, but only when we are told that it is safe to do so.
---
Related Articles
Guidance Revealed For When Golf Does Resume
---
What do you think? leave your comments below (Comments)
---
Tags: daily picks
---
PLAY MORE PLAY BETTER - LATEST TUITION TIPS
---
Leave your comments below
comments powered by

Disqus