Do You Know Who Said What?
---
HOW well do you know your golf? We thought it was about time that we tried to lighten the mood and give you something to occupy the old grey matter. We start off with a series of golf quotes. Do you know who said them? The answers are at the bottom.
Keep your eyes open because we are going to be giving you a series of golf quizzes on Golfshake.
So, who said the following? Answers revealed at the botton.
1. "The more I work and practice the luckier I seem to get."
2. "I have a number in mind."
3. "I get to play golf for a living. What more can you ask for, getting paid for doing what you love?"
4. "I have come to the conclusion that I am not good enough to win a major."
5. "Arnold's place in history will be as the man who took golf from being a game for the few to a sport for the masses. He was the catalyst who made that happen."
6. "Success in this game depends less on strength of body than strength of mind and character."
7. "Achievements on the golf course are not what matters, decent and honesty are what matter."
8. "For this game you need, above all things, to be in a tranquil frame of mind."
9. "As you walk down the fairway of life you must smell the roses for you only get to play one round."
10. "I think it's more than whether or not you win or lose. It's having that opportunity on that final round, final nine, to come down the stretch with a chance to win."
11. "A routine is not a routine if you have to think about it."
12. "He plays like a snail. It takes him an hour and a half to watch 60 Minutes."
13. "Everybody can see that my swing is homegrown. That means everybody has a chance to do it."
14. "Golf is a game that is played on a five-inch course - the distance between your ears."
15. "Resolve never to quit, never to give up, no matter what the situation."
16. "Aggressive play is a vital asset of the world's greatest golfers. However, it's even more important to the average player. Attack this game in a bold, confident and determined way and you will make a giant leap towards realising your full potential as a player."
17. "Discipline and concentration are a matter of being interested."
18. "A hole in one is amazing when you think of the different universes this white mass of molecules has to pass through on its way to the hole."
19. "I always think under par. You have to believe in yourself."
20. "Golf is a compromise between what your ego wants you to do, what experience tells you to do, and what your nerves let you do."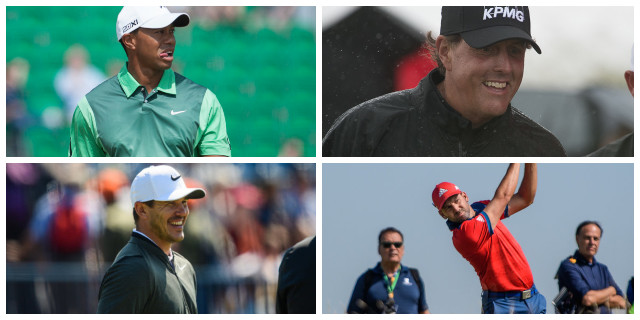 ANSWERS
1 - Gary Player
2 - Brooks Koepka when asked how many majors he believed he could win
3 - Tiger Woods
4 - Sergio Garcia, who would go on to win The Masters
5 - Jack Nicklaus, talking about Arnold Palmer
6 - Arnold Palmer
7 - Tiger Woods
8 - Harry Vardon
9 - Walter Hagen
10 - Phil Mickelson
11 - Davis Love III
12 - Butch Harmon talking about Kevin Na
13 - Bubba Watson
14 - Bobby Jones
15 - Jack Nicklaus
16 - Greg Norman
17 - Tom Kite
18 - Mac O'Grady
19 - Sergio Garcia
20 - Bruce Crampton
---

Be part of the action with a selection of unique golf tournament experiences, from playing in a pro-am with the stars to watching the action at golf's most illustrious events. Whether it's the Masters or The Open, The Ryder Cup or WM Phoenix Open, build your own bespoke package with the experts at Golfbreaks.com.
---
What do you think? leave your comments below (Comments)
---
Tags: PGA Tour european tour daily picks
---
PLAY MORE PLAY BETTER - LATEST TUITION TIPS
---
Leave your comments below
comments powered by

Disqus