TaylorMade Reveals New Golf Bag Range for 2019
By: Golfshake Editor | Thu 31 Jan 2019 |
Comments
---
TaylorMade has revealed its range of golf bags for 2019, which take full advantage of FlexTech to combine greater functionality with a stylish design to enhance on previous models that have seen the brand's market share increase dramatically in recent years.
stem & an all-new self-adjusting strap system that allows for a stable, comfortable carry. The FlexTech base system is a multi-piece collapsible base that allows for easy deployment with additional space that negates club crowding. The all-new self-adjusting strap system allows golfers to have balanced bag without having to adjust cumbersome straps. Without a back pad the straps are more effective when utilised as a single or double configuration.
The Best Winter Golf Stand Bags for 2019
FLEXTECH AND FLEXTECH WATERPROOF STAND BAGS
Highlighting TaylorMade's 2019 golf bag line are the FlexTech and FlexTech Waterproof golf bags, featuring a unique construction that has each main side pockets built into the centre of the golf bag to create a single piece construction that allows for more storage without adding weight.
The overall design was a result of market research that showed a significant percentage of people who purchased the previous generation bag also use them in carts in addition to walking during rounds. The bag was designed for more pocket space and features a cart strap passthrough to allow easy access to the oversized apparel pocket through a unique single piece construction.
In addition to the FlexTech Stand Bags, TaylorMade is also introducing the first generation of the FlexTech Waterproof Stand Bag, designed to appeal to customers seeking protection from the rain with the same performance features as the FlexTech bag. The FlexTech Waterproof Stand Bags offers 5 waterproof welded pockets and an umbrella holder.
Further validating the bags at the highest level, TaylorMade Tour staffers Jon Rahm, Beau Hossler & Chez Reavie, among others, will be carrying the FlexTech Stand Bags this week at the Waste Management Phoenix Open in Scottsdale.
FlexTech Stand Bag:
Weighing only 2.4 kilograms, the FlexTech Stand Bags are each offered in 4 colourway options and have been designed with the following features:
Water-resistant, seam-sealed valuables pocket with micro suede lining
Full length dividers to eliminate club crowding
FlexTech colourways: titanium/blood orange, charcoal, blood orange/black, and navy/red/white.
RRP £179/ € 249/ 1,849 DKK/ 279CHF/ 2,299 NOK/ 2,499 SEK
FlexTech Waterproof Stand Bag:
Weighing a light 2.1 kilograms, the FlexTech Waterproof Stand Bags is offered in 5 colourway options and has been designed with the following features:
Waterproof welded pockets
Umbrella holder
Full length dividers to eliminate club crowding
6 pockets plus 1 open pocket for drinks
5 Colourways: royal/white, navy/white/red, red/white, silver/red, grey/white
RRP: £229/ €289 / 2,199 DKK/ 329 CHF/ 2,699 NOK/ 2,899 SEK
FLEXTECH CROSSOVER STAND BAGS
Also new to TaylorMade's 2019 golf bag line is the FlexTech Crossover Stand Bags. The FlexTech Crossover bag was the company's best-selling bag in 2018 and aligns with the 14-way top market that has been trending upwards, due to many golfers' desire to further protect their clubs.
While technically a stand bag, designers straddled the line of a cart & stand bag when designing the Crossover. The new design allows for a cart strap passthrough that makes loading the bag on carts more efficient and more importantly gives the golfer access to the two oversized apparel pockets on the side of the bag that are made possible by the unique design built into the centre ball pocket.
The bag features three larger front-facing pockets (including a cooler pocket with a drain port), for easy access storage while strapped onto the cart.
Weighing only 2.7 kilograms, the FlexTech Crossover Stand Bags are offered in 3 colourways and have been designed with the following features:
Cart strap passthrough for easy access to all pockets
Large internal insulated cooler pocket
Easily accessible insulated water bottle pocket
Full-length dividers to eliminate club crowding
3 colourways: silver gray/blood orange, navy/white and black/blood orange
RRP £199/ € 269/ 1,999 DKK/ 299 CHF/ 2,499 NOK/ 2,699 SEK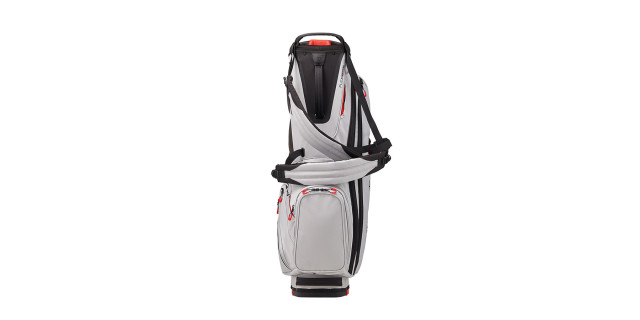 FLEXTECH LITE
TaylorMade's FlexTech Lite is the lightest bag in the Flextech family made for the walker looking for a quality carry bag built to last. The new version of the Flextech Lite is lighter, more comfortable to carry and overall, a more functional design than the prior generation.
Weight was saved in this bag by moving to a single stay construction versus 3 or 4 stays previously used. The main stay that runs along the spine of the bag was modified to ensure it is durable while remaining lightweight.
A dedicated rangefinder pocket/capsule has also been integrated into the side accessory pocket to allow for easy access to their rangefinder before taking the bag off their back. For the most discerning golfer every element of the new FlexTech Lite is designed to provide ultimate comfortable and usability during the hours of carry and miles walked.
Weighing a mere 2.1 kilograms, the FlexTech Lite Bag is available in 5 colourways, each designed with the following features:
New no-zip rangefinder capsule
Micro-suede lined valuables pocket
Full-length dividers to eliminate club crowding
Colourways: Silver/Blood Orange, Navy/White, Black/Blood Orange, Blood Orange, Kalea
RRP £159/ €229/ 1,699 DKK/ 249 CHF/ 2,099 NOK/ 2,249 SEK
LITETECH 3.0 STAND BAG
Rounding out the 2019 TaylorMade Golf bag line is TaylorMade's newest and lightest bag in the stand bag line – the LiteTech 3.0 Stand Bag.
Weighing in at just 1.2 kilograms, LiteTech 3.0 is TaylorMade's introduction into the ultra-lite category that provides the market a full sized, quality golf bag offering. LiteTech 3.0 utilises bag body materials three times lighter than the FlexTech Lite and an ultra-lightweight and durable stand system that features carbon fibre legs and light weight collapsible base system.
While maintaining a durable and high-strength construction, the LiteTech 3.0 Stand Bag offers optimum club storage with a spacious 4-way top that has three grab handles. Not sacrificing storage within the bag body for weight, the bag has six pockets that include a large apparel pocket that can easily store a rain suit.
The LiteTech 3.0 features a self-adjusting strap system that is designed for a comfortable carry.
LiteTech 3.0 Features:
Full-length club dividers
All-new self-adjusting strap system
3 colourways: Blue/Grey, Black/White, Grey/Lime
RRP: £169/ €239/ 1,749 DKK/ 259 CHF/ 2,199 NOK/ 2,349 SEK
For more information on TaylorMade's full line of 2019 golf bags, visit TaylorMadeGolf.com.
---
What do you think? leave your comments below (Comments)
---
Tags: taylormade Golf Bags bags
---
PLAY MORE PLAY BETTER - LATEST TUITION TIPS
---
Leave your comments below
comments powered by

Disqus