Social Media Reporter Witnesses History at Portugal Masters
---
History was made on Friday in Portugal's spectacular Vilamoura region, as England's Oli Fisher took full advantage of the perfect conditions to produce a masterful round, shooting the first 59 on the European Tour with a 12-under 59 on the Dom Pedro Victoria Golf Course.
Fisher, who has one victory on the European Tour, at the Czech Open in 2011, displayed incredible composure throughout the back-nine after a stunning 28 on the front; holing a pressured 20 foot putt on the par-3 16th for par before making the all-important birdie to reach 12-under on the par-5, 17th. Holding his nerves together on the last, the 30-year-old made a par to secure his place in the record-books.
It was an unforgettable moment, one that was witnessed by Neal Gladwin, who has been Dom Pedro's Social Reporter for the week. The Golfshake Member has been enjoying a whirlwind experience during the past few days, entering the competition, being selected, and ultimately finding himself on the ground with behind-the-scenes access at the iconic resort.
"I was looking on Golfshake and saw something about the competition," Neal said. "I got in just before the deadline. I had been in two minds about it, but ended up getting picked, had a conversation with the guys. Becoming the Social Media Reporter and arranging a last-minute trip out here. That alone was an incredible experience."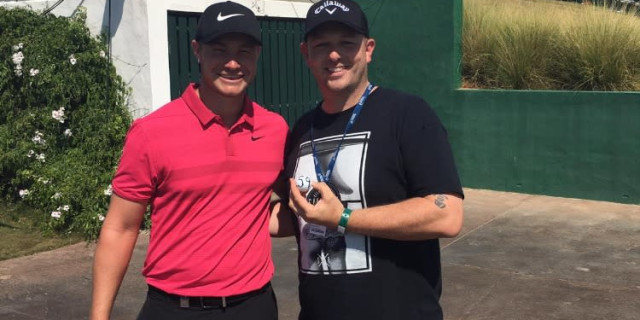 Things would only get better, however, when Neal discovered on Tuesday night during dinner that he would be taking part in the pre-tournament pro-am alongside a four-time European Tour winner.
"We were told that we were going to play in the pro-am, the following day, so I immediately put the beer down! Had to calm down a bit from that. That was a great day, playing with Pablo Larrazabal. I was able to experience the course first-hand."
Having walked the course and shared his coverage and insights on Dom Pedro's Twitter and Instagram feeds, Neal felt that something special was brewing when Oli Fisher completed his front-nine in 28, with a historic breakthrough a genuine possibility over the final stretch of the Victoria Course.
"I started following him from the 15th. It was amazing. I was shaking. I don't know how he kept so cool. You could feel the tension. I knew there hadn't been a 59 on the European Tour and was doing the maths in my head. On the 17th, he was close to getting an eagle, and you were potentially looking at a 58. It was electric. Watching from the side, his putt on the 18th just lipped out. The crowd went wild. He came round the back afterwards, and the amount of people, players, coaches, who congratulated him, you could see that he is a well-liked guy.
"Then I managed to hang around and grab myself a little interview with him! He looked as cool afterwards as he did before he hit the last putt. I asked 'has anything special happened today' and that made him giggle a bit. He was so happy with it. I think it will take a while to sink in, but I'm sure he'll celebrate a little tonight."
"Then he gave me his ball, signed with 59 marked on it. It's been a great week, but crazy good. Last week, I could never have imagined anything like this."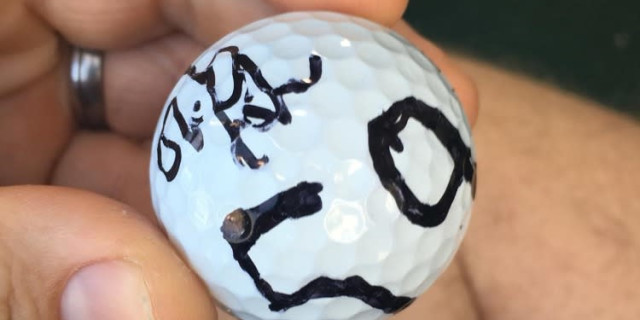 This was just the latest in a week of highlights for Neal, who has been documenting his experiences on social media.
"I've been trying to share the things I've been enjoying, what I've seen," Neal added. "I've had a lot of good access around the course and everything like that. So, I'm just trying to document everything, from what has basically been a fantastic holiday. I can't call it work or anything. It's fantastic. Right now I'm sat in the Media Centre. Looking over the putting green. For a golf nerd like myself, it's just been amazing. I don't know how I can top this. I turned 40 a few weeks ago, and this is one of the best presents I could have had."
On completing an achievement that had proved elusive for over 690,000 past rounds recorded on the European Tour, Fisher himself reflected afterwards. "It feels great, I started with three birdies and I just kept it going. I'm really pleased I could two-putt there on the last," said Fisher who shot a final round of 64 here two years ago to secure his card for the next season. "It was very different to a couple of years ago when I was fighting to keep my card here, but (the score) was in the back of my mind all day. I said to my caddie, Guy (after the par putt on 16) we've got a couple of holes to enjoy it, it's not that often we get the chance to shoot a really low one on Tour. The final two holes are all about the drives and I managed to do that."
Follow Dom Pedro on Twitter or Instagram. You can follow Neal on Twitter.
---

Be part of the action with a selection of unique golf tournament experiences, from playing in a pro-am with the stars to watching the action at golf's most illustrious events. Whether it's the Masters or The Open, The Ryder Cup or WM Phoenix Open, build your own bespoke package with the experts at Golfbreaks.com.
---
What do you think? leave your comments below (Comments)
---
Tags: Portugal european tour Dom Pedro Algarve
---
comments powered by

Disqus