Callaway Chromesoft Ball Review
REVIEW: Callaway Chromesoft

By: Golfshake Editor | Thu 28 Jun 2018 |
Comments
---
What Callaway say:
Check out the video below to learn more about why Graphene makes Callaway's Chrome Soft and Chrome Soft X so special.
Feel
Rob (6 handicap) - The Chromesoft felt like liquid off the clubface and really was a pleasure to strike both off the tee and with the putter. If a soft feel and consistent control is important to your game then this should be a serious contender for your regular ball.
Mel (11 handicap) - First ball I tried was the chrome soft. Could tell straight away how "explosive" it felt off the face.
Kevin - (14 handicap) To me this ball felt simlilar to the previous Chromesoft, but carried a few yards further, maybe the Graphene?
Performance
Rob - The ball spun well around the green and stopped quickly on approach shots with the irons. Whilst it didn't give quite as much forgiveness in terms of distance on off centre strikes as the X, it still played pretty long. I hit a couple of Warbird's (which are Callaway's distance ball) off the tee by way of comparison and whilst the Warbird was consistently a few yards longer across different clubs, I much preferred the feel of the Chromesoft ball.
Mel - Definitely seemed to gain 7-10 yards extra per club which caught me out in a few shots at the start. Found with chipping and pitching it felt really soft but again seemed to shoot off the club face which once more caught me out for a few shots. Managed to get a bit of check on some shots which is always unusual for me.
Kevin - As with the original chromesoft, it performs great off the tee. It didn't feel an awful lot different, as I mentioned it seemed to carry further. When chipping and putting it didn't feel that much different, but did seem to 'bite' a little more than the older version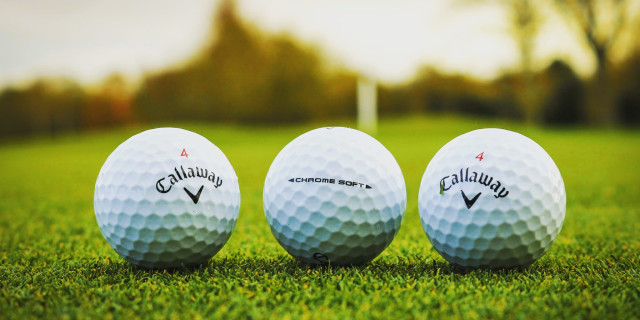 Pros
Rob - The best features of this ball are the sensation off the club and the control you will achieve around the green. It performs well across distance, height and spin but won't lead the way in any of these stats.
Mel - Loved the feel when putting. Used the ball for 18 holes myself and even let my son have a go (plays off 6 and hits it miles) and he used it for 18 more and was surprised himself how well it seemed to go.
Kevin - More carry and more spin at a great price point.
Cons
Rob - There are longer balls out there but players will use this ball for the way it feels. In my testing it wasn't too far behind the other Callaway balls anyway, but try this for yourself and see what you think!
Mel - After 36 holes the ball was just starting to scuff a little bit really pleased with its overall performance.
Kevin - I could not really find any.
Golfshake user rating
9/10
---
What do you think? leave your comments below (Comments)
---
Tags: callaway
---
comments powered by

Disqus