Golf Swing Shirt Review
REVIEW: Golf Swing Shirt

---
The Golf Swing Shirt is a training aid aimed at improving your golf swing through enhancing the feeling of connection of your arms and body throughout the swing. This unique product is focused specifically on feeling of your swing movements and getting your swing repeatable through the feeling of connection.
The SwingShirt was developed by Ray Rapcavage back in 2012 and endorsed by European golfer Padraig Harrington in 2013.
Golfshake ambassador Mel Davies tested out the Swing Shirt during the winter of 2017 alongside his Pro Noel Woodman from Kidderminster Golf Club.

Tech Specs
The shirt is designed to fit more snug than a customary shirt, which helps promote the feeling of body "connection" as you are swinging the club. This "connection" is what most great ball strikers feel and is the key to great golf. The structure of the shirt and proprietary compression fabric immediately instills "connection" and overtime muscle memory.
The shirt can be used on the range and on the golf course and with every club in the bag including the putter.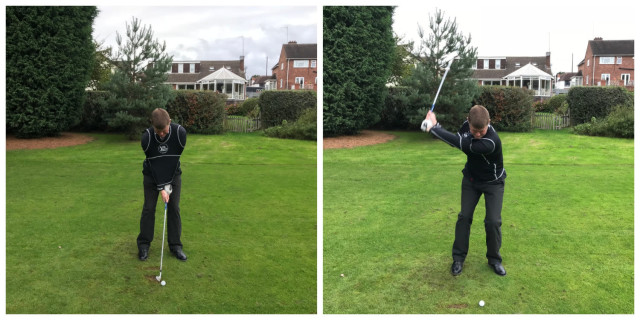 Looks
It does look a bit weird when you first see it especially with the "trunk" at the front. It's well made and feels like a lot of manufacturers cold/heat gear worn beneath polo shirts. I was fortunate to try out the black shirt which isn't as bright as the orange version.
Feel
lt feels very strange at first but once you have a few swings it seems much more comfortable and normal. It allows you to achieve your own swing yet at the same time putting you in a better more reliable and repeatable position.
Performance
I found the swing shirt to be a very good product and will continue to use it through the coming months.
I was also once more able to draw on Noel Woodman Professional at Kidderminster to give his insight into the Swing Shirt:
"The swing shirt is a fantastic aid for improving your swing. It allowed my arms to work more closely with my body and create a more consistent swing path allowing straighter shots. I would recommend the swing shirt to any golfer wanting to make lasting improvements to their game"
Pros
A great swing aid that's easy to use and gives instant feedback as you see straight away the impact it gives on your swing from the shots you hit.
Cons
It wasn't the easiest thing for me to put on but once I'd tried it a few times it became easier.
Bottom Line
A great training aid that's easy to use, no assembly required and comes in a handy pouch. The SwingShirt can be purchased in the UK from GolfSwingSystems from £59.95 - in the current climate I feel its a reasonable price for an aid that will only help your swing and your game. It's easy to use and would be of use for all levels of golfer aiming at improving their swing.
Rated 9 out of 10
For more information check out www.golfswingshirt.com
---
What do you think? leave your comments below (Comments)
---
Tags: SwingShirt Golf Swing Shirt
---
PLAY MORE PLAY BETTER - LATEST TUITION TIPS
---
Leave your comments below
comments powered by

Disqus