The PGA Tour Must Take Action Against Six Hour Rounds
---
We make no apologies for returning to the thorny subject of slow play once again, and the part that professional golf plays in perpetuating it. Much has already been said and written about the disgraceful behaviour of JB Holmes on the 18th hole of the Farmers Insurance Open, but since that is the incident that has opened up this debate again, it is worth taking some time to recap what happened.

Jason Day was already in the clubhouse on 10 under par when Holmes came to the par-five 18th at Torrey Pines needing an eagle to win. His playing partners, Alex Noren (under huge personal pressure as he sought a maiden PGA Tour victory) and Ryan Palmer (back to form after a year in which he was deeply affected by the death of his father) were both very much in the mix, with Noren requiring a birdie to win and Palmer requiring a four to tie Day's 72-hole score.

Holmes got to his ball and spent an age discussing his options with his caddie. There was a bit of breeze, but the decision he faced was a no-brainer. He required an eagle to win the tournament, so he went for the green, right?

Wrong. After four minutes and 10 seconds, the American opted to lay up, which meant he would have to hole his third shot with a wedge to make the playoff. Worse than that, after taking all that time to decide which shot to play, he put his second in the rough.

Spare a thought for Noren and Palmer while all this was going on. In the event, Noren opted against hitting the rescue club he had already considered and struck a perfect five wood that cleared the green. In the end, he had to settle for a par and joined Day in a playoff. All credit to Palmer though - he made his birdie and joined the playoff, but was ultimately sent packing when he bogeyed the 18th at the second time of asking.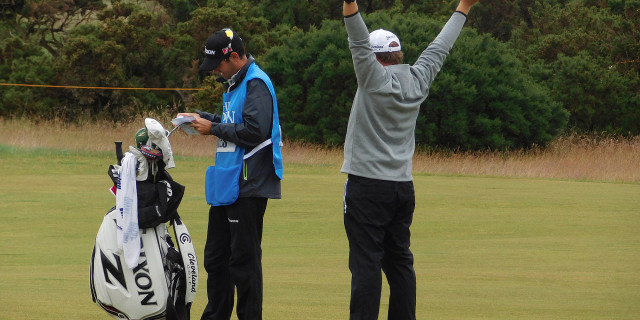 Holmes had taken so long to hit his second shot (of course he failed to hole his third) that Day and Noren were unable to complete the playoff and had to come back on the Monday to finish it off.

Noren lost at the sixth extra hole when he dumped his approach into the water guarding the 18th. But that's not the point - had Holmes not spent so long dithering over his shot, Noren may well have struck a rescue club to the heart of the green and two-putted for victory. Or he may have finished in the water. The bottom line is that even though he wasn't involved in the playoff, Holmes most defnitely affected the outcome of the tournament. What makes matters worse is the plain and simple truth that Noren may never again find himself in position to win another PGA Tour event.

Lots of players tweeted their disapproval of Holmes' tactics, most notably former world number one Luke Donald. Fans around the world also reacted with outrage.

And the PGA Tour? The silence was heard all around the world. Earlier the same day, Rory McIlroy had been driven to distraction by the antics of 22-year-old Chinese golfer Li Haotong. McIlroy is one of the quickest golfers in the game. He eyes up the shot and pulls the trigger. But Li has developed a pre-shot routine from the Keegan Bradley school, and takes an age to hit the ball. McIlroy is far too polite to ever lay the blame for his defeat at the Dubai Desert Classic at the feet of Li, but he was frustrated, none more so than when Li sought a ruling over whether he could lift a leaf and a stone in a waste area. Most weekend golfers know that you can do so, and McIlroy eventually took matters into his own hands, approaching his rival and telling him there was no penalty. In other words: "For the love of God, just get on with the game." Was it gamesmanship or did Li genuinely not know this most basic of rules? Either way, he should have been taken to task.
There are rules about pace of play, which I will explain in a moment, but the reality is that the powers-that-be refuse to enforce them. Players who are heard cursing during televised broadcasts are routinely fined. But it seems that it is all well and dandy for rounds of golf to take six hours.


Well let me tell you here and now - it is not all right. In fact, it is all wrong.

The PGA Tour rules are clear. Having arrived at his ball, a player has 40 seconds to play a stroke, or 60 seconds if he is the first to play in his group. Palmer had already hit his second and was sweating over the prospect of his third. So it is clear enough - he had 40 seconds to play. He took 250.

And the penalties for infringement are just as clear. In strokeplay, first offence should be a one-stroke penalty, second offence, two strokes, third offence disqualification. Of course discretion can be applied if it is blowing a gale or the rain is hammering down. But there was little more than a breeze.

So here is the question: why won't the PGA and European Tour use the powers they have been given to impose these penalties? Financial penalties are a waste of time because these guys earn millions of pounds. But start adding strokes to their score and they may actually sit up and take notice. Are the powers-that-be scared that players will throw a hissy fit, pick up their ball and take their clubs home? Frankly, golf does not need men or women who take four minutes to hit a shot, without any consideration for their fellow competitors.


Tennis introduced tie-breaks to speed things up, while cricket has enjoyed huge success with the Twenty20 format, and snooker has introduced a shot clock.

The Shot Clock Masters will be played in Austria in June, will see every player being timed. They will be given two time-outs per round, permitting them twice the normal allotted time, which for the European Tour is 50 seconds for the first player in a group to play and 40 seconds thereafter.

Every bad time incurred will cost a player a one-stroke penalty, and the tour believes that round times will be cut by at least 45 minutes. So here is a not-so-radical thought – impose a one-stroke penalty at every single tournament, each and every time a player takes too long to hit a shot. I guarantee one thing: if penalties of this sort are imposed, slow play will be eradicated once and for all.
---

Be part of the action with a selection of unique golf tournament experiences, from playing in a pro-am with the stars to watching the action at golf's most illustrious events. Whether it's the Masters or The Open, The Ryder Cup or WM Phoenix Open, build your own bespoke package with the experts at Golfbreaks.com.
---
What do you think? leave your comments below (Comments)
---
---
PLAY MORE PLAY BETTER - LATEST TUITION TIPS
---
Leave your comments below
comments powered by

Disqus