Golf and Sport Reacts to Tiger Comeback as He Expects Open Return at Carnoustie
---
SO JUST what are we to make of Tiger Woods' comeback in the Hero Challenge at the Albany Resort in the Bahamas? There has surely never been a return to action that has attracted as much worldwide attention and optimism. Everybody, it seems, has an opinion – and an awful lot of people have been eating their own words after watching him play.

Brandel Chambree, the former PGA Tour player who now works as an analyst for the Golf Channel, is a man who seems to have a view on everything and everybody, and ahead of Woods' return to action, Chamblee said that the 14-time major champion could never again be the player he was and that he would probably struggle to make the cut at even the most routine PGA Tour events.

Well, surprise, surprise, Chamblee has changed his mind. "I was wrong," Chamblee said. "I didn't think he'd come back with this much speed. I didn't think his swing would be this good. I didn't think he'd look this good. I didn't think his irons would be this good. I think we can all agree he can contend and probably win golf tournaments with this move."

It is expected that Woods will make his full return to the PGA Tour at the Farmers Insurance Open at Torrey Pines in January – a venue he once more or less owned. Let's be clear about something here and now – as well as Woods struck the ball in the Bahamas, he cannot and will not win tournaments again until and unless he can resolve his chipping woes. Under no pressure whatsoever, he fluffed at least six straightforward pitches over the course of four days, including four in one round. More would have been made of this had it not been for the outstanding quality of his ball striking and the fact that his wondrous putting stoke does not seem to have deserted him.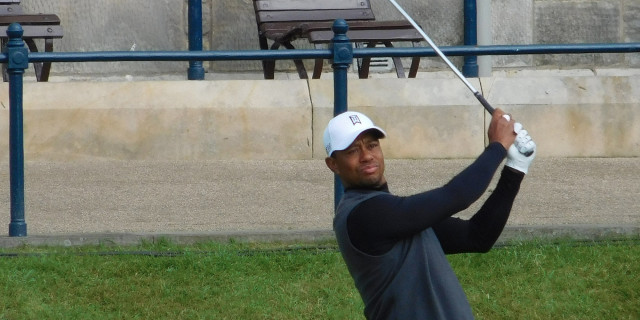 For the first 36 holes he played some exceptional golf, and even briefly took the lead at one point. Let's not make too much of the third-round 75, scored on a windy day when many of the 18-man field also struggled. To his great credit, he regrouped and finished with a 68 that should have been better.
And let's not forget that he finished ahead of the likes of Justin Thomas, Brooks Koepka, Henrik Stenson and Dustin Johnson
.
It was only in May that Woods was arrested at the wheel of his car, apparently unaware of where he was and what he was doing. It later emerged that he was suffering addiction to painkillers, and when you consider everything that he has been through, it was hardly surprising. A spell in rehab seems to have rejuvenated him and, for the first time in as long as he can remember, Woods insists that he is pain-free.
"Well, I've come out the other side," he said when asked about managing his back pain. "I feel fantastic, and a lot of friends have helped me. I didn't realise how bad my back was," he said. "Now that I'm feeling the way that I'm feeling, its hard to imagine that I was living the way I was living: with my foot not working, my leg not working, and the hours of not sleeping because of the pain."
Woods has always been a private man, unwilling to share his feelings in public, but this seems to be a different individual. He admitted that he had developed a problem. "I was taking drugs on top of drugs, just trying to kill the nerve pain. It was like something hitting your body about 200 times a day. And the thing is that I didn't know when it was coming. Yeah, I mean, I was trying to go away from the pain. And trying to sleep, which I hadn't done in a very long time because of the things I had been dealing with. And so as my back improved, I've been able to start sleeping again because I don't have the nerve pain going down my leg, I don't have my leg twitching all over the place. I don't have these issues any more.
"I'm loving life now." And when you watched the Hero Challenge, it showed. Yes, there was the odd flash of temper and the occasional curse but, for the most part, Tiger played with a smile on his face, happy to be back out there doing what he loves. "The neatest thing for me is to be able to get up out of bed and grab a club and not use it as a crutch. Now I'm able to take a swing. That's so exciting, you have no idea how exciting that is. I'm just so thankful to have had this procedure and that I've gotten to this point."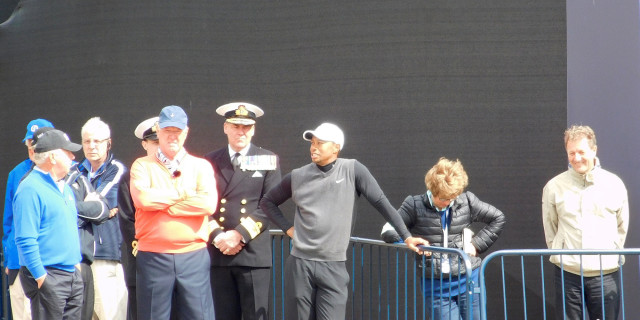 He is already looking forward to playing in The Open at Carnoustie in July. "I played there when Paddy [Padraig Harrington] won (in 2007) and I just love that golf course. It's just so tough, but it's all there in front of you. There are no tricks, there's nothing hidden. I won two of my Open Championships in Scotland and one other in England so let's try and add another one in there." he said.

"This is the way I've been playing at home, and when I came out here and played I was playing very similar to this," Woods said. "Not quite hitting it as far, but I had the adrenaline going and overall I'm very pleased." In the Hero Challenge last year, Woods made six double-bogeys; he made just one this time, and it came 64 holes into the tournament. He also had two eagles, or two more than last year.

Perhaps the most telling aspect of Tiger's comeback is the number of people who have queued up to talk about it.

Listen to Matt Kuchar's caddie, John Wood, for starters."Listen, I have so much respect and admiration and love for the way these younger guys play the game and what they bring to it," Wood said. "The game is in great hands with Jordan (Spieth) and Rickie (Fowler) and Rory (McIlroy) and Justin (Thomas). That being said, Tiger Woods brings more to a tournament than the next 10 guys in the world all together bring.

"I'd say his comeback was a huge success because I'd bet the house that Tiger is disappointed with his finish. While I'm sure four pain-free days of competition was the minimum he was hoping for, once he got into the mix, felt the juices flowing, saw he could drive it up with Justin Thomas, and took the lead in the middle of Friday, I bet he was of the mind he could win the tournament. I guarantee you he's not thrilled with people telling him "good playing" or "nice tournament" after finishing tied ninth.

"I remember Jack Nicklaus once saying that he knew he wasn't playing as well as he once did when people would tell him "good playing" after a top-10 finish. Same thing here. I believe this does nothing but whet his appetite. He knows he's healthy, on the right track in every way, and while I've no idea what his schedule is, I wouldn't be surprised if he wakes up this morning and finds a tournament to add to get back on the course as early as possible."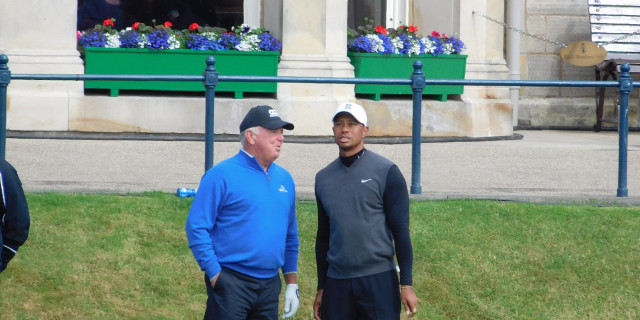 Phil Mickelson, his biggest rival during his prime, plays a lot of golf with the young stars of the PGA Tour, including the likes of Fowler, Dustin Johnson and Koepka, and he believes that none of them hold a candle to Woods. "There is nobody in the game that I have seen that is remotely close to the level of performance Tiger was in his prime," Mickelson said. "Mentally, short game, or ball striking, I don't think anybody matches him in any of those areas. And Tiger put them all together in one to create a career that is mind-boggling in the game of golf.

"it's difficult for me to see the game of golf returning to the level that it was at during [Woods'] heyday. As great as the young players are, the level that I've seen out of him, especially when you go back to 2000 at the U.S. Open and his performance when he held all four major championships at once, I think we're decades away from anybody getting back to that level."
Paul Farquaharson, a physiotherapist who has worked with Danny Willett – another golfer with noted back problems – sounded a note of caution on how Woods will cope in the long-term after the fusion surgery he had on his back in April 2017. "With most players, like Rory, I will know people who work with them and what is going on but I don't know any of Tiger's team so I don't know exactly what he's doing," Farquharson said.
"But basically they have stopped the two vertebrae moving against each other, bone on bone. The vertebrae sit on top of each other with a disc between them like a jam doughnut. This prolapsed a long time ago and that causes nerve pain and sciatica. Spinal fusion is pretty much a drastic operation and would be a last resort.
"I have got a patient at the moment who is a runner with a history of lower back problems and he has been round the houses with physios and consultants and a fusion was suggested. He's doing alright, he's got no back pain but then you are sometimes left with tight muscles around the back and quite often nerve-type pain where the nerve is still chronically irritated by the poor movement from when you had the back pain."
Farquharson believes that Woods will have benefited from the time he spent away from the game."The good thing was that he pretty much had a year off and came back a lot slower than before. He will have had lots of physio to strengthen his core, pelvis and glutes and those muscles can now fire properly as he isn't getting the pain.
"Before the round there will be lots of stretching with a good hour of physio and core stability and then some muscle activation. After he will likely have had some corrective work so that everything is in the right place and he isn't getting pulled in the wrong directions after playing 18 holes. I thought he looked really good, it was great to see him hit a variety of different shots and shapes and with different speeds and it was also great just to see him being able to pick up the tee and just walk off rather than struggle. He could flex fully and effectively touch his toes."


And it is not just the world of golf that is thrilled to see him back, that is willing him to find his way back to the top. Among the gallery at Albany was tennis player Rafa Nadal. The Spaniard is recovering from a knee injury but flew in to watch Woods.

"I've seen him play before, but I didn't expect to watch him play this well at the beginning," Nadal said. "This is a very important moment now for golf and himself and for all the people who love the sport in general. He's the most charismatic star golf has had in the past 50 years or so. For everyone to see him back is something great for the sport."

Nadal, the winner of 16 tennis grand slam titles, knows a thing or two about the difficult journey back to the top, having recovered from his own injury woes to land two more majors in 2017. "When you are injured, as I went through a couple of times in my career, you don't think about what other people are thinking — you think about coming back and being healthy," Nadal said. "You know that the beginning is going to be tough, for sure, and you have to be ready for those tough situations. And when you go through them, you are stronger. You have a lot of energy and passion because you weren't able to be able to do what you used to be able to do for awhile."

Nadal and Woods have been friends for a couple of years, with the golfer at court-side when Nadal won the US Open at Flushing Meadows in September. "I'm happy to see him play well," Nadal said. "Tiger is unbelievable. I just love to see him play whether it is here or on TV. The first thing is you need to be healthy to practice again, as well as be mentally strong to do the things you think you need to do to be back to your top. If Tiger's healthy, then I believe that has everything to where he deserves to be."

Woods began the Hero Challenge as the world's 1,199th-ranked golfer. His tied ninth finish at Albany saw him climb back to 668th, the first time he has climbed the rankings since finishing 15th in the same tournament in 2016. After that event, Woods moved to 650th in the world. When he failed to gain points in his subsequent starts — a missed cut at the 2017 Farmers Insurance Open and a WD at the Omega Dubai Desert Classic — he slipped to No. 674.

This is the highest ranking he has achieved since then. Tied with Woods at No. 668 is Rico Hoey, who earned six top-10s on the Mackenzie Tour-PGA Tour Canada this year, including a win at the Freedom 55 Financial Championship. It is safe to say that if Woods can maintain his form and fitness, and resolve his chipping issues, then he will not be in 668th position for terribly long.

Hopefully, the only way is up.
---

Be part of the action with a selection of unique golf tournament experiences, from playing in a pro-am with the stars to watching the action at golf's most illustrious events. Whether it's the Masters or The Open, The Ryder Cup or WM Phoenix Open, build your own bespoke package with the experts at Golfbreaks.com.
---
What do you think? leave your comments below (Comments)
---
Tags: tiger woods PGA Tour
---
PLAY MORE PLAY BETTER - LATEST TUITION TIPS
---
Leave your comments below
comments powered by

Disqus