---
Post by Golfshake playing proffesional, James Reeson
---
Bushnell Golf has unveiled its latest Tour V4 SHIFT Laser Rangefinder, the new rangefinder will build on the huge popularity of the Tour V4 by adding a slope shift function. This will alow golfers to not only benefit from all the functions of the original V4, but also switch between a slope and non-slope function at will.
Here at Golfshake we decided the best person for the job of testing the new unit was a our resident touring professional, James Reeson and so we sent him a unit to test over the course of several tournaments. This is his review:
Bushnell Tour V4 Shift Technical Specifications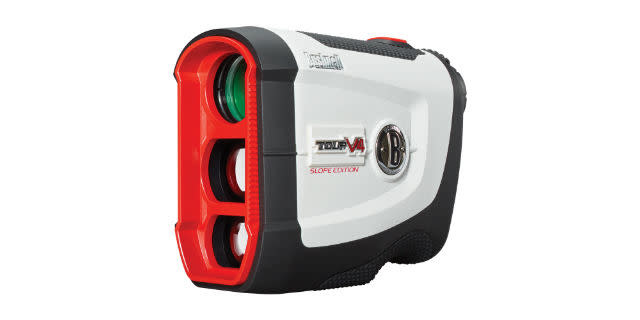 Slope-Switch Technology
PinSeeker with JOLT Technology to confirm the laser has locked onto the flag
Accurate to within one yard
Five to 1,000-yard range performance (400 yards to a flag)
5x magnification (objects appear 5x closer)
Ergonomic design with Stable-Grip technology
Fast Focus System
Rain proof
New premium carry case and three-volt battery included
Industry-leading two-year warranty
James' Review
Over the past couple of weeks I've been using the new Bushnell Tour V4 slope edition. I've had my previous range finder for years and its been great and has never let me down and I honestly didn't think that you could ask anymore from a range finder. I was wrong.
First of all there is the way the unit feels in your hands. My old laser is very square in shape and again I never saw a problem with this until I picked up the V4. It feels like Bushnell have put lots of time into the ergonomics of this range finder and it makes a massive difference! The way it fits in your hands makes operating the range finder much easier. It's easier to hold steady and the rough textured pads on the unit make it a much quicker process to get your yardage.
In addition I really liked the jolt system that the V4 has. My previous range finder didn't have this and I now wouldn't use a laser that didn't have it. It makes you immediately trust the yardage it gives you and from inside 200 yards I found it very rare that it picked up anything but the flag which was a problem with my old range finder.
The feature that impressed me most about the V4 was slope function. During the time that I had the V4 I played in two tournaments and although you cannot use the slope function in tournament play you can use it in practice rounds which I found incredibly helpful. Some holes where I wouldn't even think about the slop, it turned out to be 5 or 6 yards up or downhill and for me that is almost half a club in distance. I cant see myself ever using a range finder that doesn't have a slope measurement system. It's changed the way I map my course planners and will certainly improve my proximity to the hole on approach shots.
Last but not least was the case. I know it's not a major feature but I was really impressed with the quality and protection it offered the unit. I also like the way you didn't have to zip it up after every use as the clever toggle fastening system enables quick access.
I highly recommend this range finder and I will certainly be investing the money and if you are able to get your hands on one and try it I'm fairly sure you will be doing the same!
James's rating - 10/10
For more information, please visit the Bushnell website, Click here
---
What do you think? leave your comments below (Comments)
---
Tags: bushnell
---
PLAY MORE PLAY BETTER - LATEST TUITION TIPS
---
Leave your comments below
comments powered by

Disqus