Getting into golf: Lesson 6 learning continues
---
Now well into her golfing journey Kim Dowsing, partner of regular Golfshake contributor Derek Clements, suffers her first golf injury and completes her 6th lesson.
---
I'M BACK. Sorry you haven't heard from me for a while, but I have to report that I have suffered my first golf injury. Yeeks!
Before we get to that, let me tell you about something else I achieved - a par. A proper par. It came on the first hole at Dunston Hall, which measures 270 yards. That may not sound terribly long, but it is a dogleg, with trees and water to negotiate. And I did it in four shots.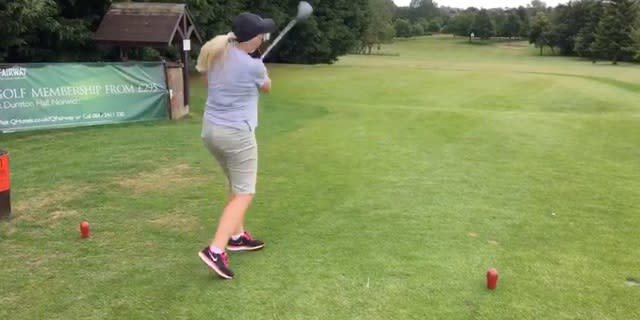 My drive was perfect, straight down the middle of the fairway. My second shot wasn't quite so good, moving about 10 feet. But my third shot finished about eight feet from the cup and I holed the putt. It was an amazing feeling, and it made me feel like a proper golfer. A few holes later, however, I felt a twinge in my right shoulder and we had to walk off the course because it was simply too painful to continue.
I have since had a couple of massages and taken some time off - and it has been torture! Sheer torture. I love this game and I want to be out there, hitting golf balls, improving.
I am fighting fit again and have just had my sixth lesson with Caroline Grady. I had to tell her that I felt I had gone backwards. I have realised that golf is a pretty unforgiving game, and not being able to play as often as I would have liked has set me back.
I have actually felt pretty comfortable with a driver in my hands, but I am guessing that could well be because the ball is teed up nice and high. However, irons off the fairway are a completely different matter. Every so often, I hit it sweetly and it feels just great, but, after getting it right on the driving range, the golf course has been an entirely different challenge for me.
The first thing Caroline addressed was my grip. Without realising it, I had allowed my hands to split and my right hand was in entirely the wrong place. The moment she put my hands back in the correct position everything just felt right again.
And it didn't take Caroline long to work out why I was topping so many iron shots. Himself has been telling me that I have developed a habit of flicking at the ball with my wrists, so that the club passes my hands at impact and I have been hitting the ball with the sole of my club.
"OK Kim, so I think we need to go back to basics, and the best way to do that is for you to hit some chip shots with the mini-swing we worked on right at the start of the process," she said. Caroline got me thinking about the chipping technique I had learnt and within minutes I was once again hitting those little shots with what amounted to an extension of my putting stroke. To my delight, it felt right almost straight away - and I knew that I wasn't flicking at the ball with my wrists.
Then she took a look at my swing again. Caroline has always stressed how important it is to remain connected throughout the swing, and it quickly became apparent that I'd lost that connection.
I was pretty frustrated at how quickly things had gone awry. I had stopped going through the ball properly. As I made contact with the ball, not only was I flicking my wrists at it, but I wasn't pushing my right knee through and turning my hips towards the target. And, perhaps, worst of all, my head was all over the place at impact.
Caroline soon got me into the correct position again at the top of my backswing and then gave me a key that really clicked. "When you make contact with the ball, I want you to focus on keeping your head looking at the point where the ball was positioned," she said. "And I also need you to relax your arms at address. Remember when we spoke about 'monkey arms', about getting the tension out of your arms?"

I know that tension in a golf swing is a killer and when Caroline took my nine iron to demonstrate a point she was making she said: "Kim, I can tell from how hot your grip is that you are holding the club too tightly. There are some instructors who say that if you think of grip pressure on a scale of one to 10 then you should register about three. I don't agree with that, but you certainly don't want to be any higher than six on that scale."
I believe that I have been holding the club too tightly because I am anxious about hitting bad shots. Now I realise that I need to do some serious work to ensure that I relax more. But the best news of all is that having spent only a few minutes working with Caroline I was once again striking the golf ball properly and enjoying that lovely feedback you get when you make the right connection.
This was my sixth golf lesson and I understand that there is a huge amount to learn and that patience may well be the key.
One benefit of my shoulder injury is that I have used the time to work on my putting. Initially, I had huge problems with both alignment and pace, so Himself took me to the practice putting green, dropped six golf balls on the surface and then suggested that I aim at different holes. It was a struggle to get my head around it but it has now started to click. I am getting the feel for different distances and I have even begun to read putts properly.
I hope the shoulder injury is behind me and that I can now get back out there and make some serious progress with this wonderful game.
I had originally arranged six lessons with Caroline but it is not enough. Lesson seven is now in the diary. Watch this space.
Caroline Grady can be contacted on 07771 674937 or via [email protected]
---
Full the full series of articles with Kim on her quest to play golf visit: www.golfshake.com/news/tag/2017-getintogolf/
---
Tags: 2017 getintogolf
---
PLAY MORE PLAY BETTER - LATEST TUITION TIPS
---