Feature Interview: Todd Fitzpatrick on the new KBS Graphite Hybrid Shaft
---
KBS have expanded their shaft range with the introduction of their first ever graphite option.
The KBS Tour Graphite Hybrid shaft has already been adopted by players on the PGA and European Tours, including multiple major winners and every leading club manufacturer since testing began earlier this year.
Golfshake's Owen Davies caught up with Todd Fitzpatrick of KBS to talk the new KBS graphite hybrid shaft. He started by asking Todd to explain how the new shaft came about:
"KBS is a fitting company, we want to be able to fit golfers all the way through the bag. Now, with the hybrid shaft were able to fit someone from wedges all the way to the hybrids, seamlessly," said Fitzpatrick.
"So the nice thing with it is that it is based off a similar pofile to the KBS tour, its going to have the similar bend profile, but in graphite.
"Most hybrid shafts are designed off of a wood profile so with that, we said, 'okay, how can we make something that's different?' Because obviously the graphite market there's a lot of graphite shafts out there.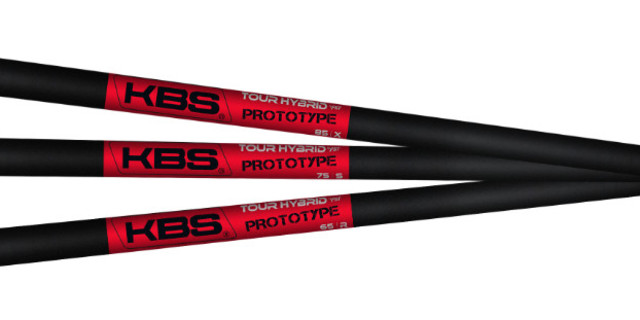 "So the design team went to work and came up with the hybrid prototype shaft that feels and performs like an iron shaft. Hybrids are an extension of irons so we want that to continue. We have a shaft now, with the hybrid that will match with your irons and your wedges. So once again, it's fitting someone all the way through the bag, at least with the irons hybrids and wedges."
How do you deal with the different head shapes and how they work with the shaft?
"That is where fitting is going to come in and that's why we've got 65g, 75g, 85g and 95g weight class. So with that there'll be flexes in there to fit someone in to the proper hybrid shaft so they can get the optimal fit. The nice thing is the hybrid shaft will correlate with whatever wedge shaft or iron shaft they currently fit into."
What does the range look like now with the hybrid shaft in it?
"So, say somebody wants a KBS C-Taper120s for example and that's what is classified as a stiff shaft so they could probably fit into an 85g or 95g stiff hybrid. Where in other cases, with other companies, they might be playing 85X or something like that, it's going to match nine times out of 10. Obviously there are variables in there but with the product we can go all the way through from hybrid down seamlessly."
And what are the kick points of the hybrids? How do they work?
"It's going to be very similar to KBS Tour. It's going to be a mid launch, mid spin shaft. Obviously when you go down in weight into the 65's its going to increase the launch and spin a little bit but its going to still stay in that mid-launch mid-spin shop window. It all depends how the player loads and unloads it and that's why it's important to get fit."
And is this something manufacturers are taking on board? or is this purely from a fitting/club making point of view?
"Manufacturers are taking it on board. We've seen a good popularity on tour and we are only released it right at the beginning of the FED-EX cup last year. TaylorMade's been very popular with it on tour and we're just seeing a lot of rapid growth and we've got a lot of great feedback."
How much does tour validation and feedback from the guys on tour using KBS matter to you in terms of the design process?
"Well, that's the thing we need to find out what's working and that's why we have multiple weights so we can still fit players because there's no one swing. So the goal is to find a shaft that loads properly for them and achieves the shot windows. And that's what's important to KBS too, it is finding the right shot window for somebody and then dialing them in with the weight."
Custom fitting of the KBS Tour Graphite Hybrid shaft is available now at selected dealers for an RRP starting at £140.
For more information on KBS Shafts, please visit their website - Click here

---
What do you think? leave your comments below (Comments)
---
Tags: KBS
---
PLAY MORE PLAY BETTER - LATEST TUITION TIPS
---
Leave your comments below
comments powered by

Disqus