Playing on Tour - Mizuno Golf Pairs
---
Golfshake ambasssador Andrew Picknan tried and tested what it's like to play on tour taking part in the the Mizuno Golf Pairs Tour during Sep 2016 taking part in their East Anglian event. The Mizuno Golf Pairs events are as you would expect for golfing pairs and played out at top class venues around the UK usually over 2-3 days at "top 100″ golf courses and the event is open to all amateur golfers, with a current and active CONGU handicap.
---
As an ambassador for Golfshake I occasionally get some really good golfing gigs. Having just enjoyed three days of highly competitive but friendly golf in East Anglia, playing in the Mizuno Golf Pairs Tour , I have to admit that this event was one of the best.

I was asked if I would be happy to enter a team during 2016. Firstly I checked out the website which is informative and easy to navigate. It detailed clearly the events on offer and the location of the various tournaments. There were also some excellent images and graphics that give a real flavour of the type of course and facilities being offered by the tour.
Pre Tour Planning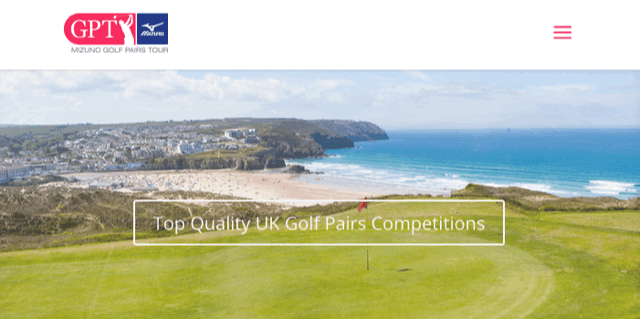 First issue was to select a team mate who if necessary could carry me when my usual golfing inconsistencies appeared. Having played over the winter with Gentleman John I knew his game was strongly improving and he is a brilliant reader of greens. Exactly what I needed to add to Team Golfshake given my current nickname of "Mr Magoo" due to the number of mis-read putts.

First problem................ He has had a fantastic season end winning several club major competitions and in the 6 weeks before the competition dropped his handicap from 16 to 10.9! Poor timing for me, but brilliant golf.

Having decided that we wanted to play in the East Anglia event we booked our spot and made the payment through their easy to use web site - www.golfpairs.com.

Registration is simple and the quality of the communication from the organisers is excellent. Comprehensive tournament rules and suggestions for accommodation were available. Tee times are posted online via the website and by individual e mail.
Playing on Tour - East Anglia 2016
The courses chosen for this event were new to both me and my partner but were well known top quality traditional links courses and must play courses for most golfers. These were Hunstanton, Sheringham and Royal Cromer, which we played over the 3 days, and as you would expect in a competition the tees used varied from Whites to Tiger tees.
Those playing cover all age ranges, sexes and different abilities. Another example of the fantastic benefits of this wonderful game of ours. I was surprised to see many groups of friends who had travelled and competed together. One group of 12 shared accommodation but competed as pairs against strangers who were soon to become friends. The group hired a house that they shared overnight. The post match banter was brilliant and as the event developed the monitoring of a mate's score became a real motivator.
Another interesting feature is the live leader board facility offered. Each group is equipped with a hand held device that allows easy inputting of scores and this real time updating really adds to the competitive flavour of the event.
There is also a real emphasis on maintaining a reasonable pace of play from the organisers. This never became intrusive but unusually for an event of this size I heard no complaints whatsoever about the speed of play.

The prizes and giveaways are of the highest quality as would be expected by an event supported by one of the world's leading manufacturers. Competitor's also receives a "goody bag" of top quality Mizuno products to reinforce the links and level of support.

MGP also offer a finals day made up of winners from the year's events, a hole in one prize (all expenses paid trip to the Mizuno factory in Scotland together with a full set of custom fit clubs and Mizuno clothing).
As my regular readers know I am not the most consistent golfer. I accept that I will be able to play to my handicap on a couple of occasions' all year. However, I love competitive golf and this event is one of the most enjoyable I have had the pleasure to play.

From a gloriously surprising 5th place with 40 points on day 1 at the wonderful Hunstanton ; to a 25 mph wind /gale swept 30 points on day two at Sheringham; to a fighting 32 points on day 3 at Royal Cromer. But the overall experience was glorious
Thoughts from the Sponsors
I was curious how a top brand manufacturer like Mizuno became involved in this type of sponsorship and was very pleased to be able to interview Rob Jackson Mizuno Head of Golf EMEA.

The initial link between the two organisations came about very simply when Rob and a partner entered the event privately and won it! They were so impressed by the quality of the organisation and the manner in which the event was run that negotiations commenced and the joint enterprise was born.

I immediately thought of the old Remington Razor advertisement " it was that good when I used it, I bought the company." I am probably showing my age too much with that comment.

Rob added "The tournament is friendly, competitive and professionally run. At Mizuno we support professional golf and this was an excellent way of being able to support the keen amateur golfer to get involved in a prestige product at top quality venues"
Why not get involved in 2017?
If you are looking to organise an unusual golfing trip for an even number of golfers why not consider multiple entries into this event for 2017. Check out the web site as they have some very interesting venues available next year. Some single days, some multiple and some in mainland Europe.

This is a well presented professional product conceived and delivered by golfers for golfers. It's a proper competition without being too formal or prissy. I already have my eye on a couple of events in 2017.
This was a great golfing experience that I am very happy to recommend to others.
For more information visit: www.golfpairs.com

---
What do you think? leave your comments below (Comments)
---
Tags: mizuno golf pairs
---
PLAY MORE PLAY BETTER - LATEST TUITION TIPS
---
Leave your comments below
comments powered by

Disqus