One woman's Instagram helping grow the game
---
Golf journalist Josh Carr spoke to Sky Sports EuroPro presenter Chloe-allyn Gallacher about her love for the game, becoming a hit on Instagram and why people should take up the sport.
---
For some, getting into golf can be really tough, especially in the women's game where numbers are far lower than the men's. There is the price of equipment and membership to take into account, as well as the challenges of actually being able to hit the ball every time when you first start up. However, for EuroPro presenter Chloe-allyn Gallacher, taking up the game has been nothing but non-stop fun.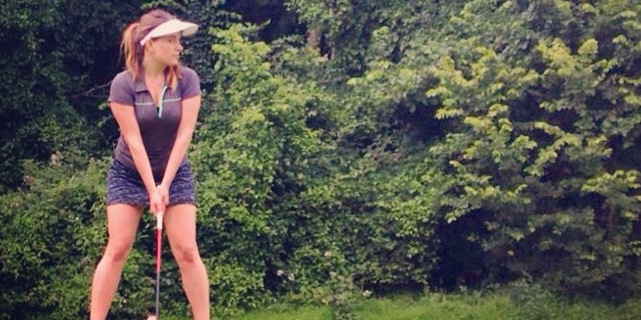 "I love it! I have had a few beginner lessons, which helped me with my swing, and I learnt the fundamentals, and now I just practice by myself down at the rage once or twice a week. I play most weekends with my boyfriend, and when I'm home (Australia) I go out with my brother. I'm trying to encourage my girlfriends to play too."
The 25-year-old from Perth, Australia admitted it was her curiosity of the game that ultimately got her swinging. "My boyfriend plays golf and I wanted to know what all the fuss was about, so the next time he went to the golf range I tagged along. I had a few good shots, and thought to myself, if I did that every shot I would be really good at this. But then the reality set in that I couldn't do it every time, but I'm working on it."
One way of improving your golf game is by tracking your stats. This way you can easily see what parts of your game you are successful at and what parts of your game need improving. Even the top professional's track their stats, which is one of the reasons why Gallacher does too. "I enter my stats into the Golfshake tracker online. I like to know if I'm improving and what I need to work on, which at the moment is my putting!"
From her somewhat surprising instant love of the game, the broadcast and tourism management graduate started up an Instagram page (@onthegreenwithchloe) to allow people to follow her progress within the game, and hopefully interest people who are looking at starting the sport. And the interest in her game has been incredible, with the rookie golfer racking up more than 8,000 followers on Instagram. "I started my Instagram just to show people how much fun golf could be. It was also somewhere I could show my friends back in Australia how I was getting on. I never expected it to become so big and gain so many followers from it. I get a lot of advice from players on Instagram too, which I also find very helpful."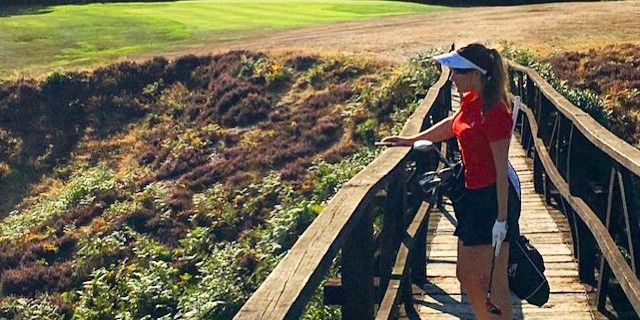 It is refreshing to see someone instantly fall in love with the game, as golf memberships appear to be decreasing by the year. Various schemes to get people into golf have gone by the wayside and new approaches must be taken up by golf clubs to try and promote the game. When asked why she thinks golf struggles in terms of getting new people into the game Gallacher said: "I know before I played golf I always thought it was a man's game, but boy was I wrong. It is just as much a woman's game. I also thought it was an expensive sport, so I encourage taking any free beginner lessons. I did that and it really helped me enjoy the game.
"Give it a go. I've always been sporty but never thought I would be playing golf at 25. I try to explain to all my girlfriends the benefits of playing and how rewarding it is when you get a birdie or a par. I say just go down to the driving range and hit some balls. You never know."
However, playing golf is merely a strong hobby for the Australian, with the real dream being a career in sports presenting. "I really want to pursue golf in the media. I enjoy watching the professionals play at some beautiful courses. My favourite player is Jordan Spieth so would love the chance to interview him one day.
"I started presenting some episodes of the EuroPro a few months after I started playing. It was such a joy to be working on something I love and I hope for more opportunities."
If you want to keep up with Chloe's progress, follow her Instagram page here. Hopefully the EuroPro presenter's love for the game can inspire more people to take up the great game.
---
What do you think? leave your comments below (Comments)
---
---
PLAY MORE PLAY BETTER - LATEST TUITION TIPS
---
Leave your comments below
comments powered by

Disqus