Andy Griffiths - PGA Pro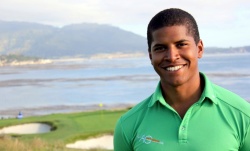 Andy Griffiths is a UKPGA member, graduated from the University of Birmingham with the AGMS (Applied Golf Management Studies) degree and holds coaching certifications with the PGA, TGA, TPI Levels 1 & 2.
Andy has coached in more than 30 countries and spent time coaching at the #1 golf school in USA with Golf Digest "Top 4 Greatest Teacher" Jim McLean and golf biomechanics expert Dr Robert Neal in Doral, Miami.
His knowledge and experience led to him being handpicked as the only European coach to be an integral part in creating and running the junior development programme at Nike Golf's flagship location in Pebble Beach, USA as well as teaching at The Open Championship, with the Titleist Performance Institute team in San Diego, California, and the Evian Masters Academy in France.
In his spare time, Andy can be found learning alongside nationally recognised instructors to further his knowledge and skills and also writes for GolfWRX, The Golf Channel and National Club Golfer.
'My desire is to help you enjoy working towards fulfilling YOUR wildest golfing dreams in a tangible way by measuring and tracking your progress.'


To find out more anout Andy follow him on Twitter @andygriffiths1 , visit his website at www.andygriffithsgolf.com or via Facebook facebook.com/andygriffithsgolf
Andy Griffiths
Andy is a UKPGA member & graduate of the AGMS degree at the University of Birmingham. He's coached in more than 30 countries and travelled and worked with many of the best in the business. His no. 1 desire is to help golfers reach their dreams, and to enjoy the process!
Latest Articles
Links
:
Bio: Andy Griffiths
|
All Articles